Silver Bay Realty Trust Corp (NYSE:SBY), the single-family rental spinoff of Two Harbors Investment Corp (NYSE:TWO), recently engaged in a $245(m) IPO on December 14th 2012. Silver Bay Realty is externally managed by PRCM Realty Trust LLC, a joint venture between Pine River Domestic Management L.P and Provident Real Estate Advisors LLC. PRCM will manage the day to day operations of Silver Bay Realty, and collect fees for services such as asset management, property management and acquisitions. The initial portfolio of real estate is comprised of 3,100 single family homes, with an average rent of $1,170, and vacancy of 68%. Silver Bay Realty's core properties were acquired in two separate transactions with Two Harbors Realty and Provident Real Estate Advisors LLC.
I believe Silver Bay Realty has the potential to be a great long term value play. The company's balance sheet offers significant value in the form of $6.05 in cash per common share, and an NAV of $17.65 per share.
The value of the balance sheet above is not capitalized, and the properties are valued on a carrying basis at fair value. If Silver Bay Realty can generate and NOI of $5,500,000 to $6,000,000, Silver Bay Realty will be in a position to benefit from a higher valuation. Armed with an NOI in the range of $6,000,000, and a 12-13% cap rate for single family properties, the value of the real estate portfolio will increase exponentially. However, this value could quickly become diminished, if Silver Bay Realty, and PRCM are unable to manage overhead. The companies' $200 million in cash need to be allocated carefully, and aggressive acquisition, coupled with the six month stabilization period for properties, doesn't allow any room for mistakes. Dividends need to be paid, and share dilution or leverage could compromise a balance sheet, in its present state, that is mortgage free and cash rich.
The big test will be if Silver Bay Realty's manager, PRCM Realty Trust LLC, has the ability to turn around the core portfolios vacancy of 68%. Estimates provided by the company's prospectus paint a bleak picture for the first quarter, with 3,100 single family units, and a vacancy rate of 62% (illustrated below), the company will not be profitable until it can significantly stabilize its geographical diaspora of properties.
Corporate Structure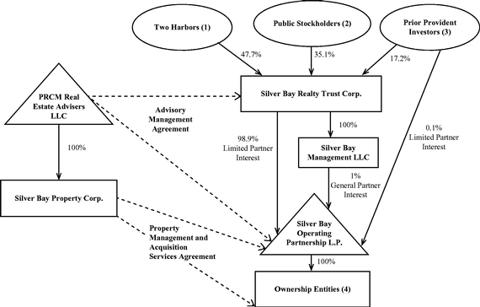 While the corporate chart above seems daunting, it is a modified version of an upREIT, or an "umbrella partnership REIT." Besides a few small differences in Silver Bay Realty Trust's fee structure, these structures are very common. Entities known as upREITs transfer operating units (OP) in exchange for interest commercial property, creating a tax deferred transaction for the "seller" (Two Harbors Investors and Provident Investors LLC). In addition to OP units, stock in Silver Bay Realty Trust Corp. is now owned by Provident investors (17%), Two Harbors (48%), which were received in consideration for Silver Bay Realty's core portfolio.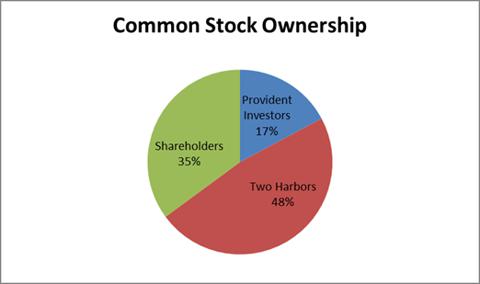 Common shares represent ownership in Silver Bay Realty Trust, a public stock. Silver Bay Realty Trust Corp. owns a general partner interest in Silver Bay Operating Partnership L.P., the source of operating units to be distributed in addition to common shares.

Provident Entities' 880 properties come from 5 managed funds: (1) Polar Cactus LLC, (2) Polar Cactus II LLC, (3) Cool Willow LLC, (4) Provident Residential Real Estate Fund LLC and (5) Resi II LLC, all of which are owned by private investors. Private investors of the Provident family of funds will receive, in aggregate, 6.1 million common shares in Silver Bay Realty Trust, 27,500 operating units (OP) in Silver Bay Operating Partnership L.P. and $5.3 million in cash. Two Harbors Investments' entire portfolio of foreclosed properties (2,220 properties) was exchanged in consideration for $1,000,000 of 10% cumulative redeemable preferred stock in Silver Bay Realty Trust Corp and 17.8 million shares of common stock in Silver Bay Realty Trust Corp.
The total amount of common shares and OP units outstanding, following the completion of the above transactions is 37,357,263.
The baseline gross rental income from the core properties acquired upon IPO on December 12th is the product of an average rent of $1,177 per unit (illustrated above), and 992 units (32% occupancy), which equals $1,167,584 per month, and $3,502,752 per quarter. PRCM Real Estate Investors LLC has a management agreement with Silver Bay Realty Trust Corp. that gives PRCM the right to certain fees and reimbursements, in consideration for certain services. The following table illustrates the asset management and property management fee structure outlined in Silver Bay Realty Trust Corp's 2012/12/14 SEC Form 424B4; Prospectus (Rule 424(b)(4)). The fees described below will be paid to PRCM Realty Trust LLC and its subsidiary Silver Bay Realty Property Group (100% ownership by PRCM).
| | |
| --- | --- |
| Advisory Management Fee | Silver Bay Realty Trust Corp. will pay PRCM 0.375% of the daily average of its fully diluted market-cap for the preceding quarter (a 1.5% annual rate), less any property management fees received by PRCM subsidiary: Silver Bay Realty Property Corp. |
| Property Management and Acquisition Services Fees to Silver Bay Realty Property Corp. (PRCM Subsidiary) | 5% of "certain costs and expenses" will be reimbursed to Silver Bay Realty Property Corp. stemming from the acquisition, marketing, leasing and management of single-family properties on Silver Bay Realty Management Corps behalf. |
| General and Administrative Expenses Reimbursement | Reimbursement for all expenses incurred by PRCM on Silver Bay Realty's behalf or otherwise in connection with the operation of its business, other than compensation for the CEO. |
While it is impossible to determine what general and administrative expenses will be, as they have yet to be released, the addition of this line item creates further overhead, payable to PRCM. PRCM has an acquisition staff of 30 brokers and sales agents and 25 property managers. In states without a full time staff, PRCM subcontracts services with companies familiar with the market.
This creates a level of uncertainty that seems volatile. A few periods of operating results will be a key for investors to determine whether this strategy is organized enough to property manage costs and oversight into diverse markets.
The Best Case Scenario
The asset management fee of .375% multiplied by the average daily market cap (12/28/12) represents a 26% operating margin for asset management alone, assuming 68% vacancy. In other words, currently, 73.7% of gross rent is dedicated to paying asset management fees to PRCM. However, Silver Bay estimates that "a significant portion" of the 1,667 properties owned by Prudent Realty were purchased within the last six months. Should Silver Bay lease the remainder of its core portfolio and have a handful of new acquisitions stabilized, in six months, Silver Bay Realty can expect a maximum gross rent of $3,648,700 per month, and a maximum of $10,946,100 for its second quarter (estimate).
Unfavorable Scenarios
Reimbursements fees due to PRCM are a mystery, and PRCM's ability to manage a geographically diverse portfolio will be a serious challenge. Unfortunately, we may not know whether the company's strategy has been a success for another half year, as Silver Bay estimates the majority of the portfolio it has acquired from its predecessors have been purchased within the last six months. This is significant because Silver Bay Realty estimates properties will take, on average, six months to renovate market and lease. One troubling section of Silver Bay Realty's December Prospectus, is the companies estimate of "annual advisory fee" due to PRCM: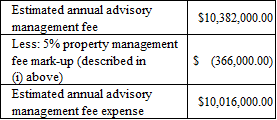 The estimate above indicates that the company believes its average market cap, if divisible by the same amount of shares outstanding, will be $18.48. In order to reconcile this, the company either expects to have a flat price through 2013, or plans on diluting shares.
In addition to internal challenges, the US Housing Bureaus last estimate, in September of 2012, was 8.2% vacancy rate for single family homes. Single family homes are among the one rental sector to experience a rise in vacancies, possible due to low interest rates.
The low interest rate environment could pose a problem for Silver Bay Realty Trust as existing home sales have begun to increase, while single family rental rates have decreased.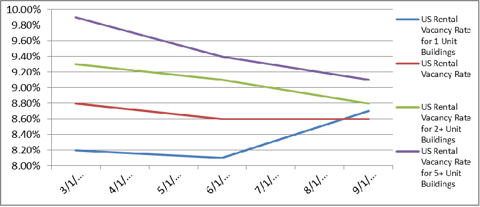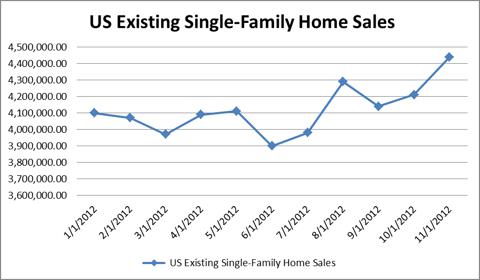 While economic conditions in the housing market are beginning to turn against single family rentals, housing recovery does offer one benefit to Silver Bay Realty Trust: price appreciation. The chart below, taken from Silver Bay Realty's December prospectus, illustrate home value appreciation in the markets Silver Bay Realty has a presence.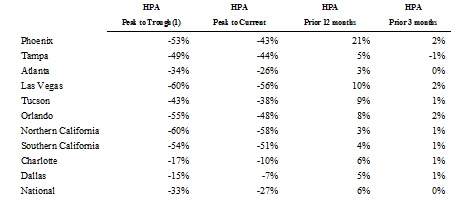 Conclusion
While I believe there is serious value on the balance sheet of Silver Bay Realty Trust, profitability and success is a waiting game. With an estimate of a 6 month stabilization period for properties acquired by Silver Bay Realty Trust Corp. it has yet to be seen whether this can be accomplished in harmony with general and administrative expenses reimbursements, and additional fees. Should the portfolio stabilize, only to have its profit eaten away by fees, the endeavor will be useless and the company will have to re-examine its corporate structure. Waiting before investing also provides us with time to consider the economic impact of a housing recovery, and what role it will play in property stabilization.
If PRCM and Silver Bay Realty have success in the next six months endeavor, and generates a healthy NOI, I am a buyer. For now, I watch with great curiosity and anticipation. If Silver Bay Realty and PRCM can pull off a successful enterprise, they will be the pioneers of single family rentals in the public market, and I believe other mortgage REITs with massive portfolios of foreclosed portfolios will complete further spinoffs: Annaly Capital Management (NLY, Chimera Investments (NYSE:CIM) Crexus Investments (NYSE:CXS), CYS Investments (NYSE:CYS), Hatteras Financial (NYSE:HTS), Dynex Capital (NYSE:DX), Capstead Mortgage Company (NYSE:CMO), Apollo Residential (NYSE:AMTG) and Eastern Light Capital (OTCPK:ELCI) are all potential candidates.
In conclusion, I will say this: I love the idea, I love the concept, I am just not ready to marry it yet.
Disclosure: I have no positions in any stocks mentioned, and no plans to initiate any positions within the next 72 hours. I wrote this article myself, and it expresses my own opinions. I am not receiving compensation for it (other than from Seeking Alpha). I have no business relationship with any company whose stock is mentioned in this article.