Consolidated Tomoka (NYSEMKT:CTO) is a Florida company that owns vacant land in and around Daytona Beach, Florida, that it has been methodically selling and converting into triple net lease investment properties. The company's business model has been honed to perfection and the company has been executing flawlessly even in these demanding times following the real estate crash. Florida was hit especially hard and this has led to sharp decreases in company land sales. The company's investment income has kept it cruising along at breakeven until the Florida real estate markets can experience their Frankenstein moment and spring back to life. This is exactly how the company planned it when they began executing on the current strategy. To avoid a big letdown, this analysis will not explain what a Tomoka is, because we have absolutely no clue. We do intend to show that the company is dramatically undervalued.
Large companies have many sophisticated investors and teams of analysts following their every move. It is tough to steal shares at a discount to their true value. It's not impossible, but still tough. With smaller companies that is not always the case. In this age of high-speed algorithmic trading, fundamentals don't always play the primary role they should. Consolidated Tomoka doesn't have a cadre of analysts documenting every twist and turn of the company's business cycle. And, that is good for those looking to invest in the company. It hasn't been the greatest environment for current owners (namely myself), but you never know when the crowd will figure things out. I would rather be a bit early than miss out on the likely upswing.
Around the turn of the century, not this one, but the last one, the company owned around two million acres of Florida land and was likely the state's largest landowner. Skip forward to the late 1990s when the company began operating using its current strategy. The business model is simple and effective. It wasn't necessarily intuitive or others would have been pioneers of this technique. It takes what the company has and converts it to an income-producing asset and sidesteps taxes. At some point this is likely to take on another level of tax efficiency. One benefit for investors is that this tax efficiency distorts the balance sheet. Combine this with inherent weaknesses in GAAP and investors can skim over the company's financials and completely miss what is going on under the hood. Those who understand the intricacies of the tax law, GAAP accounting conventions and how they intersect with the company's strategy can benefit from the distorted financials. It allows investors to make an investment based on the company's hidden value.
The company owns 11,000 acres in and around Daytona Beach. The land is within 5 miles of I-95 the east coast interstate running north to south from Jacksonville to Miami. The land is within 8.5 miles of Daytona Beach International Airport and 9 miles of the Atlantic Ocean. Over time the company has been selling vacant land and investing the proceeds in triple net lease properties. More recently the company has developed two of its own rental properties. Additionally, the company owns two LPGA International Golf Courses and leases the clubhouse from the City of Daytona Beach. It has continually lost money on the golf course operation. The company also owns 22 billboards and subsurface oil, gas and mineral rights on 490,000 Florida acres.
The income properties are a large portion of the company's assets. With the most recent additions, the company owns 30 properties. After the early purchases being almost solely located in Florida, the company has started to diversify geographically and among tenants. No tenant makes up more than 23.3% of revenue and the company now has properties in six states (Florida, Georgia, North Carolina, Colorado, Illinois, and California. This slide from a recent company presentation gives details prior to the most recent six acquisitions.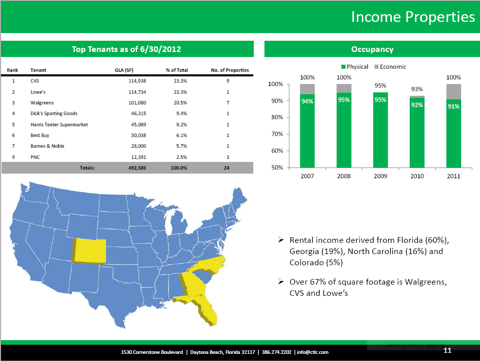 The current leases have an average duration of 10 years and total lease operating income should exceed $7 million in 2013, enough to absorb all corporate, general and other expenses. The company can choose to operate around breakeven on a cash flow basis at its choosing. That is exactly what the company has done through the real estate downturn.
Land sales have been scarce. The land sales are the company's bread 'n butter. This is the cog that makes that whole operation spin and it hasn't been spinning the past five years. With a measly 67 acres sold over this timeframe, the income properties served their function exactly as they were designed. Without this cash flow the company would have been bleeding money or forced to sell land at fire sale prices. Selling land at market lows would have been unfortunate considering the strong prices the company receives when real estate markets are functioning. The sale prices the company normally receives are certainly well deserved considering the location of the land and the long-term desirability of Florida real estate in general. The company has had years where the average sale price exceeded $100k per acre. Over the long term sale prices have averaged much more than $30k per acre. We could have taken the time to calculate that exact price, but the precision would add nothing to our premise. The land is wildly undervalued even if we slap a $30,000 per acre price tag on it.
The company's earning history indicates that when land is selling it reports strong earnings. In the three most recent years combined, ending 2011, the company has lost $.25 per share. Add back depreciation and the company is cash flow positive. Just as the value of the company hinges on land sales so does earnings. Below shows the company's revenue and earnings that past four years. As the real estate market was finishing its collapse the company had its last mildly profitable year. Note the revenue over the four years. As the company has land sales and revenue moves above the $15 million area the company becomes profitable.
2011
2010
2009
2008
Revenue
$15
$13
$16
$21
EPS
($0.14)
($0.16)
$0.05
$0.84
revenue in millions
Contrast the most recent four years with the earnings in the four years prior to that.
2007
2006
2005
2004
Revenue
$43
$42
$44
$42
EPS
$2.36
$2.47
$2.62
$2.60
revenue in millions
When the real estate markets are functioning and CTO is selling land the company becomes solidly profitable. With strong operating leverage a large portion of revenue drops to the bottom line. It is a function of the low historical cost basis of the firm's land. As the economy gains steam and the Florida real estate markets pick back up, the company will return to a more normal pattern of land sales and earnings.
Westward Expansion
As the city of Daytona Beach expands it pushes west right into the company's land. The real estate debacle has slowed this growth for five years, but it will not remain at a standstill forever. When sales do pick up speed the company has been improving infrastructure and permitting land for the eventual upswing. Another slide from the company's recent presentation indicates past sale prices of the company's acreage.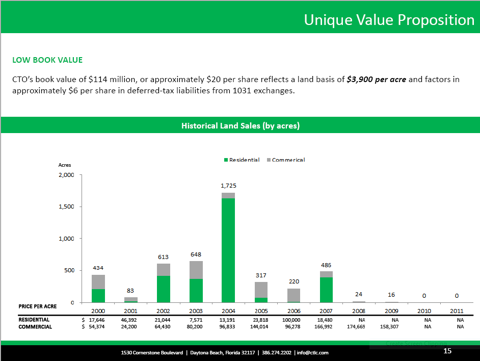 That is a lot of numbers, but what does it all mean? If you haven't whipped out your napkin and started scribbling on the back of it yet, 11,000 acres with a conservative price tag of $30,000 per acre yields a value of $330 million. Yeah, but some of the land will be sold down the road and we have to discount it back to present value. Land is an asset that does not depreciates with time, it rises in value. The $30,000 per acre is very conservative and the $330 million is a very defensible figure even accounting for the time value of money.
The income properties have a cost basis on the books of $136 million. This is a good estimate of how much it would take to go out and purchase a similar portfolio today. The value of the properties is likely to rise a few percent a year and the depreciation is probably a good estimate of the long-term upkeep expenses. With the depreciation, GAAP dictates that the value on the books will decline over time. The value will not go to zero due to the fact that the land is not depreciable. The fair market value of the properties is likely to increase over time as long as they are kept up.
We hinted earlier that a quick glance at the company's financials will not give a good view of what is really going on. Really it is worse. The financials distort the true position of the company. Yes, land is not depreciated. What is the company's largest asset, land. The key lies in when it acquired it. Much of the land was acquired in the early 1900s. Much of it is on the books for a hundred or a couple of hundred dollars an acre. When you look at the balance sheet you see that the land and improvements is valued at no more than $41 million, only a couple hundred million less than fair market value. The GAAP convention of reporting assets at historical cost is often an inaccurate measure of an assets value at best. In this case it is a master of distortion. It is so far removed from reality that it completely distorts that company's balance sheet. It puts shareholders in an alternative GAAP valuation reality so to speak. Looking at the balance sheet is a waste of time without a thorough understanding of the details.
Now we have land valued at $330 million and rental properties worth $130 million at a minimum (precision is worthless in these situations so we dropped the 6 in the $136 million for convenience), for a total value of $460 million.
How does Wall Street see, or not see, as it may be, the value of the company? The market cap of the firm is $170 million. Allowing for the $20 to $25 million in debt (it is a moving target due to the most recent acquisitions) the company is still wildly undervalued. Back out the $130 million in income properties and add in $20 million in debt and the land is valued at $60 million. Spreading that over the 11,000 acres yields a value of $5,500 per acre. In the company's most recent investors presentation, we keep mentioning, it performs a more complex analysis and arrives at an $8,800 per acre implied value. Either way the company gets no credit for the market value of the land. Some of this is likely due to the distorted balance sheet. Who thinks to look when the assets are so far from fair market value. The value remains hidden. It looks like GAAP never anticipated 100-plus year old assets increasing in value and remaining on the books. September 2012 Investor Presentation (pdf)
Equity Market Capitalization

$170

Debt

$20

Less: BV of Income Properties & Golf

$130

Implied Land Value

$60

Total Acres (Approximate)

11,000

Implied Market Value/Acre (Approximate)

$5,500

in millions except for acres and value per acre
When is a liability an asset?
We have yet to discuss the company's largest remaining hidden asset. It is found on the liability side of the balance sheet. I know that sounds like a funny place to find a hidden asset. The company has a $32 million deferred tax liability. Still doesn't sound much like an asset? That part comes when we explore a little deeper. The company uses section 1031 of the internal revenue code when they sell property to defer taxes on the sale proceeds. The sale of the vacant land, that the company has in abundance and is worth a whole lot more than what is shown on their books, is used to buy the income properties with no amount lost to Uncle Sam. Any subsequent sale can also be re-invested tax deferred. Although the deferred tax liability is more than $30 million, if held on the books long enough its value in real dollars will drop and that ignores the fact that this tax deferral can be maintained in perpetuity absent any law change. It is a liability that has no current due date. This turns out to be a huge asset for the company. They have the ability to generate income from a $130 million and growing income property portfolio that is made up of over $30 million that would have ordinarily been lost to taxes if it had not been reinvested in real estate. Using $30 million to generate income in perpetuity sounds close enough to the definition of an asset to me. If it was due in a year or two it would sure have the feeling of a liability, but with no due date it is hard to view it as a liability.
All this is great, but what if nobody notices. Not that I am using leverage to invest in CTO, but Keynes' point about leverage still holds some truth in this situation.
As John Maynard Keynes stated "Markets can remain irrational a lot longer than you and I can remain solvent."
The market in CTO stock has been irrational the past five years, but so has the Florida real estate market. The dislocation has been so extreme that the market for raw land in Daytona Beach just about completely dried up. When the real estate market awakens from its half a decade of suspended animation, CTO will be a certain beneficiary. When that happens we have no idea. It has been a slow wait these past few years. If I had used leverage, the interest payments would have eaten a serious hole in my capital.
What other companies are doing this? Much to our surprise there are no other companies executing this strategy in the manner CTO is. Some of the large timber companies like Rayonier, Inc. (NYSE:RYN), Plum Creek Timber Co., Inc. (NYSE:PCL), and Potlach Corporation (NASDAQ:PCH) have vast landholdings. They certainly appear to be likely candidates to make greater use of the like kind exchange provisions. Although they regularly sell higher and better use land, they don't own land butting up against a growing city like Daytona Beach. It may be that being a landlord is too far from a timber company's core competencies. Tejon Ranch Co. (NYSE:TRC) owns rural vacant land and is a prime candidate for this type of model. With the large tax savings it is a wonder that someone hasn't decided to copy CTO's model.
What is the end game? The timber companies do provide a glimpse of how this game may end. Many of the timber companies are organized as REITs. The income they generate in their REIT activity is exempt from Federal Income tax. Consolidated Tomoka may eventually take this form. Without in depth expertise in this area this is just my personal speculation. When the company has converted their land holdings to the point where they are primarily a rental real estate company we suspect that REIT status would make a great deal of expense.
If you have a modest amount of patience an investment in a wildly undervalued small-cap asset rich company may work in your favor. If your investment tolerance is completely absent of patience this is probably not a good fit. The company holds hard assets, namely land. This provides a huge amount of ballast preventing any significant downside to the company's share price. I don't think it is reasonable that the market is going to someday value the land at $2,000 an acre, the current $6,000 or $8,000 (whatever you decide it is) per acre is already marked down to fire sale prices. I don't lose much sleep that the company's inventory is going to become obsolete and get written down.
The company has attracted some interest from activist investors and is currently owned 26.5% by Wintergreen Advisors, LLC. There was some poking and prodding a few years ago that ended with the company being a bit less generous with compensation and more open to self developing some of their property. This oversight provides a valuable check and balance on management. It is certainly worth reviewing the regulatory filings if you are serious about making an investment.
The company is significantly undervalued. The price has been held in check by the stagnant Florida real estate market. It would not be a surprise to see the share price rise more than 50% in one of the next few years. With the real estate market finally showing some life, it would be nice if it was in 2014. With the shares so deeply undervalued we plan to hold even if it isn't. At some point I am pretty certain I will be able to say "told you so."
Disclosure: I am long CTO. I wrote this article myself, and it expresses my own opinions. I am not receiving compensation for it (other than from Seeking Alpha). I have no business relationship with any company whose stock is mentioned in this article.
Additional disclosure: I have been long the past two plus years.