SodaStream (NASDAQ:SODA) recently broke out of a near term channel in the last couple of weeks and following the Q4 earnings release from Green Mountain Coffee Roasters (NASDAQ:GMCR). If you have ever doubted that the same short or bear funds that participate in shares of GMCR are also participating in shares of SODA, all one needs to do is to look at the YOY charts for both companies and the corresponding quarterly releases. A lot has been made of the recent rally in shares of SODA leading many to believe that the speculating shorts days are numbered, but this remains to be seen. Short interest in SODA remains quite high and even accelerated after the GMCR earnings release which saw shares of SODA spike nearly 5% that very day. Here is a look at the last short interest spread on SODA as of 11/30/2012.
Most recently, shares of SODA appreciated in price from roughly $34 a share to $42 a share in less than three weeks before pulling back to roughly $38.70 a share. This price volatility is nothing new for long-time SODA shareholders as a similar price appreciation occurred after SodaStream's Q2 2012 earnings release which saw shares climb some 25% upon its quarterly results on May 9th and fall nearly 25% over the next two weeks, only to rebound over the next two months by some 35%. If you have ever watched the much maligned CNBC "Mad Money" television show, this share price fluctuation is exactly why Jim Cramer advises his callers to stay away from the volatility in shares of SODA.
So just when shareholders of SODA felt that the stock was breaking out and possibly achieving a more favorable valuation, arguably profit taking began to take place and SODA fell back below the $40 level. But that is when the latest channel checks came in to Capital Ladder Advisory Group on December 11th. After issuing these latest channel checks to clients of Capital Ladder Advisory Group, I issued a comment on an article Seeking Alpha published entitled "Talking Soda." Within the comment section of the article I noted the following: Numbers just came into the office for the Cuisinart machine. For further details email us at info@capitalladders.com. For those of you who e-mailed us, you saw firsthand proof of the dominance and moat created by SodaStream within the home carbonation consumer goods product sector. Additionally, the very next day and several days to follow, shareholders benefited from strong institutional buying that bore another 11% rally in shares of SODA on heavily increased daily volume.
Within the research note which Capital Ladder Advisory Group sent out to our institutional clients, we shared the latest channel checks that pointed to strong YOY growth for soda maker machines, CO2 and syrups produced by SodaStream. In addition, we offered our clients a comparison sales check of the Cuisinart soda maker. Keep in mind that when Primo Water Corp. (NASDAQ:PRMW) announced its partnership with Cuisinart, a division of Conair Corp., Shares of SODA fell some 10% in a matter of days as the perception of Cuisinart's small appliance brand dominance spooked SODA shareholders. One could faintly hear the cries of Chicken Little, "The sky is falling, the sky is falling." But the sky surely didn't fall on SodaStream as is evidenced by the channel checks which clearly show SodaStream growing in strength and with its international distribution footprint and brand awareness which has most recently been supported by an $18 million advertising campaign in the United States. Cuisinart may need to think twice about this venture into the home carbonation segment. We hope that is not the case, but SodaStream's competitive moat continues to baffle the competition and in many cases proves to eliminate the competition altogether.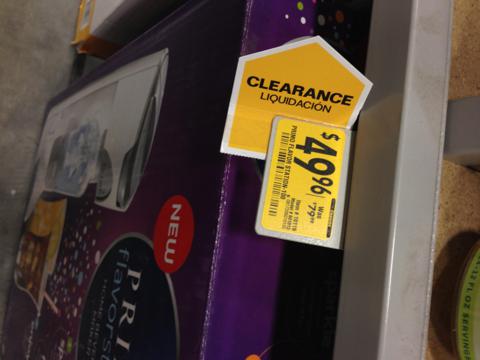 In summation, with regards to the recent channel checks, Bed Bath & Beyond (NASDAQ:BBBY) will likely have a supply build of Cuisinart machines that will last for the next 5-7 months depending on seasonality. For comparison sake, Bed Bath & Beyond will likely only have inventory build for SodaStream machines that will last 6-8 weeks. I think the picture is pretty clear, those shareholders whom were unfortunately spooked out of their holdings in SODA, may have sold shares prematurely.
The at home beverage machine market is ever-growing. Cuisinart and Wal-Mart's Esio machine are proof of this. The Esio machine is an at home, on-demand beverage machine which can serve both hot and cold, filtered beverages. The machine also allows the consumer to control the strength of the desired beverage. The one thing the machine does not do, however, is carbonate beverages. The machine unit is quite large and heavy. Priced at $199 a unit, Capital Ladder Advisory Group is identifying sales of the machine at Wal-Mart (NYSE:WMT) as sluggish, but in keeping with expectations based on overall functionality and value proposition which is minimal. Our latest consumer survey on the Esio machine identifies weak consumer follow through indicating users would not desire a machine that duplicates a home coffee maker for hot beverages and the use of ice cubes in a cold beverage.
So what's been happening at SodaStream lately? Well, first and foremost the company has continued its broad scale expansion campaign which recently came to include another regional store chain. Fred Meyer and Haggen Food & Pharmacy are now selling SodaStream products as of fiscal Q4. Keep in mind home gamers, (nod to Jim Cramer) Fred Meyer is a wholly owned subsidiary of The Kroger Co. (NYSE:KR). SodaStream appears to be deepening its U.S. entry into the grocery retail channel. Additionally, SodaStream products are now selling at homedepot.com (NYSE:HD) and were featured on the cover page of Sam's Club "Holiday Cheer Starts Here" circular which was sent out to thousands of consumers in recent weeks. If you are wondering about retail expansion outside of the United States, yes, the company continues to grow its retail doors internationally for which I will detail these efforts in January and ahead of fiscal Q4 2012 earnings release date in Capital Ladder Advisory Group's quarterly preview.
As you should know all too well by now, as a SODA shareholder, the company only reports sell in revenues. This means that sales accrued from wholly owned markets and sales to distributorship partners are only reported on a quarterly basis. In light of this fact, sell-out data in the U.S. has continued to look very strong through the quarter and will likely eclipse last year's sell-out rate by roughly 25%. A recent SodaStream International analyst research note validates the data achieved by Capital Ladder Advisory Group and NPD Group and is noted below:
We continue to see solid sell through of machines at Wal-Mart. The average stock out/limited stock rates for soda machines was 5%/36% (vs. 3%/40% last month) and ended the month at 5%/20%. On average, 3.0% of new stores were sold out of machines each week during the past month, up from 1.4% last month. The average out of stock/limited stock rate was 2%/21% (from 1/18%) for Cola and 3%/17% (from 2%/18%) for Diet Cola. On average, 1% of new stores sold out of Cola each week, similar to last month.
The out of stock rate for CO2 exchange at Wal-Mart indicates continued solid usage. The average out of stock/limited stock rate for CO2 exchange was 3.3%/5.5% (from 3.6%/4.6% last month) with 1.5% of new stores selling out each week (vs. 1.6% last month).
SodaStream's Q4 launch of the Source soda maker has been met with great success and has forced retailers to order greater quantities of the uniquely designed product. In addition to these new orders, we have also learned that SodaStream's newest flavors, Crystal Light Raspberry Lemonade and Country Time Lemonade Light have seen strong pre-orders from the likes of Bed Bath & Beyond and Wal-Mart. Speaking of orders, let's discuss the benefits of the recently announced commercial buy-in during the Superbowl by SodaStream.
Ilan Nacasch, the chief marketing officer at SodaStream and former marketing executive at Proctor & Gamble Co. (NYSE:PG) had this to say about the ad campaign the company is embarking upon: "We are the anti-establishment brand. We are challenging the status quo, conscious that moving to SodaStream is a big behavioral change for the consumer. We want to be seen as a rebel, and raise awareness of bottle and can pollution." Another advertising campaign the company tied to air in the U.K. was recently banned by regulator Clearcast last month, sending viewers to Google Inc. (NASDAQ:GOOG)'s YouTube where the video has gotten more than 2 million hits.
The upcoming Superbowl commercial (hopefully Denver Broncos vs. TBA) will serve to further plant the SodaStream brand name in the hearts of millions of viewers around the world. Most importantly, however, is the initial effect of the commercial campaign which comes with a hefty price tag for SodaStream. Superbowl commercials, in many cases, prove to force retailers to purchase advanced and outsized orders of products due to the anticipatory sales the retailer will forecast as an effect of the commercial campaign. More simply stated, a Superbowl ad usually produces greater sales for the wholesaler (SodaStream) thus the retailer anticipates this effect and orders more products from the wholesaler to meet the anticipated demand. Based on this market analysis, SodaStream may not see the same earnings decline it usually does between Q3 and Q4 in the past. Remember, retailers order a large amount of their goods from SodaStream in Q3 to last through Q4 and subsequently don't order as much in Q4. The Superbowl ad campaign now advances the reasoning for which retailers should consider increasing their normal orders and inventories of SodaStream products to meet the demand increase which should be expected in Q1 2013. *Analysis not withstanding one-time extraordinary cost outlined during Q3 earnings conference call.
There have been a plethora of articles written lately on SodaStream International, some by the bulls, some by the bears and even some by Coca-Cola (NYSE:KO) aficionados. In spite of SodaStream's continuous outperformance on a YOY basis, the company continues to receive an overallotment of "faddish" criticisms. Some of these faddish criticisms even come from analysts covering SodaStream and making markets for institutional investors. Why do so many still consider it a fad after so many years and such strong success in the last several years? For one thing, short speculators "talk their book" as I like to say. They look for any minor or fractional crack in the quarterly numbers and embellish upon it. With such a small float, shorts can easily knock the stock around in a relatively short period of time; not unlike the longs ability though. So what do the shorts see in the numbers? Many point to ever-increasing inventories and lagging growth in CO2 units sold. To the untrained eye, inventories do continue to climb, but unlike most companies, soda does not sell all of its products to end-users. The CO2 is a leased product and as such it remains on SodaStream's inventories as plant equipment. "Ohhhhhh, I see", said the analyst to Seth Golden after a lengthy conversation regarding this very matter. SodaStream does not sell its CO2 to most end-users except in some cases to its distributor partners. SodaStream clearly outlines this factor in its 20-f filing: Exchangeable CO2 cylinders that are loaned to distributors and exchangeable CO2 cylinders that are used by the Group to facilitate the exchange program are considered as property, plant and equipment.
In the case of SodaStream, and unlike many consumer goods companies, you actually want to see a reasonable rise in inventories each and every quarter as it clearly depicts the ever increasing CO2 usage and other product initiatives. CO2 is tricky for many to understand as a stand alone metric. This is why channel checks are so important when it comes to understanding product usage. Year-Over-Year channel checks from key retailers in the U.S. and the U.K. paint a picture indicating a greater than 50% growth of CO2 sales in 2012.
A couple of articles recently produced by Seeking Alpha contributors battle over the notion that SodaStream is or isn't a Coca-Cola killer. First and foremost, these are both very well organized and articulated articles produced by two oppositional authors in the debate over SodaStream vs. Coca-Cola. One could easily poke holes in both articles, but the root of the discussion is very simply which would prove to be a better investment. Over the long term, KO has certainly been a strong investment vehicle for millions of investors. There simply is no real basis to compare the two stocks as SODA has only been a publicly listed company for roughly 2 years. Time will tell which stock outperforms, but SodaStream is clearly aiming at acquiring market share from KO and PepsiCo (NYSE:PEP). In this SODA investors view, SODA will achieve the market share necessary to put a dent in Coca-Cola and/or PepsiCo's business, but unfortunately I won't own shares of SODA when that happens, nobody will! Simply put, my shares of SODA along with everyone else's shares will have been bought out; bought out by whom, now that is where the real speculation will come. SodaStream is not going away folks and each and every quarter the company's user base continues to grow. The company recently broadened its distribution channel to include Chile and Singapore and will soon enter Greece, India, China and Argentina. I find it extremely hard to believe that the major beverage producers will sit back and watch forever and a day. While the majors may not be in a buying mood today, and Kraft Foods (KRFT) does not have the operational capacity to add SodaStream International to its portfolio of brands presently, we shall certainly see what happens in the future. The Linde Group is still lurking in the shadows as well folks; don't rule out this conglomerate which has a licensing agreement with SodaStream International also.
Disclosure: I am long SODA. I wrote this article myself, and it expresses my own opinions. I am not receiving compensation for it (other than from Seeking Alpha). I have no business relationship with any company whose stock is mentioned in this article.