December 31, 2012. Here we are. After much heated debate and bargaining it looks like Congress and the President will be unable to strike a deal to prevent our nation from tumbling off the fiscal cliff. Even if a deal is struck at the final hour it will likely be a patchwork deal that simply pushes the problem a few months down the road. Regardless of your political affiliation, it is clear that falling off the fiscal cliff is not good news, at least in the short term. The most logical decision is to stay in cash but below are two opportunities that could perform well in the upcoming months.
United Rentals, Inc. (NYSE:URI)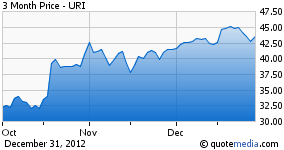 United Rental Inc. is the largest pure equipment rental firm in the world with over $7B of equipment. The stock has been highlighted positively by both Forbes and Investor's Business Daily in the past month, both focusing on potential growth opportunities. I have written about URI in the past as a Hurricane Sandy play and the thesis is still strong. As the economy struggles, municipalities, contractors, and numerous other entities will continue to rent their heavy equipment rather than purchase it. For example, it is far easier for a school district to gain approval to rent lights for a football field than to purchase them outright.
URI does well when the economy struggles but truly excels when the economic and political environments are uncertain. The fiscal cliff is the definition of uncertainty. Even if your business is cash-rich and doing well you might prefer to rent in the short term just to see what the economy looks like in six months. The stock has been on an impressive 30% run the past quarter but is still affordable on a forward P/E basis (8.8). The stock's fundamentals are not as impressive as what I typically look for but I really like the investment story in this economy.
Lastly, URI is a very volatile stock and offers tremendous covered call/cash-secured put opportunities. The stock is currently trading around $43.40 and the March $44 2013 calls are worth approximately $3.60. Writing a covered call will drive your break-even point below $40 and provides a solid cushion against a modest decline in the stock.
Humana (NYSE:HUM)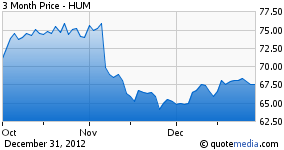 Humana is a leading healthcare company that offers insurance products and other health/wellness services. Humana operates in three primary segments: Retail, Employer Group, and Health and Well-Being Services. The retail segment continues to exhibit strength and represents approximately 60% of consolidated revenue as of December 31, 2011. Across the segments Humana has approximately 19M medical and specialty members. The benefit ratio is 82.1% which represents a 0.8% decline from 2010. In contrast, United Healthcare (NYSE:UNH) had a ratio of 80.8% for the same period.
I have been following the company recently as it was the number one result in my large-cap "cash rich" screen ($10-$100B market cap, P/E under 20, price-to-cash under 3, forward and TTM P/E under 20, and current ratio greater than 1). Humana's financial metrics are almost uniformly attractive. The company is extremely liquid with a current ratio of 1.83 and price-to-cash ratio of 1.13. Humana has $59.54 in cash per share, which represents almost 90% of the stock's value. The debt-to-equity ratio also stands at a very low .22. Humana has approximately $10.8B of liquid investable assets and $6.1B of long-term debt. This rough calculation of $4.7 net investable assets represents approximately 44% of the company's market capitalization. From a valuation standpoint, the TTM P/E and forward P/Es are both around nine. The dividend is only 1.54% but the payout is 13.4% so future increases are likely. Note that the company has only been paying a dividend since April 2011 so a long dividend history is not available.
Humana has declined 22% in 2012 but has rebounded more than 10% from its 52-week low in August. I would wait for a pullback to around $65 before initiating a position but Humana is exactly the type of defensive stock to look at when the economy tightens. Healthcare reform only makes the stock more attractive.
I also invest in Western Digital (NYSE:WDC) because of its low price-to-cash ratio (2.86) and have recommended it since this summer but the stock is up 23% this month with few pullbacks so it is not a great time to get into the stock right now. Unlike Humana, Western Digital is far more dependent on the economy so I suggest waiting before consider WDC.
Please refer to profile page for disclaimers.
Disclosure: I am long URI, WDC. I wrote this article myself, and it expresses my own opinions. I am not receiving compensation for it (other than from Seeking Alpha). I have no business relationship with any company whose stock is mentioned in this article.
Additional disclosure: Short URI March $44 and $45 Calls.Short WDC Jan $41 and $42 Calls.Please refer to profile page for disclaimers.