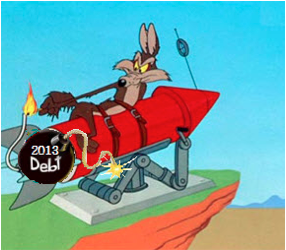 The President got his pound of flesh on taxes even as he was looking for more. Some significant deals were struck on dividends and capital gains for those making less than $400-450K. The disappointment is debt issues were shelved. This is what always happens, since raising taxes is always the easiest thing to do vs. serious deficit cuts, which bear on someone else's ox getting gored. But, once Obamacare is in force, taxes will rise further, as Chief Justice Roberts ruled "it's a tax."
So we got a relief rally of sorts in stock markets, and portfolio managers will get a little more in the way of bonuses with the end of month and year "stick save." Oh wait, many of them will have to pay more in taxes.
The following (Weekly Standard) is the deal worked out between VP Biden and Senate Minority Leader McConnell. Since It was inevitable with Obama's reelection that taxes would rise, perhaps this is the best possible outcome: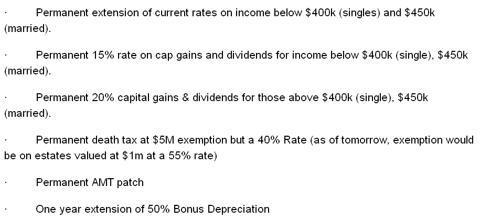 It's not a mere side note that the House hasn't voted on this, and there's been little in the way of reconciliation, which "is" the process in legislation as noted here. Assuming that a positive vote on this takes place in the House, then we move to the next big deal -- the debt ceiling. And let's not leave out more controversy as Obama continues to piss-off potential Republican votes as he presses for even more taxes in 2013. Finally, late-breaking word is the House won't be voting on any deal Monday, thus going over the cliff, if only temporarily.
The other positive news came from China, where industrial production (PMI) is 51.5 vs. 50.5 previously. This kicked emerging market (NYSEARCA:EEM) and Asian stocks (NASDAQ:AAXJ) higher despite fiscal cliff issues.
I'm not going to spend a lot of time on this, as nothing is "buttoned down" yet, except a sharp equity market rally and short squeeze.
Volume was heavy on this "fiscal cliff" day and like others, I hope not to type that phrase again, ever! Breadth per the WSJ was quite positive, approaching a 90/10 day by some measures.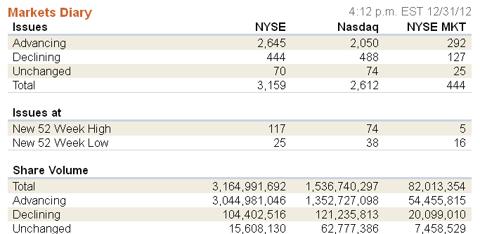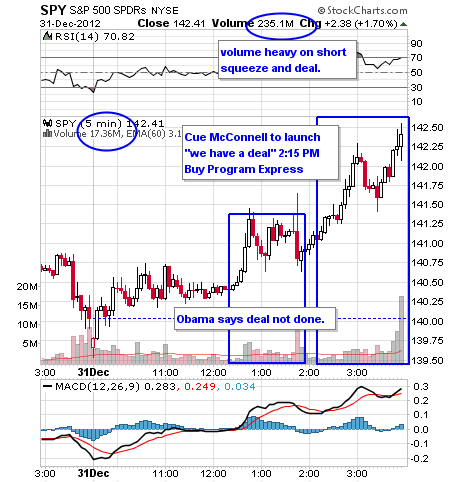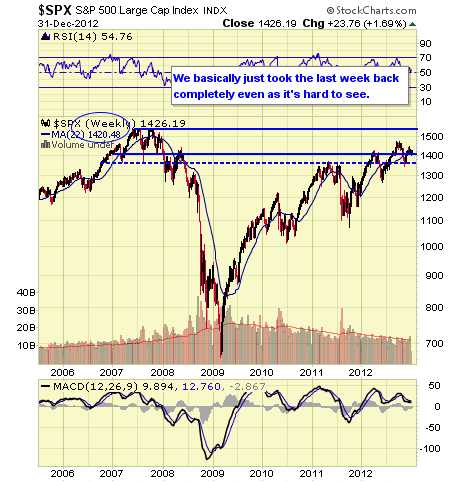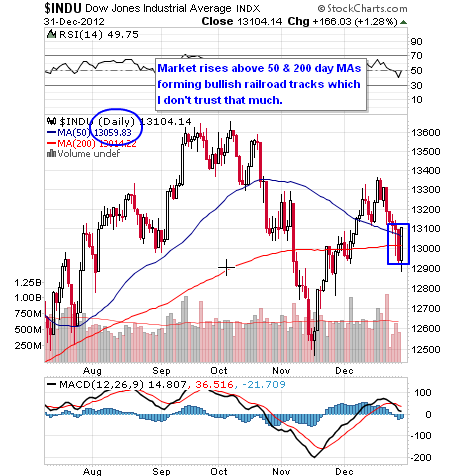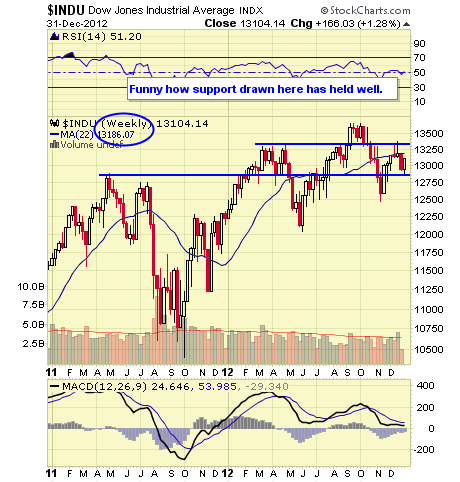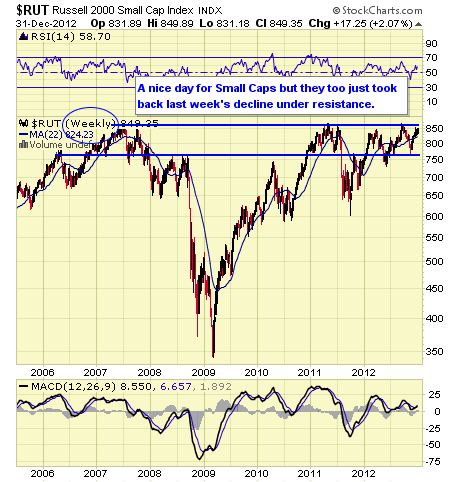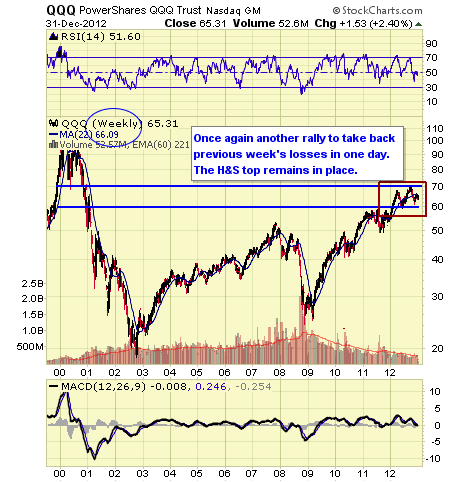 Continue to U.S. Sector, Stocks & Bond ETFs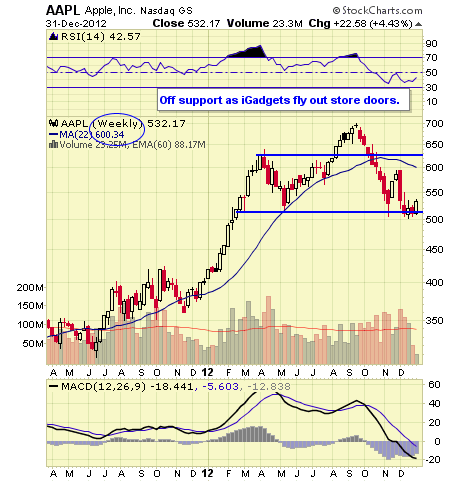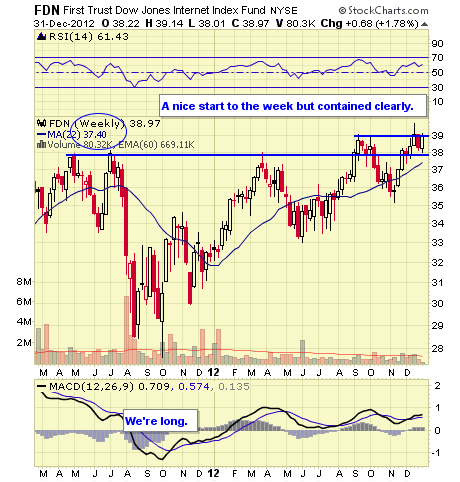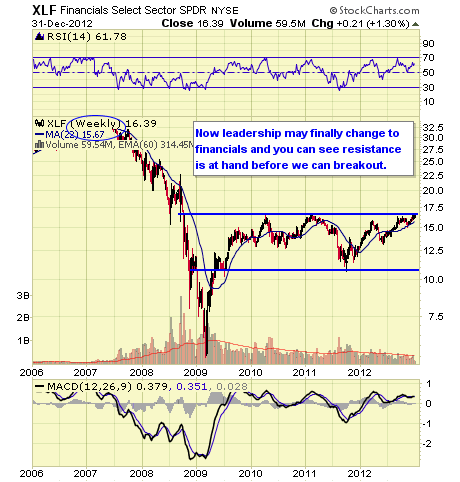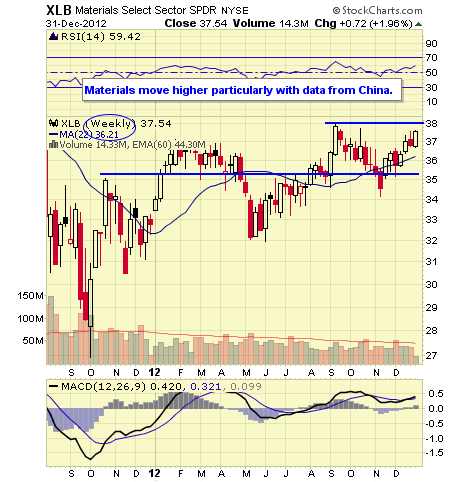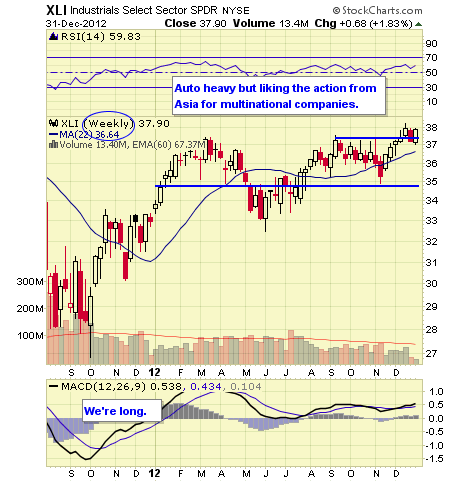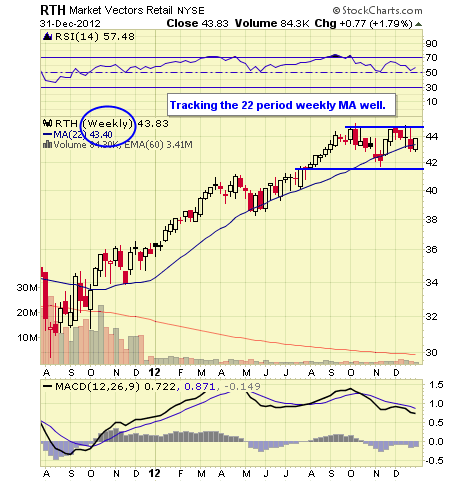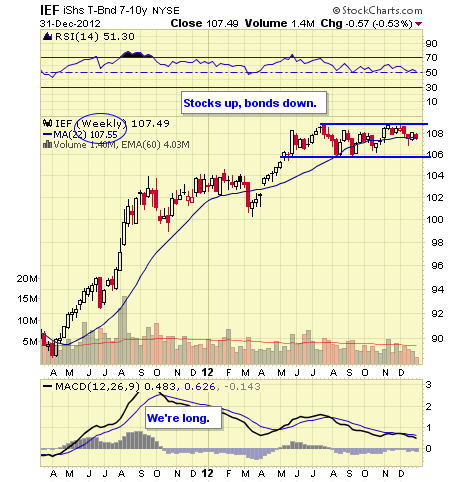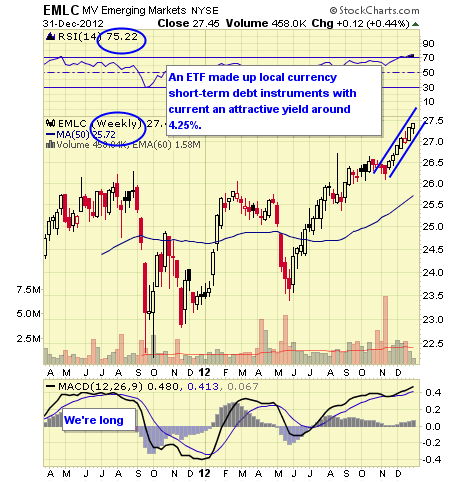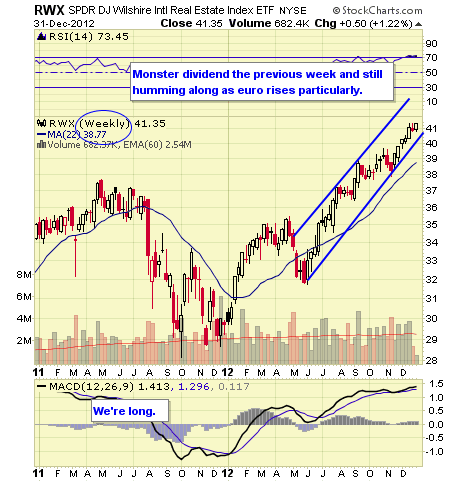 Continue to Currency & Commodity Market ETFs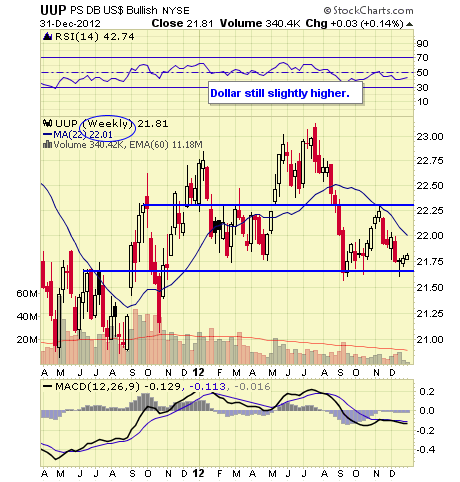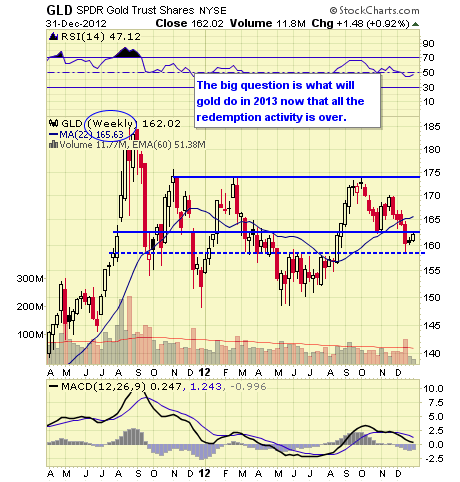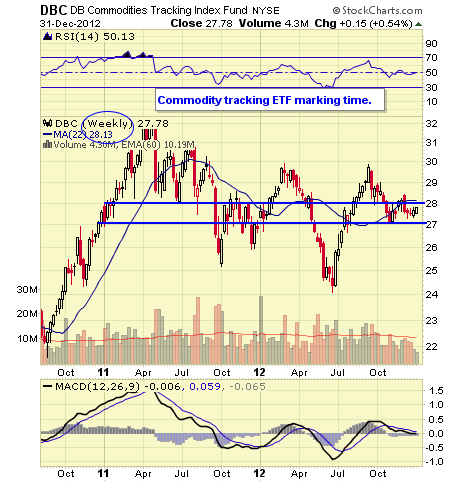 Continue to Overseas Sectors & ETFs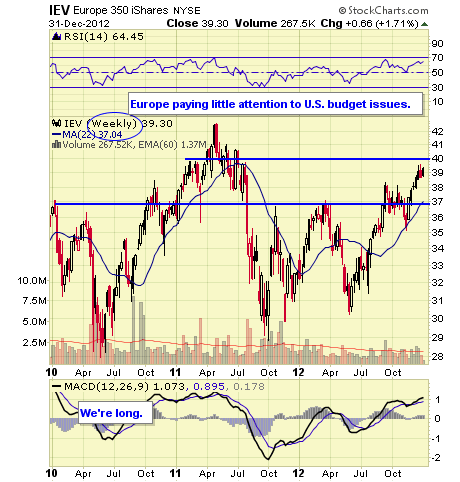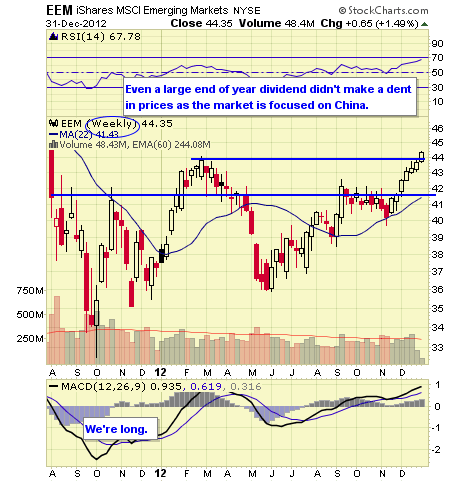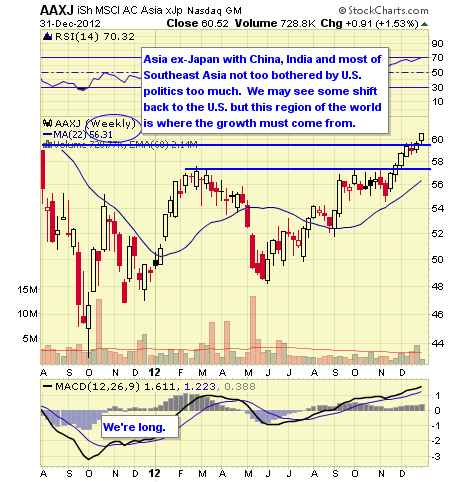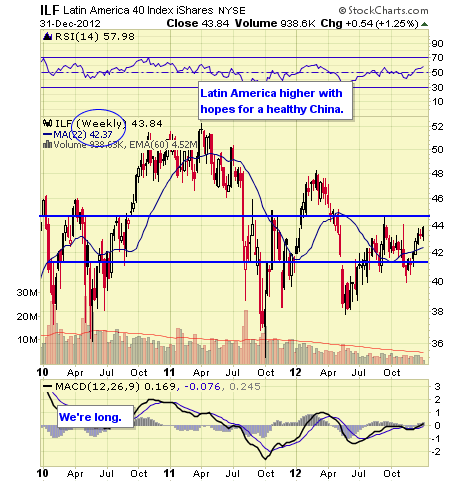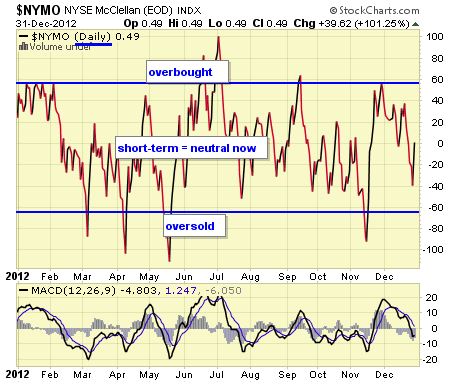 The NYMO is a market breadth indicator that is based on the difference between the number of advancing and declining issues on the NYSE. When readings are +60/-60, markets are extended short term.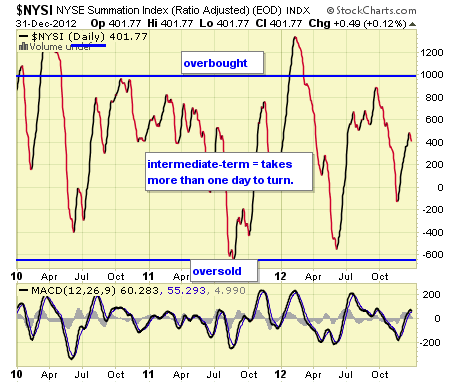 The McClellan Summation Index is a long-term version of the McClellan Oscillator. It is a market breadth indicator, and interpretation is similar to that of the McClellan Oscillator, except that it is more suited to major trends. I believe readings of +1000/-1000 reveal markets as much extended.
The VIX is a widely used measure of market risk, and is often referred to as the "investor fear gauge." Our own interpretation is highlighted in the chart above. The VIX measures the level of put option activity over a 30-day period. Greater buying of put options (protection) causes the index to rise.
Concluding Remarks
Let's see what kind of follow-through we get the rest of this week. The most important thing will be the WH demand for even higher taxes to accompany any deficit reductions. That will be the fight from hell.
HAPPY NEW YEAR!
Disclaimer: The ETF Digest maintains an active ETF trading portfolio and a wide selection of ETFs away from portfolios in an independent listing. Current "trading" positions in active portfolios, if any, are embedded within charts: Lazy & Hedged Lazy Portfolios maintain the follow positions: VT, MGV, BND, BSV, VGT, VWO, VNO, IAU, DJCI, DJP, VMBS, VIG, ILF, EWA, IEV, EWC, EWJ, EWG, & EWU.
The charts and comments are only the author's view of market activity and aren't recommendations to buy or sell any security. Market sectors and related ETFs are selected based on his opinion as to their importance in providing the viewer a comprehensive summary of market conditions for the featured period. Chart annotations aren't predictive of any future market action rather, they only demonstrate the author's opinion as to a range of possibilities going forward.
Disclosure: I have no positions in any stocks mentioned, and no plans to initiate any positions within the next 72 hours. I wrote this article myself, and it expresses my own opinions. I am not receiving compensation for it. I have no business relationship with any company whose stock is mentioned in this article.