On December 21st, the U.S. drugstore giant Walgreen Company (WAG), which operates more than 8,500 stores in all 50 states, posted disappointing results for the first quarter fiscal 2013 in which its net earnings dropped by more than 25%. Net sales dropped by 4.6% from the same quarter last year to $17.3 billion while profits fell by 25.5% to $413 million which translates into an EPS of $0.43. Most of its revenues (63.8%) have come from prescription sales and a 7.2% drop in these is the main reason behind the fall in sales.
The company has purchased a 45% stake in Alliance Boots for about $6.7 billion but the one quarter reporting lag that Walgreen has adopted meant that the gains from its massive acquisition were not reflected in its earnings release while its income dropped by $0.07 per share instead of the gain of $0.03 it had previously announced.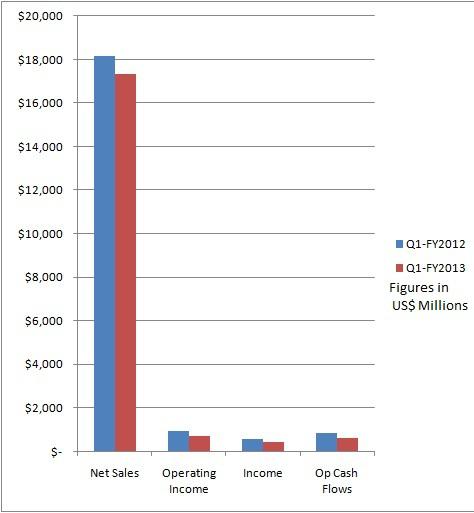 The privately-held Alliance Boots is based in the U.K. and has operations in 12 countries where it runs 11,000 pharmacy and beauty stores.
Walgreen's Chief Executive Greg Wasson has pointed out several positives in the results, including the 1.3 percentage point increase in gross profit margin to 29.4% and the return of some of its customers who had left the company following its dispute with Express Scripts (ESRX). Moreover, the current results also include some one-time charges such as the $24 million hit it took due to Hurricane Sandy, Alliance Boots acquisition related costs, and the $438 million purchase of drug store chains from Stephen L. LaFrance Holdings. Walgreen has purchased 144 stores from LaFrance that operate under different names such as USA Drug and Super D Drug. Therefore, the current results are not as bad as they appear.
Walgreen's yearlong pricing dispute with Express Scripts, the leading American pharmacy benefits manager, cost Walgreen an estimated annual loss of $4 billion in revenues and remains one of the biggest corporate blunders of 2012. While this was happening, Express Scripts acquired Medco Health Solutions for $29 billion adding millions of Walgreen's customers to its base. The two companies later reached an agreement, whose terms remain undisclosed, but Wasson's poor decision making has cost the company 6 million customers. Express Scripts doesn't work exclusively with Walgreen. The latter's management has practically handed over its clients to its rival CVS Caremark (CVS). Pharmacy customers tend to be stickier than other retail consumers, therefore, despite Walgreen's discount offers (such as the Balance Rewards Program), analysts unanimously believe that a significant part of these lost customers are never coming back.
Walgreen's stock has been up 10.52% this year, trailing behind S&P 500 (SPY) which is up 11.44% in the same period. Shares of Both CVS and Express Scripts have easily outperformed Walgreen and S&P 500 but Walgreen offers an attractive yield of 3% and a better return on equity. Its stock closed at $36.54 for the week ending Friday 28th December. Goldman Sachs recently reiterated its buy rating on the stock and has given a price target of $44 while MarketWatch's data suggests an average price target of $39.97, but JPMorgan remains neutral.
| | | | |
| --- | --- | --- | --- |
| | Walgreen | CVS | ESRX |
| Stock YTD | 10.52% | 17.51% | 18.44% |
| P/E | 16.53 | 16.28 | 31.68 |
| EPS | 2.21 | 2.94 | 1.67 |
| Yield | 3.00% | 1.90% | N/A |
| ROA | 6.86% | 6.62% | 5.72% |
| ROE | 12.02% | 10.35% | 8.82% |
Given the fact that its dispute with Express Scripts is now over, I believe there is reason for optimism. In the long term, Walgreen will report rising gross profit margins due to an increase in sales of high margin generics. The terms of its 45% Alliance Boots acquisition also include an option for Walgreen to acquire the rest of the business by August 2015. If that happens, then Walgreen will emerge as a global leader in pharmacy and healthcare with significant operations in the U.S. and Europe. The maturity of Alliance Boots' $8 billion loan was recently extended to two to three years which has raised the possibility of a full takeover. Moreover, Walgreen is not only more profitable than CVS, but its gross profit margins are also indicating a rising trend which is the biggest positive out of its earnings release.
That being said, my primary cause of concern is Walgreen's management. The company will become bigger in the coming years. It will be in a better bargaining position and will renegotiate its terms with its suppliers and middlemen (e.g. pharmacy benefits managers). I am hoping that Walgreen's executives have learned their lessons and are not going to repeat the same mistakes again.
Disclosure: I have no positions in any stocks mentioned, and no plans to initiate any positions within the next 72 hours. I wrote this article myself, and it expresses my own opinions. I am not receiving compensation for it (other than from Seeking Alpha). I have no business relationship with any company whose stock is mentioned in this article.