The Dividend Champions spreadsheet and PDF have been updated through 12/31/12 and are available here. Note that all references to Champions mean companies that have paid higher dividends for at least 25 straight years; Contenders have streaks of 10-24 years; Challengers have streaks of 5-9 years. "CCC" refers to the universe of Champions, Contenders, and Challengers.
New Columns and Formulas
December featured more "graduations" and the deletions of companies whose streaks had lapsed. (See the Summary below.) But the main activity involved the addition of new columns of data and computations, some of which have been requested by users, including the following, which are generally arranged from left to right in the main listings:
FCF% Payout (column T) Based on the Price/Free Cash Flow (mentioned below), the FCF Payout Ratio should be a good complement to the "normal" EPS% Payout Ratio in adjacent column S, which has been renamed from the simple "Payout Ratio" that has been included previously. I'm deriving the FCF% Payout by multiplying the yield (which is the annual dividend per share divided by price) by the new P/FCF data, thus eliminating the price from the top and bottom of the multiplication, leaving the Dividend divided by the Free Cash Flow per share.
Price/Free Cash Flow per share (column AB) is obtained from FinViz, which specifies that the number is for the Trailing Twelve Months (TTM).
Return On Equity (column AC) is also obtained from FinViz, which specifies that the number is for the Trailing Twelve Months .
Inside Ownership (column AI) is the percentage of the shares outstanding that are owned by founders, executives, and directors.
Debt/Equity (column AJ) expresses the relative capitalization provided by debt in comparison with that provided by shareholder equity.
2012 Dividends Paid (column AQ) summarizes "regular" payments during 2012 and is used as the basis for the 1-, 3-, 5-, and 10-year Dividend Growth Rates, replacing 2011. The comparative years have also been updated as appropriate. Note that column AP has also been added to provide markers designating those companies that paid one or more "accelerated" dividends before the end of 2012. Those early payments are not included in the 2012 totals, but will be included in the subsequent year(s) when they are summarized later. This approach is intended to avoid "punishing" companies by deleting them because of artificially lower 2013 payment totals. Similarly, the 2012 totals do not include the payment of "special" or "extra" dividends. (See also temporary Appendix D.)
2012 vs. 2011 Increases (column BF) expresses the percentage change in dividends paid in 2012 from those paid in 2011 and is included in the Simple Average of percentage changes since 2000 (vs. 1999) that appears in column BS, as well as the Standard Deviation that appears in column BT.
Sector (column BU) shows the main area of the economy in which the company (and its industry) operate. Each Sector is made up of several related Industries.
Chowder Rule (column BW) has been added to a new grouping designated as Special Formulas and appears between the Tweed Factor and the Confidence Factor. Per SA member Chowder, the combination of yield and (5-year) Dividend Growth Rate is attractive above 12% (or 8% for utilities) for new purchases and the 8% minimum is expected for retaining existing positions. Of course, it's important to also emphasize that this "rule" is always to be used in conjunction with measures of high quality, such as Safety and Financial Stability ratings from organizations like Value Line or Morningstar.
Also note that the calculations for the Dividend Growth Model (columns BY to CC) have been updated to the 2013-2017 period. I have also relocated the Technical Date to the far right of the main tabs (columns CF to CJ). As mentioned above, I also added a temporary Appendix D to the Notes tab to list Special Dividends that were declared by CCC companies because of the impending "fiscal cliff." I plan to delete that appendix after the next update. You'll also see references to the accelerated payments in the Note column Q of the main listings, such as "Jan13 Pd 2012" that are intended to be temporary and coincide with the markers in column AP (which are permanent).
As always, please feel free to leave any suggestions in the Comment area below.
Quick Summary
The Summary tab includes a table comparing the composite numbers from the latest update to those from the previous month and the end of the previous year. Below that is a summary of the latest month's activity, in terms of companies added, deleted, or promoted. That is reflected below:
Quick Summary:

12/31/12

Champions

Contenders

Challengers

Total

No. of Companies

105

183

170

458

Ave. No. of Years

39.0

14.3

7.2

17.3

Average Price

53.48

50.89

45.25

49.39

Average % Yield

2.93

3.02

3.62

3.22

Ave. MR % Increase

7.75

8.58

10.43

9.06

11/30/12

Champions

Contenders

Challengers

Total

No. of Companies

106

180

180

466

Ave. No. of Years

39.0

14.3

7.2

17.2

Average Price

53.89

50.60

44.66

49.05

Average % Yield

2.93

3.01

3.57

3.21

Ave. MR % Increase

7.54

8.59

10.21

8.96

12/30/11

Champions

Contenders

Challengers

Total

No. of Companies

102

146

200

448

Ave. No. of Years

38.7

15.1

7.2

17.0

Average Price

49.98

46.20

42.62

45.46

Average % Yield

2.94

3.10

3.36

3.18

Ave. MR % Increase

7.24

8.47

10.99

9.39

MR = Most Recent

Additions:

(none)

Deletions:

Abbott Laboratories (NYSE:ABT) from Champions

American Greetings (NYSE:AM-OLD) from Challengers

Eisai Company Ltd. (OTCPK:ESALY) from Contenders

Greif Inc. B (NYSE:GEF.B) from Challengers

Medicis Pharmaceutical Corp. (MRX) from Challengers

Talisman Energy Inc. (NYSE:TLM) from Challengers

Unilever NV (NYSE:UN) from Contenders

Unilever plc (NYSE:UL) from Contenders

Promotions:

CVS Caremark (NYSE:CVS) from Challenger to Contender

Dominion Resources (NYSE:D) from Challenger to Contender

Edison International (NYSE:EIX) from Challenger to Contender

JB Hunt Transport Services Inc. (NASDAQ:JBHT) from Challenger to Contender

Waste Management (NYSE:WM) from Challenger to Contender

Wisconsin Energy (NYSE:WEC) from Challenger to Contender
(Table from author; may include underlying data from FinViz.com)
Every Picture Tells a Story
As a bonus, I'm inserting one of Chuck Carnevale's F.A.S.T. Graphs below, highlighting one of the companies listed above. When the stock's price line has moved into the green area, it indicates that the stock is undervalued in relation to its earnings. I'm attaching the chart below.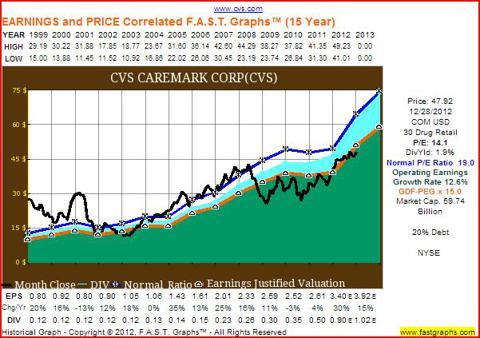 Disclosure: I am long ABT, WM. I wrote this article myself, and it expresses my own opinions. I am not receiving compensation for it (other than from Seeking Alpha). I have no business relationship with any company whose stock is mentioned in this article.