When a company is in the middle of a reorganization effort, it will shuffle divisions around, close down losing operations and rethink its strategy.
Two days ago TechCrunch reported that Zynga (NASDAQ:ZNGA) was closing down 11 games in an effort to reallocate resources and cut down costs in its ongoing reorganization effort. MarketWatch confirmed the report, saying it talked directly to the company.
This is of no surprise to the market. In a note to employees back in October, CEO Mark Pincus talked about such a reorganization effort. More specifically, he said that Zynga would sunset 13 games (so far we have 11) and significantly reduce investment in The Ville (one of the company's simulation games). Furthermore, the company was closing down the Zynga Boston studio and was also thinking of closing the Zynga Japan and UK studios, in addition to reducing staff in the Austin studio.
In fact, the very next day the company reiterated more detail in the company's Q3 earnings report:
Cost Reduction Plan

Yesterday Zynga announced a cost reduction plan expected to generate pre-tax savings in the fourth quarter in the range of $15 to $20 million, excluding an estimated $8 to $12 million pre-tax restructuring charge in the same period. As part of the plan, Zynga expects to complete a reduction in force of approximately 150 employees or approximately 5% of its current workforce, and implement additional cost reduction measures, including steps to rationalize its product pipeline, reduce marketing and technology expenditures and consolidate certain facilities.
So the company is on target to deliver on its reorganization plan as announced.
Is Zynga doing the right thing?
Absolutely. Games come and go and players come and go. It is the responsibility of the company to figure out what games are not worth its time and effort and reorganize its portfolio accordingly. More or less every company does the same thing from time to time, as they reorganize on the fly and figure out what has to change in their product and services portfolio mix. Zynga is no different. So as far as I'm concerned, if the company thinks it has to do away with these games, then away with them it is.
Also, please remember that the company is embarking in a new space. Like I wrote in a previous article, I think the company is poised to become a major player in the online gambling space (read all my Zynga logic articles here). As such, I prefer for the company to concentrate its effort on that, for I think the money to be made in the legal on-line gambling space is many times over the money they could make in the social gaming space.
On a technical note, the stock is trading up and down between $2.10 and $2.72 lately. It will have to trade above $2.72, probably with good volume, in order for people to get excited. If and when that happens, the stock will flash across the screens of technical and momentum traders. For time being, there is nothing else to report technically.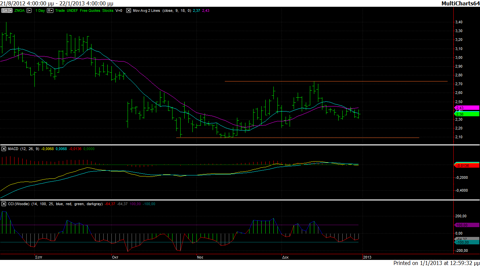 Bottom line: I think this reorganization effort is in the right direction and I remain positive on the company. On the one hand it is finally reorganizing and on the other, assuming it is able to achieve its goals, the gambling space will completely change the landscape of Zynga and that will be extremely beneficial to the stock. And I think this is a bet that is worth making.
Disclosure: I have no positions in any stocks mentioned, and no plans to initiate any positions within the next 72 hours. I wrote this article myself, and it expresses my own opinions. I am not receiving compensation for it (other than from Seeking Alpha). I have no business relationship with any company whose stock is mentioned in this article.