The battle to develop new infrastructure for charging electric vehicles is heating up, with several key players aiming to prove that a viable business model can gain credence even before a critical mass of cars is on the road.
Early movers are taking different approaches. But they all face the same fundamental challenge - how to stomach development costs and turn a profit before the electric vehicle (EV) market takes off.
Several business models are being tested in the field, according to IMS Research, an independent research and consultant firm. Some offer drivers a subscription fee to a network, while other companies provide pay per-use services. Still others operate or maintain charging stations on behalf of property owners. While it's too soon to say which models will prevail, IMS says that winners and losers will emerge as the global market grows from 75,000 EV charging stations today to 4.8 million in 2015 (Display).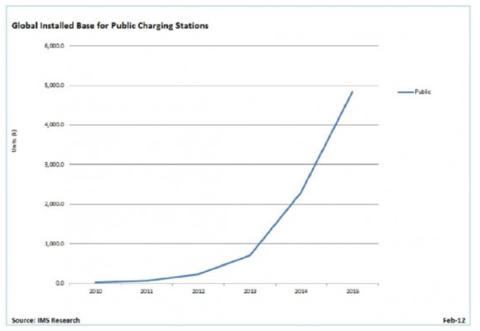 Some pioneers are already paying a price for putting too much money into innovative but risky concepts. During 2012, Better Place, an Israel-based company, suffered a series of blows in rolling out its network of stations for replacing empty EV car batteries with charged ones. Better Place's woes added impetus to the more mainstream model of companies offering public charging stations for EVs, such as Car Charging Group, Inc. (OTCPK:CCGI) and eVgo, a wholly-owned subsidiary of NRG Energy, Inc (NYSE:NRG) in the US.
Better Place had gained worldwide attention for its unique solution to "range anxiety"-drivers concerns about the limited mileage on a single charge-and the relatively long charge times for EV cars. But in October, founder Shai Agassi stepped down as CEO after cumulative losses reached $477 million, according to some media reports. Then, in December, Better Place laid off at least 150 employees in Israel and delayed its rollout in Australia. By year end, new CEO Evan Thornley hinted that the company's business model was changing significantly and it would aim to expand its business by offering infrastructure recharging and management services to EV manufacturers.
Amid delays and rising costs, Better Place received $100 million in new funding, bringing the total raised to $850 million. The massive funding highlighted the Achilles' heel of its business model: battery replacement stations required enormous infrastructure investments that were hard to support until EV unit sales took off.
Indeed, in the Israeli media, Better Place's failure was attributed to an overly optimistic outlook on EV sales, which wasn't backed by strong enough incentives for drivers. Industry experts said the saga reflected broader hurdles for all players including uncertainty over EV consumer acceptability and charging behavior.
"The struggles at Better Place portend the next stage of EV charging service industry consolidation as some of these uncertainties find answers," Pike Research said in a November statement.
In the US, some answers are becoming clearer. Research firm Frost & Sullivan reckons there will be approximately 4.1 million charging points in North America by 2017-including household and public stations. Nearly 87 percent of EVs are expected to be charged in residential locations, as most people's cars are parked in their garages for 10 to 12 hours in a day, according to the report.
The US Energy Administration says private chargers are viable solutions for about 49% of US households. The flip side of that data suggests that at least half of all US households-more than 50 million in total-don't have access to single family garages. For them, other solutions will be needed in order for EVs to become practical.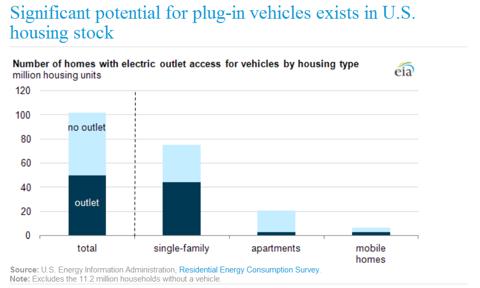 That's the thinking behind Car Charging Group's business model. The Miami-based company has 40 strategic property and retail partnerships aimed at bringing car charging stations to a parking space near you. With groups like Walgreen, Equity Residential and Mall of America on board, the company has access to 6.4 million parking spots across the US, and has set its sights on opportunities in Mexico and Europe as well.
Car Charging Group pays for the charging equipment, making it easy for its partners to provide EV power without spending any money at all. Drivers plug in and let their cars charge while they do some shopping or have lunch in the mall. The typical charge costs about $3 an hour, with most of the total going to Car Charging Group and a small portion paid to the property owner.
For now, a typical property owner is unlikely to make big money from charging stations, and at some locations, installed chargers are hardly being used. Yet Car Charging Group has a clear strategy of securing a foothold in key locations across the country, which could become a springboard for rapid growth when more EVs hit the road in the coming years.
The company faces formidable competition from eVgo, another charging station company. From its home base in Houston, eVgo has plans to expand in other parts of the US, such as California, where it's rolling out 200 charging stations in major urban areas.
As EVgo is owned by NRG Energy, it has much stronger financial firepower than Car Charging Group, a microcap company traded over the counter with a market cap of just $65 million.
However, in the embryonic market, Car Charging Group's small size may be an advantage in moving nimbly to corner opportunities. In addition, a company owned by a major utility might face regulatory scrutiny as it expands into new markets. For investors, Car Charging Group offers a chance to get access to a fledgling market with huge growth potential. IMS forecasts 130,000 new EV stations at public locations will be installed in 2013 alone, generating $550 million in annual sales.
Of course, it will take time before the clouds of uncertainty are lifted from the nascent industry for EV charging infrastructure. But growing public awareness, government grants and technological improvements are all likely to be catalysts for growth in the coming years, providing a potentially big boost to companies who dare to quickly charge ahead of the crowd before the dust settles.
Disclosure: I have no positions in any stocks mentioned, and no plans to initiate any positions within the next 72 hours. I wrote this article myself, and it expresses my own opinions. I am not receiving compensation for it. I have no business relationship with any company whose stock is mentioned in this article.