Stocks ended the year with a strong rally, where S&P 500 had best final-day gain with 1.69% increase since '74 on budget talks. At the time of writing, the budget deal already passed by the Senate. According to economists at JPMorgan Chase & Co (NYSE:JPM) and Bank of America Corp (NYSE:BAC),
"The elimination of a 2 percent payroll tax cut, coupled with higher income taxes on the wealthy, will help reduce growth in the first quarter to 1 percent, from 3.1 percent in 2012's third quarter. The expansion will strengthen later in the year as the housing market continues to rebound as forecasted."
All three major indices rallied with Nasdaq led the gain with 2% increase. S&P 500 followed with 1.69% surge while Dow Jones also managed to wrap up with 1.28% gain. DIA sliced through its 50-day MA and closed above it, so did SPY. QQQ managed to break through its 50-day MA and 200-day MA and closed above both. All sectors closed in green and the sector of basic materials led with 2.05% increase.
The market sentiment is driven by greed now with Fear & Greed Index at 70, increased from the previous close of 49. As reported by CBOE, the total put/call ratio for today was 1.02, and the index put/call ratio was 1.04. The equity put/call ratio was 0.62, and the CBOE volatility index (VIX) put/call ratio was 0.71. In the following, top stock had been identified through our daily options scanning process, with the scanning criteria where the daily call volume ratio was above 3.00 (3x of the average call volume) with a call volume above 5,000.
| | | | |
| --- | --- | --- | --- |
| Name (Ticker) | Call Volume | Average Call Volume | Daily Volume Ratio |
| Barclays PLC (NYSE:BCS) | 7,856 | 1,473 | 5.33 |
Source: Schaeffer's Research
Barclays PLC
Barclays is one of the largest banks in the United Kingdom and has operations around the world, engaging in retail banking, credit cards, wholesale banking, investment banking, wealth management and investment management services.
Barclays Capital, a debt-focused investment bank, had contributed an increasing portion of profit to Barclays. Although Barclays Capital acquired the remnants of Lehman Brothers in 2008 at a significant discount to book value, it is yet to proof its significant long-term value while Barclays continue to struggle to increase revenue and keep costs under control.
Earnings Estimates, Key Stats Comparison, and Valuation
For the year ending December, 2012, analysts are expecting an EPS of $2.52 with revenue of $46.84B. For the full year of 2013, analysts are estimating an EPS of $2.58 with $45.78B revenue, which is 2.30% less than 2012.
By using the data obtained from Morningstar, BCS's key stats will be compared to its competitors in the industry of global banks, including JPM, HSBC Holdings PLC (HBC) and Citigroup Inc. (NYSE:C). BCS has a lower revenue growth and EPS growth (3 year average) of 10.9 and -21.6, comparing to the averages of 18.8 and 3.6. BCS also generates lower operating margin and net margin of 13.1%, ttm, and 5.2%, ttm, comparing to the averages of 44.3% and 10.8%, ttm, respectively. BCS also generates lower ROE of 3.0, comparing to the average of 5.0. BCS has a lower debt-to-equity of 0.4, as compared to the industry average of 1.2.
BCS has a higher P/E of 21.2, as compared to the industry average of 16.0 and BCS's 5 year average of 10.6. BCS's P/B of 0.6 and P/S of 1.1 are lower than the industry averages of 0.8 and 1.6. BCS has a Forward P/E of 23.8, which is higher than the S&P 500's average of 14.2. BCS has a PEG ratio of 1.4.
Technical Analysis
BCS closed at $17.32 with 3.4% gain on Monday. The volume of 3.22M is very close to the 30 day average volume of 3.25M. BCS had been trading in the range of $9.23-17.54 in the past 52 weeks. BCS has a high beta of 2.68. The MACD (12, 26, 9) turned positive on Monday. The momentum indicator, RSI (14), is showing a bullish lean at 64.64. BCS is currently trading above its 50-day MA of $15.77 and 200-day MA of $13.37. The next resistance is $17.40, the R2 pivot point, as seen from the chart below.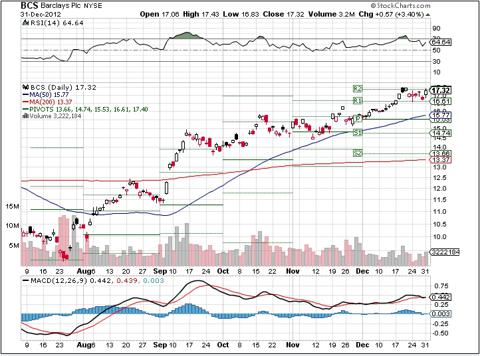 Source: StockCharts.com
Unusual Call Activities
The most active call was Jan. 18, 2013 call at the strike price of $17.50 for a volume of 7,846 with an open interest of 24,664. The implied volatility is 29.1, and the chance of breakeven is 30.54. The historical volatility for BCS is 21.92 for 1 month, 30.40 for 3 months, and 43.26 for 1 year. BCS had made its 52 weeks high of $17.54 on Dec. 19, 2012, BCS could re-test its 52 weeks high if it can clear its next resistance of $17.40. For bullish, aggressive options traders, a credit put spread of $15/$16 with the expiration date of Feb 16, 2013 could be setup to offset the cost of Jan. 18, 2013 $17.5 call.
Note: All numbers/prices are quoted from the closing of December 31, 2012 with the data provided from Barron's, MorningStar, Schaeffer's Investment Research, Inc., Google Finance, and Yahoo! Finance. Investors and traders are recommended to do their own due diligence and research before making any trading/investing decisions.
Disclosure: I have no positions in any stocks mentioned, and no plans to initiate any positions within the next 72 hours. I wrote this article myself, and it expresses my own opinions. I am not receiving compensation for it (other than from Seeking Alpha). I have no business relationship with any company whose stock is mentioned in this article.