Samsung (OTC:SSNLF) is taking the global smartphone market by storm.
According to an internal source, Samsung expects to ship 350 million smartphones in 2013. That's a lot of handsets. To put the number in perspective, Apple (NASDAQ:AAPL) has sold 269 million iPhones since their 2007 introduction. You'd need to throw in all the iPads ever shipped to get that large a figure.
Samsung surpassed Apple in the world's smartphone market earlier this year. Consider the breakout Samsung move seen below: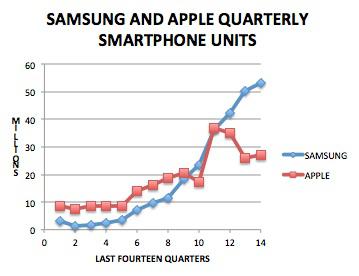 (Data sourced from IDC)
Argue what you will about Apple and its whopping smartphone profits, Samsung has become the volume leader.
Who benefits from Samsung's success? (Besides, of course, Samsung)
350 million smartphones means 350 million transmitters, 350 million amplifiers, and 350 million receivers. While Samsung manufactures their smartphones and provides the battery, camera and chip, a number of companies supply components and stand to gain from 2013's Galaxy III S sales.
Whose components are inside the Samsung Galaxy III S?
The teardown reveals:
- Intel Wireless PMB9811X Gold Baseband processor
- Broadcom BCM47511 Integrated Monolithic GNSS Receiver
- Wolfson Microelectronics WM1811 stereo codec
- Skyworks SKY77604 Multi-Band Power amplifier
- Silicon Image 9244 low-power MHL Transmitter
- Infineon PMB5712 RF transceiver
Intel (INTC)
For all the talk about Intel's absence from the cellular market, Intel is coming on strong in baseband processors. Reportedly, it has 15% of a $15 billion market. With its Galaxy III S presence, Intel's share will likely increase.
Wolfson Microelectronics (WLFMF.PK)
Cirrus Logic (NASDAQ:CRUS) supplies the acoustics for the iPhone. That has made Cirrus a favorite Apple derivative play. What about Wolfson? It's Samsung's go-to supplier for sound. Wolfson's audio hub is in Samsung Galaxy III S and its Note 10.1 tablet. This British $371 million market cap electronics firm bears a look.
Silicon Image (SIMG)
Silicon Image's MHL transmitter in the Samsung Galaxy III S goes a long way to establishing MHL as an industry standard and SIMG as a major player. Silicon Image derives 60% of its sales from mobile. Two years ago, the company wasn't even in the mobile market.
Skyworks (NASDAQ:SWKS), Broadcom (BRCM) and Infineon Technologies (OTCQX:IFNNY) benefit from being in both the Galaxy III S and iPhone. Regardless of who wins the smartphone wars - Apple or Samsung - Skyworks, Broadcom, and Infineon have already won.
Samsung (OTC:SSNLF)
And, of course, the obvious play on Samsung? Samsung. It designs, manufactures, and makes many of the components that go into its mobile devices. Samsung's smartphone division has boosted both top and bottom line. Last quarter, Samsung's mobile sales and profits rose 82% and 132% respectively year-over-year. Over half of Samsung's revenue and more than two-thirds of its operating income comes from mobile. Two years ago, mobile contributed only a quarter of sales and income. Samsung's smartphone prowess helped increase operating margins last quarter to 15.6%, a 530 basis point improvement over year-ago quarter.
Samsung currently is a $198 billion market cap company. Crazy as it seems, in two years, this Korean titan may displace Apple as the world's most valuable company. Along the way, Intel, Wolfson, and Silicon Image may benefit.
Disclosure: I am long INTC. I wrote this article myself, and it expresses my own opinions. I am not receiving compensation for it (other than from Seeking Alpha). I have no business relationship with any company whose stock is mentioned in this article.
Disclaimer: The opinions in this document are for informational and educational purposes only and should not be construed as a recommendation to buy or sell the stocks mentioned. Past performance of the companies discussed may not continue and the companies may not achieve the earnings growth as predicted. The information in this document is believed to be accurate, but under no circumstances should a person act upon the information contained within. We do not recommend that anyone act upon any investment information without first consulting an investment advisor as to the suitability of such investments for his specific situation.