On Monday, the ICE futures market certainly put the squeeze on when it came to orange juice. Futures of frozen orange-juice concentrate tumbled a pretty nasty 7.5% to settle at the lowest point since mid-November, as traders cashed in on a recent rally that was coupled with what most are calling a fairly average weather forecast for Florida, the biggest U.S. orange-growing state.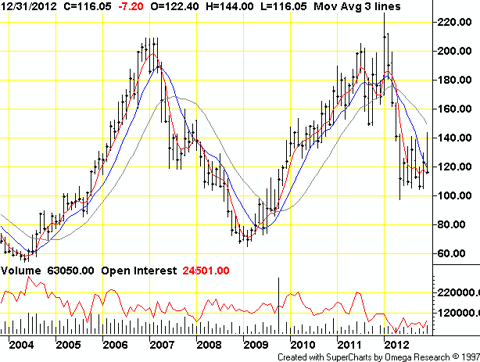 Orange-juice for delivery in January on ICE Futures U.S. ended at $1.1605 a pound, or $116.05 per contract, down 9.45 cents a pound (or $9.45 per lot), the lowest front-month settlement since November 14.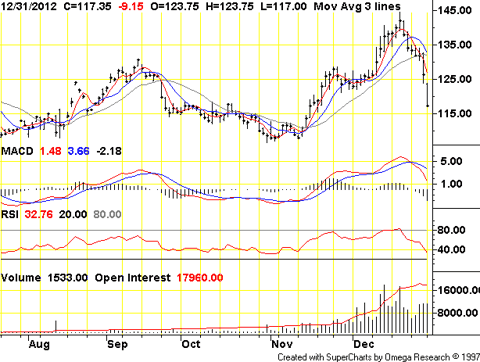 Orange juice for delivery in March, the most actively-traded contract on the day, lost 7.2% to settle at $1.1735 a pound (or $117.35 per lot). According to an article featured on Reuters,
Following Monday's sell-off, the market has retraced the ground gained after the U.S. government warned on December 11 that greening, a bacterial disease that attacks trees, stunts orange growth and is plaguing the Sunshine State's groves, would hurt output in the current season. Prices shot up to close at eight-month highs above $1.44 per pound (or $144 per lot) on December 19.
For U.S.-based investors of the UBS ETRACS CMCI Food Total Return ETN (NYSEARCA:FUD) and the PowerShares Dynamic Food & Beverage Portfolio (NYSEARCA:PBJ), I wouldn't be too worried as this downward trend may just be a short-term case of profit taking. In the long term; however, a continued price drop in orange juice could eventually affect the profits of such companies as beverage conglomerates PepsiCo (NYSE:PEP) and Coca-Cola (NYSE:KO), which own both Tropicana and Minute Maid, respectively.
Disclosure: I have no positions in any stocks mentioned, and no plans to initiate any positions within the next 72 hours. I wrote this article myself, and it expresses my own opinions. I am not receiving compensation for it (other than from Seeking Alpha). I have no business relationship with any company whose stock is mentioned in this article.