Last Monday, Spain's largest utility company Iberdrola SA announced that it has agreed to sell its French renewable energy unit to two French firms, and one American diversified technology and energy giant, General Electric Company (NYSE:GE).
Overall, the deal is worth €350 million, or $462 million, including sale price, loans, and debt repayments. GE is said to be in position to acquire 40% of the French wind farms that Iberdrola is selling. This seems to be the perfect decision, considering the growing wind energy market all over the world.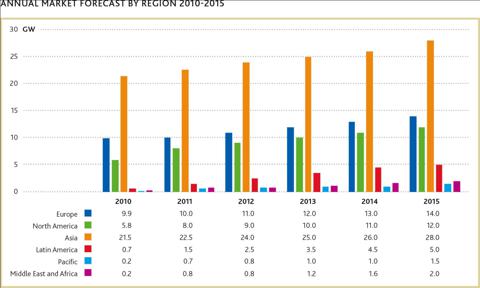 GE's market share has deteriorated to 7.7%, owing to the tough market conditions in the U.S., falling down the ranks to Number 6 in 2011, from 3 in 2010 and 2 in 2008 and 2009. Denmark's Vestas (OTCPK:VWDRY) held on to its position as the world's leading wind turbine manufacturer in 2011 with over 12% in 2011, maintaining the lead over challenger for the Number 1 slot; China's Sinovel. Germany's Siemens (SI) had fallen from Number 5 in the world to number 9 in 2009. It has retained the number 9 position for three years now.
When the wind energy market is expected to be the third largest energy sector at $48.5 billion by 2015, it's not hard to understand that there's a strong motive behind the recent acquisition by GE. For the record, the total installed capacity of the French wind farms being sold is 321.4 megawatts (MW), and 40 percent of that comes down to an additional installed capacity of 128.56 MW for GE.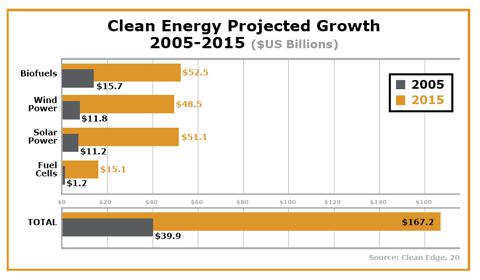 The total operational profit of the Energy Infrastructure segment has dropped to $6.65 billion in 2011, compared to $7.27 billion in 2010, regardless of the revenue spike. The present acquisition is probably a move to correct that and prepare the company's market presence in the coming few years. Nice move, GE!
And this is what is called streamlining the business, and GE is all set to overhaul its whole process, as is evident from another recent development below.
GE has also announced the signing of an agreement with Woodward, Inc. (NASDAQ:WWD), an independent designer and manufacturer of control solutions for the aerospace and energy markets, to divest its hydraulic thrust reverser actuation systems unit, which manufactures various products for commercial aircrafts such as the Boeing 737, Boeing 747, Boeing 777, and Airbus A320, for roughly $200 million in cash.
The GE Aviation unit's revenue stands at $18.86 billion in 2011, far below $19.24 billion in 2008 before the Great Recession. The revenue graph has only deteriorated until 2010, after which it showed slight improvement.
Not only that, following the acquisition of Avio's aviation unit for €3.3 billion (or $4.3 billion) a few days back in December 2012, the acquiring company will invest $1.1 billion in the next 10 years in the aviation assets it acquires from Avio, confirmed GE Aviation's chairman and chief executive David Joyce.
As anyone can understand, GE certainly needs to save up capital and cut losses for the amount of expenditures it has incurred or is going to incur soon. The present "investment and divestment" process just streamlines it for better operational margin in the future. Again a good move, GE!
If you are worried about the future earnings of the company, here's what the Street analysts have to say:
Fiscal
Year End

Consensus
EPS Forecast

High EPS
Forecast

Low EPS
Forecast

Number of
Estimates

Over the Last 4 Weeks
Number of Revisions

Up

Down

Dec 2012

1.51

1.55

1.5

10

1

1

Dec 2013

1.68

1.75

1.63

12

0

7

Dec 2014

1.86

2

1.76

6

0

0

Dec 2015

2.13

2.14

2.11

2

0

0
GE's earnings are expected to have a steady rise until 2015. And even long-term trends prove their validity, where you see the EPS has only gone up in the last couple of years.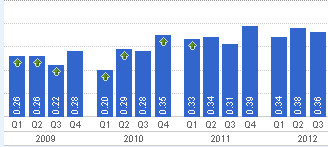 Fundamentally, GE seems to be taking the right steps at the moment and is poised for a better future. And that should show in the stock price gain, noting the fact that GE's price-to-book ratio at 1.86 is much lower than the 3.35 of United Technologies (NYSE:UTX) and 2.27 of Siemens.
A Look at the Technical Side
Let's first take a look at an image below.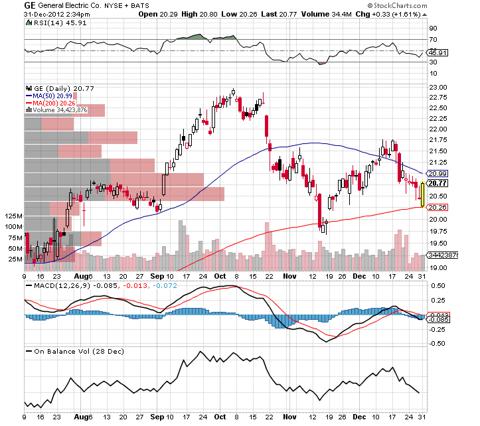 Japanese candlesticks show longer upper shadows, long bodies. This means that there is sufficient buying pressure that will probably not allow the price to go down.
Relative Strength Index (RSI) is below 50. This shows that the stock is yet not oversold and that the price will gain back in the coming few days or months.
Volume by Price has the longest bar around the price of $20.50. In the last 3 months, the stock price has been testing the support and has not been able to go down. This can turn out to be an uptrend.
On Balance Volume (OBV) line is trending down. There are not many sellers around, and with the acquisition news and following hopes for 2013, the price might just go up.
MACD divergence shows lower lows, constant highs. Again a sign of constant buying pressure and decreasing selling pressure!
Conclusion
When compared with other rivals, GE doesn't prove to be a quality buy. But then again, the stock price has got potential to go up, and with some more acquisitions down the line, it can probably hit a new high sometime later. Who knows?
If you ask me, I am neutral about the stock. But one thing must be noted; GE can be a source of good dividend income, if not a value buy at the moment.
Disclosure: I have no positions in any stocks mentioned, and no plans to initiate any positions within the next 72 hours. I wrote this article myself, and it expresses my own opinions. I am not receiving compensation for it (other than from Seeking Alpha). I have no business relationship with any company whose stock is mentioned in this article.