Occasionally, I utilize equity screens to generate new ideas and help formulate new watch lists. In an effort to find companies trading below fair value, I conducted an equity screen this morning using the following constraints:
Forward Price/Earnings Ratio < 15

Free Cash Flow/Market Capitalization % > 10

PEG Ratio <1.75

Price/Sales Ratio (12 month trailing) < 1

Price/Book Ratio (12 month trailing) <2
As a result, the screen revealed two companies operating within the tech industry including Cogo Group (COGO) and Flextronics International (NASDAQ:FLEX). Both companies appear to be undervalued and have the potential to provide a substantial upside in market value, yet only exposes investors to a moderate level of risk. This article provides a brief overview to each company and highlights its performance over the past year.
COGO is a company operating within the tech sector that specializes in communications equipment. COGO provides specialty designs for mobile headsets and various telecommunications equipments including optical technology, data communications, and wireless band stations. On the mobile side, COGO serves as a provider of LCDs, cameras, sound systems, power supply, and high-speed data storage. Further detail on specific products and services can be retrieved from COGO's company website.
COGO operations support two streams of revenue:
Product sales - This is comprised of revenues generated by providing customized module design solutions focusing in the digital media, telecommunications equipments, and industrial business end-markets.

Service revenue - This revenue is generated by providing technology and engineering services, network system integration and related training, and maintenance services.
COGO revealed a slight decline in market value over the course of the previous one year holding period. However, COGO gained stability, establishing a strong support line at $2 per share. COGO is currently trading right above $2 per share and six analysts covering the stock have a median price target of $5 per share.
Figure 1: COGO One-Year Price Graph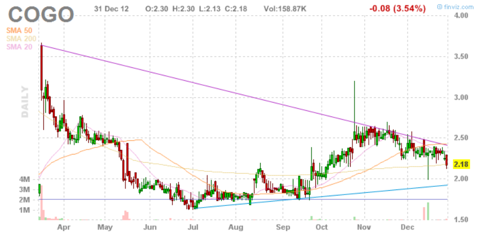 FLEX is a company also operating in the tech industry with a strong focus on semiconductors. FLEX specializes in providing capabilities and supply chain services for a wide variety of industries. On the manufacturing side, FLEX is responsible for manufacturing a variety of devices such as computers, digital cameras, phones, as well as enterprise infrastructure products. The vast majority of FLEX's revenue is derived from companies outside the U.S. spread across more than 30 countries in four different continents. For further information, please visit FLEX's company website.
FLEX also experienced a decline in market value over the same period as COGO. FLEX is trading at roughly $6.20 per share and with 662.22 million shares outstanding, its market capitalization is approximately 4.12 billion. Four analysts that cover this stock have a median price target of $7.50, which is nearly a 20% upside from its current market value per share.
Figure 2: FLEX One-Year Price Graph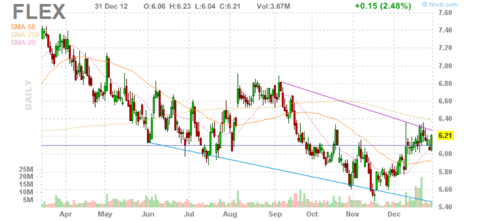 In conclusion, according to the equity screen I conducted, both companies are trading at a discount of fair valuation. Analysts' estimates are highly favorable of a substantial upside in value with projected returns ranging from 20% to right above 100%.
Sources: TD Ameritrade, FinViz, Google Finance, and The Wall Street Journal.
Disclosure: I have no positions in any stocks mentioned, and no plans to initiate any positions within the next 72 hours. I wrote this article myself, and it expresses my own opinions. I am not receiving compensation for it (other than from Seeking Alpha). I have no business relationship with any company whose stock is mentioned in this article.