A recent Seeking Alpha article - Use A Broken-Wing Butterfly To Capture VXX's Downward Drift - proposes an option strategy based on the assumption (or maybe it was an observation) that VXX "drifts downward and spikes upward."
The facts suggest that this assumption (or observation) is false.
I recently wrote an article for Seeking Alpha where I reported the weekly price changes for VXX over the past two years - Black Swan Insurance That Might Pay Off Even If There Is No Crash.
The most interesting finding was that for weeks when VXX fluctuated by more than 5%, there was an exact tie (34% of the weeks) when the move was to the upside as it was in the weeks when the move was to the downside. (It is also noteworthy that in fully 68% of the weeks, VXX fluctuated more than 5% in a single week.) This is surely extreme volatility for any economic measure.
Over the past two years, when there was a double-digit change (i.e. 10% or more) in the weekly price of VXX, there was a virtual tie between the weeks when it moved higher (25% of the weeks) as the times when it moved lower (24% of the weeks). Even more significant, really big moves (over 15%) occurred 10% of the time on the downside but not once on the upside!
The long-term graph of VXX displays the inexorable downward slope of this dog-of-all-dogs ETF.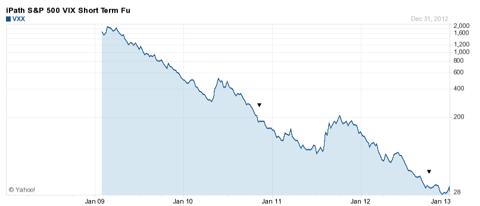 The only reason that this ETF has any value at all is because of the two 1 - 4 reverse splits that have taken place since it was launched three years ago.
While the graph might look like it supports the notion that VXX edges down and soars up, when weekly changes are considered, the exact opposite is true - there are more downside big moves than upside ones.
It is dangerous to make investment decisions on intuitively-attractive assumptions that do not work out to be true in the real world. This is a perfect example of one of those assumptions.
Disclosure: I am short VXX. I wrote this article myself, and it expresses my own opinions. I am not receiving compensation for it (other than from Seeking Alpha). I have no business relationship with any company whose stock is mentioned in this article.