Last week one of my favorite Seeking Alpha writers, Tim McAleenan, Jr., wrote an article that provided insight into one of Ben Graham's fundamental principles of investing. As a Graham disciple, I was glad to see McAleenan touch on a most important subject and one that can never be read or said enough. As Graham wrote (in The Intelligent Investor):
An investment operation is one which, upon thorough analysis, promises safety of principal and satisfactory return. Operations not meeting these requirements are speculative.
McAleenan provided intelligent insight into the premise that "a stock does not become a sound investment merely because it can be bought at close to its asset value (Graham)". Instead, as McAleenan explained, security selection with a significant "margin of safety" is the value investor's definitive precautionary resource. As McAleenan explained:
I become more convinced than one of Benjamin Graham's rudimentary guidelines about value: either regard the purchase of a stock with a P/E ratio above 20 as a speculative investment, or decline the purchase of securities with a P/E above 20 altogether. The general premise of that statement is that when an investor starts with a base earnings yield below 5%, he is acting without a margin of safety because he needs above average growth to bail out the price paid for the investment.
Furthermore, I was glad that McAleenan set forth some "general" guidelines as Graham believed that the power of the margin of safety concept lies in its broad applicability. In other words, the "all purpose" tool can be used as a measuring stick for risk minimization - one in which an investor can proceed with a fair degree of certainty (regardless of day-to-day price fluctuations) that principal will be preserved. As McAleenan explained,
The general rule of not paying more than 20x earnings for a stock is useful for an investor with a defensive orientation. The best reason not to follow this rule is that there can be lucrative opportunities that would get ruled by a strict adherence to this guideline.
Can REITs be measured Much like Non-REITs?
In a previous Seeking Alpha article I wrote:
It's important not to use P/E for REITs, or to compare P/E for REITs with P/E for non-REIT stocks. Funds from Operations, or FFO, is a standardized metric, though not GAAP; Adjusted Funds from Operations (AFFO) is not standardized, and equity analysts have different ways of constructing it. Both of them are better than earnings for valuing REITs.

By utilizing price to FFO valuation, analysts and investors can determine the trading history of each REIT by itself and relative to the entire REIT sector. Accordingly, payout ratios are based on AFFO (adjusted funds from operations) because it more accurately measures cash flow when compared to net income (due to depreciation), and given the contractual nature of lease payments today, earnings growth rates are higher than the S&P.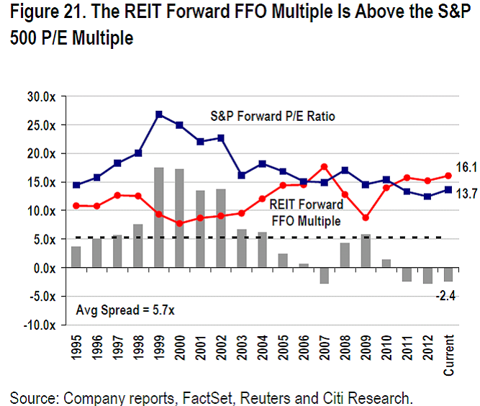 It is clear to see that today REIT FFO multiples are around 300 bps above the S&P P/E multiple. Why? Are REIT stocks grossly expensive versus non-REIT stocks?
As I wrote (Cap Rate Compression: A Harbinger Forming for REIT Investors) a few weeks ago,
REITs today are benefiting from historically low interest rates and that has fueled their growth over the past several years. This growth has also resulted in general improvement in payout ratios, dividends paid, and financial positions across most of the spectrum of REITs.

It appears that there is little sign that interest rates will rise significantly in the near term. That is why valuations of REITs may appear to be expensive relative to historical standards. The current low interest environment, at least in part, justifies the higher valuations, as does the lack of income options from the bond market.
In addition, it is clear that investing for income will continue to be the name of the game for investors - both individual and institutional. As Ralph Block explained in a SNL blog (that can't be linked to since it's for paid subscribers):
As commercial real estate is a wonderful income vehicle, cap rates will remain low, relative to historical norms, and may even decrease further. As REIT stock prices have, over most of their history, correlated well with expected changes in REITs' estimated NAVs, there will be no pressure on REIT stock prices (or their trading multiples) as long as interest rates and bond yields remain in their present zones, new development remains muted, and we can avoid another recession.
As Block went on to explain:
If REIT stock prices continue to trade somewhere near their estimated NAVs, and if those NAVs can increase modestly over the next few years with 2% to 3% NOI growth, then there is no reason to suspect that the current P/AFFO ratio of about 18x-20x (depending upon whether one uses current or 3-year forward AFFOs) will decline substantially. Accordingly, the seeming anomaly of a historically wide gap between REIT multiples and S&P 500 multiples may not narrow much over the next few years.
Currently the spread between cap rates and the 10-Year US Treasury Yield is around 430 basis points - well above the 14-year average spread of 360 basis points. In addition, as Ralph Block explained:
Well-located commercial real estate now trades at an unleveraged IRR of about 6.9% (based on an average nominal cap rate of 6.0%), which compares to a yield of 4.6% for investment grade bonds (per Moody's). That's a gap of about 230 basis points, compared to a historical norm of 147 basis points going back to January 1988. This, of course, suggests that commercial real estate is "cheap" relative to such bonds…. REIT stocks are likewise cheap relative to bonds.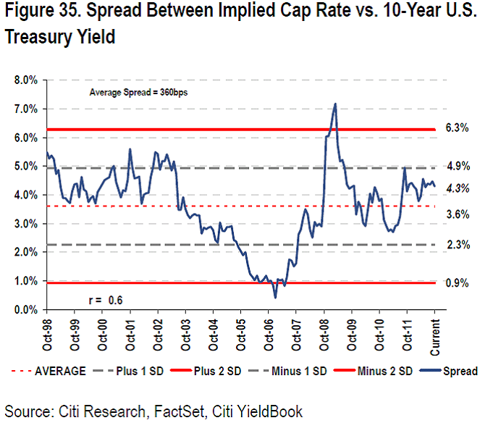 Where Can REIT Investors Find Some Bargains?
The margin of safety concept is a deceptively succinct and simple tool representing an enormously powerful concept and it is no surprise that it has become the sacred motto for value investors. Much of Graham's (and McAleenan's) beliefs are rooted in the notion that "if we follow the speculative crowd we are going to lose money in the long run." (Graham).
So as we lean into 2013, what are the best REIT candidates? We all like Realty Income (NYSE:O) but is there adequate safety with shares trading at $40.21 with a P/AFFO of 19.59? Or could Omega Healthcare Investors (NYSE:OHI) be a better buy with shares trading at $23.85 (and a P/AFFO multiple of 12.95)? Or what about blue-chip REIT, Tanger Factory Outlets (NYSE:SKT), trading at $34.20 per share (P/AFFO of 20.18) and soon to be inducted in S&P's Dividend Aristocrat club for 20 years is a row of dividends paid and increased (see my article here)?
The answer to the best picks (from a value investor's perspective) is neither a safety of principal nor satisfactory returns but instead what the Oracle of Omaha described as the choice between "clairvoyance" or simply a decision that lies in the ability to arrive at conclusions based on thorough analysis of the facts. McAleenan explained some of his trophy non-REIT picks this way:
The most appealing thing to me about incorporating the "never pay above 20x earnings for a stock" rule is that it just oozes with common sense. I love the business models of Hershey Foods (NYSE:HSY) and Brown-Forman (NYSE:BF.B). Both companies are simple to understand. It's easy to understand chocolate and alcohol. The businesses have little risk of being disrupted by a major technological change. Their earnings are predictable. To cut to the chase, both companies exhibit the kind of qualities that seem like dream long-term holdings. But identifying an excellent business is only half of the process. The problem is that Hershey currently trades at 25x earnings and Brown-Forman currently trades at 24x earnings. Graham wouldn't touch these stocks.
Hmm. Should REIT Investors practice the same steadfast rule? Not me. It's quite clear that REIT earnings are still low relative to a normal market environment. Investors like REITs not just because they have strong current dividend yields relative to other income assets, but also because investors expect their operating earnings to grow strongly as the economy improves.
Remember, REITs are income-disciplined (because they pay out 90% of income in the form of dividends) and because total returns for REITs are anchored by dividends (on average 60% of total return is dividend income) the spreads between dividend yield and the ten year treasury rate have averaged about 100 bps since the start of the modern REIT Era.
More importantly, REITs today appear cheap - especially when you consider that the spread between dividend and the ten year stands at 170 basis points. Additionally, with current payout ratios at 74 percent of AFFO compared to the historical average of 82 percent, the spread on an adjusted basis is actually closer to 200 basis points.
Now let me finish by saying that Graham and McAleenan are not wrong when it comes to REITs. On the contrary. I think they are spot-on. I simply think it is important to consider ALL of the valuation metrics - especially the safety of the dividend yield - when selecting REIT securities. I think prominent value investor and Columbia finance Professor Joel Greenblatt summed up the margin-of-safety concept perfectly when he said:
It's about figuring out what something is worth, and then paying a lot less for it.
So one way to start the process of finding "a wonderful " REIT "at a moderate price" is to filter out the best investment opportunities that are worthy of ownership. This involves considerations such as sector, geography, competitive positioning and the "economic moat" around the REIT; that is, a sustainable competitive advantage that helps preserve long-term pricing power and profitability.
I have selected a random list of twenty one REITs with P/AFFO multiples ranging from 7.16 to 26.47. Some worth exploring include CapLease (NYSE:LSE), American Realty Capital Properties (ARCP), EPR Properties (NYSE:EPR), Medical Properties Trust (NYSE:MPW), Omega Healthcare Investors , and STAG Industrial (NYSE:STAG).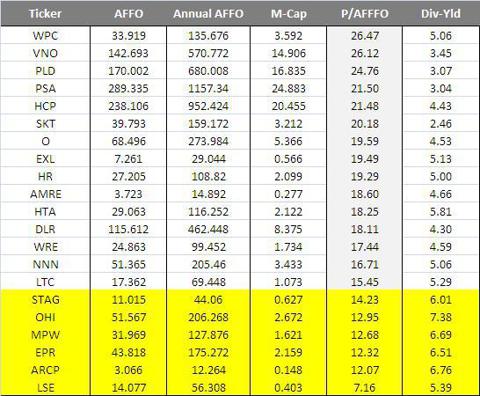 Remember, understanding P/AFFO is just one of many tools that intelligent REIT investors utilize to screen securities. Accordingly, that measurement resource is one of the best margin of safety resources that can assist in minimizing risk. Ben Graham believed that:
it could still involve considerable peril if the strong company were purchased at too high a price.
Good luck and Happy New Year!
Source: SNL Financial
Disclosure: I have no positions in any stocks mentioned, and no plans to initiate any positions within the next 72 hours. I wrote this article myself, and it expresses my own opinions. I am not receiving compensation for it (other than from Seeking Alpha). I have no business relationship with any company whose stock is mentioned in this article.