In a recent article, Rubicon Mining: A Speculative Growth Play And Acquisition Candidate, I briefly discussed the fundamentals of Rubicon Minerals (RBY) along with multiple reasons as to why I feel it is a strong speculative buy. However, the potential for downside risk associated with stocks that are often rated speculative buys tends to steer many individuals away from these investments. The use of options can help avoid this. This article is strictly an overview to one options strategy for profiting of an increase in RBY's market value per share. For further detail on the company please visit the link above and RBY's company website.
To clearly illustrate this options strategy, I am going to use the median six month price target of $5.50 computed based off the consensus of six different analysts. Note this price target is highly conservative and is being used for a base case. As I mentioned in my previous article on RBY, given the positive outcome of several catalysts RBY's market value per share has the potential to greatly surpass this price target. The option strategy I am going to discuss involves using a regular call option. Looking at figure 1 below, you will see RBY just closed yesterday at $2.55 per share. Hence, at this value RBY's current market value per share is roughly $3 away from analysts median price target.
Figure 1: RBY's Five Year Price Graph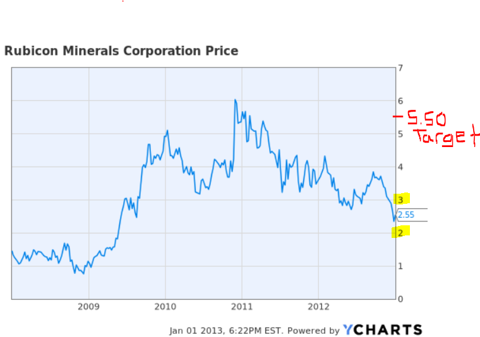 Initiating a long position in a stock that in nature is speculative for its exposure to a variety of risks is not for everyone, however there are other ways to benefit from the rise in RBY's price. A call option is most appropriate for this scenario. Below I have provided the most recently updated options chain for RBY, which can easily be accessed at Google Finance. The closing price for one RBY call option expiring on June 22, 2013 at a strike price of $2.50 was $0.40, or the equivalence of $40 per contract. This provides extreme leverage for individuals striving to benefit from rising prices in RBY, but do not want to suffer from a potential downfall in market value. By June 22, 2013 if the market value per share of RBY were to fall below $2.50 per share then the maximum loss would be the premium paid for the call option (which based off the assumptions above would be $40).
Figure 2: RBY's Option's Chain
If RBY's market value per share reaches $5.50 on or before June 22, 2013, the total profit would be $260 per contract. This assumes a $40 premium paid per contract and excludes brokerage transaction costs. In conclusion, RBY has serious potential to provide investors with a substantial upside and utilizing options is just one method for investors to benefit from RBY's success.
Sources: YCharts, TD Ameritrade, Google Finance, and The Wall Street Journal.
Disclosure: I am long RBY. I wrote this article myself, and it expresses my own opinions. I am not receiving compensation for it (other than from Seeking Alpha). I have no business relationship with any company whose stock is mentioned in this article.