Shares of The Hartford Financial Services Group Inc. (NYSE:HIG), a leading provider of insurance and wealth management services, are up more than 33% over the past year. This move comes despite HIG taking significant catastrophe losses related to Hurricane Sandy. There are four reasons why HIG can continue to rally.
1. Valuation
Despite trading close to a 52-week high, HIG remains a compelling value play based on price/book. As shown by the chart below, in the past, HIG has traded at significantly higher valuations based on price/book. Of course, HIG is unlikely to revisit its price/book valuations prior to 2008 but, given the current macro environment, the company should be able to move back to valuations seen in 2010 close to 0.75 times book value, a big improvement from the current 0.428 times book value.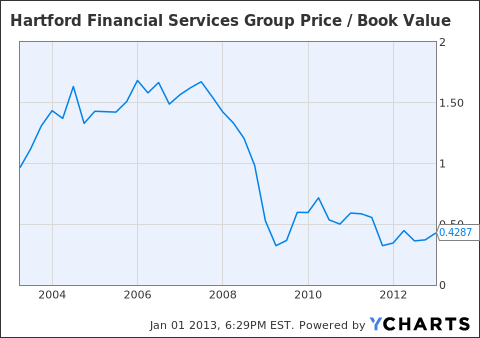 2. Short Interest
Despite the rally in HIG shares, short interest remains robust. Currently, short interest stands at 42 million shares or 10.6% of the float. The high short interest indicates that many are still skeptical of HIG despite the move higher. Thus, many potential converts to the HIG bull case remain to drive the stock higher. Additionally, the high short interest means that, given any positive news, a short squeeze could develop.
3. David Tepper Increases Stake By 236%
Noted hedge fund manager David Tepper recently added significantly to his position in HIG. Of course, Tepper's endorsement alone is not reason enough to buy HIG. That being said, it is a positive that Tepper, usually a value investor, not a momentum player, (think about his purchase of Bank of America (NYSE:BAC) for $3 in 2009) is buying HIG after a significant move higher, not selling.
4. Sector
Right now, the financial sector has the momentum. As shown by the chart below, the financial sector as a whole has been performing very well compared to other key market sectors, and this trend shows no signs of changing. There are a few fundamental reasons why the financial sector has been so strong: the improvement in the European debt situation, the improving housing market, and the prospect that the government will allow banks to increase dividends and buybacks in 2013. As an insurance and wealth management company, HIG is well positioned to benefit from the ongoing rotation into financial shares.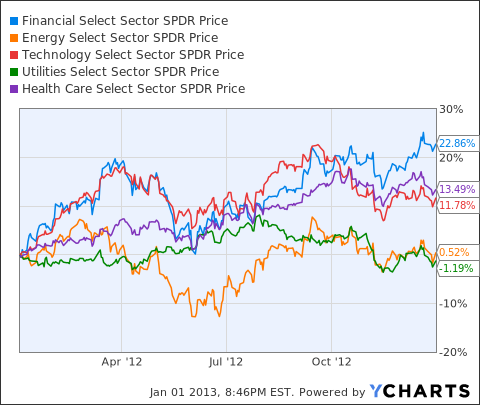 Potential Risks
In his piece To Hartford Management: I Wish You Wouldn't Do That, Seeking Alpha author Tom Armistead outlines some risks facing the company including the notable increase in CDS issuance. I agree with Tom that this has the potential to be a problem for HIG and the increasing CDS exposure is something of a red flag. That being said, the current bullish momentum behind the macro bodes well for HIG as the company should actually benefit from risky selling of CDS. However, if the macro environment were to change significantly, HIG would likely face significant losses on this part of its business.
Conclusion
While HIG may face long-term consequences from its risky business practice of increasing CDS sales, I believe the stock can continue to move higher over the short-to-medium term. To me, HIG is a stock to be traded but not held for a long-term investment.
Disclosure: I have no positions in any stocks mentioned, but may initiate a long position in HIG over the next 72 hours. I wrote this article myself, and it expresses my own opinions. I am not receiving compensation for it (other than from Seeking Alpha). I have no business relationship with any company whose stock is mentioned in this article.