The Walt Disney Company (NYSE:DIS) is one of the world's leading media conglomerates with operations in theme parks, television, films, and merchandising. Although the company has had a great run over the past several years, with the stock more than doubling since 2009 (see chart below), I believe the stock is still undervalued at current levels and is worthy of consideration.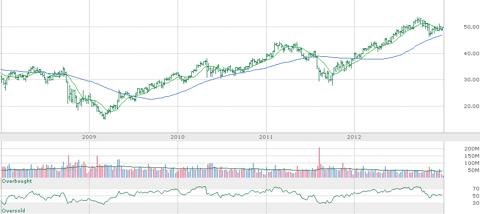 Disney operates in four divisions. Theme Parks and Resorts (30% of revenues) is the company's best-known operations, including the Disney World and Disneyland parks, as well as Disney Cruise Line and the company's foreign theme parks. Media Networks (48% of revenues) consists of Disney's television operations, the largest of which most consumers don't associate with Disney. Aside from the namesake Disney Channel, the ABC network as well as the majority of ESPN (80%) is owned by Disney. The Studio Entertainment division (14% of revenues) includes the film and home video businesses, and the Consumer Products division (8% of revenues) includes merchandise licensing, video game development, and the company's over 350 stores worldwide. Interactive, the smallest division (2% of revenues), includes video game production and the company's websites and online operations.
Currently, Disney's growth strategy is mainly based on international expansion, and also emphasizes strategic acquisitions. The most notable examples of the latter include the company's acquisitions of Pixar in 2006, Marvel Entertainment in 2009, and most recently Lucasfilm. In regards to international expansion, the company recently began construction on their first park in mainland China (Shanghai), set to open in 2016.
Now, let's talk valuation for a second. Currently trading at 15.9 times TTM earnings, Disney is expected to grow its earnings considerably over the next three years, with consensus estimates calling for earnings of $3.41 for fiscal year 2013, growing to $3.84 and $4.39 in 2014 and 2015, respectively. This represents a projected 3-year average annual earnings growth of 12.7%, more than justifying the P/E ratio, which is actually less than Disney's 5-year average P/E of 16.9 times earnings.
Disney actually trades cheaper than its peers. With the diversity within Disney's business, it is difficult to call any other company's "direct" competitors, but two companies with similar business models to Disney are Time Warner (NYSE:TWX) and News Corp (NASDAQ:NWSA) and (NASDAQ:NWS). Time Warner currently trades at 18.1 times TTM earnings, and similar earnings growth is projected, based on the consensus. Time Warner also has a less favorable balance sheet, with $19.5 billion in long-term debt vs. $3.5 billion in cash and equivalents, or $16 billion in net debt, which is 35.4% of the company's market cap. Disney, on the other hand, is a larger company asset-wise, and has only $10.9 billion in net debt, or only 12.1% of its market cap.
News Corp, which owns Fox, The Wall Street Journal, and others, also trades at 18.1 times TTM earnings, however is seen as a higher-risk investment, based on the pending separation of the company's entertainment and publishing assets, as well as governance issues related to the Murdock family's control of the company.
However, going back to the valuation of Disney, I believe both the discount to historic valuation as well as the projected growth creates a nice opportunity over the next several years. Using a P/E multiple of 16.4, which is the midpoint between the current and historical levels, and the earnings consensus estimates, I arrive at price targets of $55.92 for the end of 2013, and $62.98 at the end of 2014. These relatively conservative targets are the basis of a conservative call spread that I'd like to trade Disney with. Using the January 2015 LEAPS, I want to buy the $40 calls for $12.35 and sell the $55 calls for $4.25, a net cost of $8.10. I like this trade because it makes money if the stock finishes above $48.10 in two years, and the stock is already over this price! To achieve the maximum 85% profit of $6.90, the stock simply needs to finish at or above $55 at that time, which is only 10.5% over current levels. I believe this creates a very favorable risk/reward profile, since the trade has a 2-year timeframe and the company is expected to grow its earnings by over 25% during the same 2-year period.
Disclosure: I have no positions in any stocks mentioned, and no plans to initiate any positions within the next 72 hours. I wrote this article myself, and it expresses my own opinions. I am not receiving compensation for it (other than from Seeking Alpha). I have no business relationship with any company whose stock is mentioned in this article.