As the year just came to a close, most companies have finished their current quarters, and for most, their fiscal years. We are just a few weeks away from the start of earnings season. This quarter will be especially important, to see if the looming fiscal cliff has had on companies and the economy. With earnings season headed our way, it's time to look at where expectations stand, and what analysts are currently thinking. Here are five names that analysts have been raising their estimates on.
Research in Motion (RIMM):
The BlackBerry maker has seen its expectations come up quite a bit over the last couple of months, especially after its second straight revenue and earnings beat. Given that sales have not been as weak as expected, analysts are raising their expectations for the BlackBerry 10 launch that will take place in a month.
Back in August, the company was expect to post $10.2 billion in revenues this fiscal year (ending February 2013) and a loss of $1.50 per share. Those numbers represented huge drops from the previous year's $18.51 billion and $4.20 profit, respectively. But with a definite BB10 launch date, and two straight beats, analysts have become more positive. Even before the latest earnings report, analysts had raised their average forecast to $11.21 billion and a loss of $1.31. Where do expectations stand now? Well, analysts are currently looking for $11.30 billion and a loss of $1.18 loss. Those numbers still represent significant declines, but are well above where estimates were a few months ago.
Additionally, estimates for RIM's next fiscal year (ending February 2014) have come up a bit as well, and that will be a full selling year of the BB10 devices. Back in August, analysts were looking for under $10 billion in yearly revenues. Going into RIM's last earnings report, that average estimate number was up to $11.70 billion. Right now, it is at $12.28 billion. That's an increase of nearly 25%. Over the last 3 months, the average earnings estimate has risen from a loss of $0.62 to a loss of $0.54.
Green Mountain Coffee Roasters (NASDAQ:GMCR):
During its Q3 earnings report, the coffee maker reduced its fiscal year forecast (fiscal year ending September 2012) and gave guidance below expectations for the following fiscal year. That made analysts cut their forecasts for all future periods, and expectations were cut until the company's Q4 report in late November.
But Green Mountain had a decent report, and issued guidance that was above analyst expectations at the time. Since then, analysts have increased their forecasts, and by a decent amount. Green Mountain guided to fiscal Q1 (ending December) revenue growth of 14% to 18%, and analysts were only looking for 11.7% growth at that time. Green Mountain also guided to non-GAAP earnings per share of $0.62 to $0.67, while analysts were looking for $0.59. Analysts expectations have come up since then, with current expectations calling for 15.1% revenue growth and earnings of $0.65.
For the fiscal year, ending in September 2013, the company reiterated its 15% to 20% growth forecast for revenues. Since the Q4 report, analysts have raised their expectations from 15% growth to 16.7% growth. On an earnings per share front, the company guided to non-GAAP earnings of $2.64 to $2.74, which includes shares repurchased up to November 27th under their buyback plan. Before the Q4 report, analysts were looking for $2.51 during the current fiscal year, and they are now looking for $2.68.
Intuitive Surgical (NASDAQ:ISRG):
The surgical robot maker known for the da Vinci surgical system has seen its estimates raised over a longer period of time as the company continually beats estimates. I wanted to give an example of a name whose estimates have come up over a long period of time, not just after one or two good quarters. Intuitive is a perfect example.
Back in February, analysts were expecting $14.49 in earnings per share this year and $16.94 next year. By June, those average estimates were up to $14.73 and $17.35, respectively. At the end of July, after the company had reported another beat, those estimates had risen to $14.85 and $17.46. We've seen continued raises in the 2013 estimates, since we haven't gotten to that year yet. 2012 estimates really haven't risen, but the current estimates call for $14.86 this year and $17.70 next year. If Intuitive beats when they report in January, I expect 2013 estimates to continue higher.
Intuitive shares have recently dropped from $550 to $490 as Citron Research issued a negative report on the name. Citron is a firm that tries to dig up negative information on names, and as a result, when they issue a report, the stock usually falls. There have been questions relation to Citron's facts and statements, which have sometimes ended up becoming lawsuits against the firm. Citron believes that Intuitive's stock is going to fall, but if the company keeps producing solid reports, this stock is going higher, and this latest drop would be the perfect chance for long term investors to get into the name.
Facebook (NASDAQ:FB):
When Facebook went public, everyone thought the company would be extremely successful. However, over time, and after the company's disappointing first public earnings report, earnings estimates began to decline. The table below show the average revenue and earnings estimate for Facebook, in terms of 2013 estimates.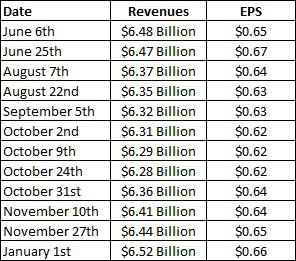 The turning point was when Facebook reported an impressive third quarter. Facebook beat on both the top and bottom line, and shares jumped. Since then, analysts have been raising their expectations. Since 2012 is basically over, I figured 2013 estimates would be a better proxy for Facebook's future. As you can see from the chart above, the average revenue estimate for 2013 has come up by $240 million since the low. The average estimate for earnings per share has come up by four cents.
Facebook's 2012 estimates have come up a bit as well, and we'll see how those numbers fare in a couple of weeks. Thanks to the earnings beat and rising estimates, Facebook shares have risen from $19.50 to almost $27 since the earnings report, although they've come down a couple of dollars since their recent high.
lululemon (NASDAQ:LULU):
The Canadian athletic apparel maker is like Intuitive Surgical. The company's estimates have been raised over time, as the company has raised its own forecast almost every quarter.
Original revenue guidance for the fiscal year (ending January 2013) was a range of $1.3 to $1.325 billion, and was increased to a new range of $1.32 to $1.34 billion. Earnings per share guidance was originally set at $1.50 to $1.57, and it was increased to $1.55 to $1.60 after their fiscal Q1 results. After Q2, the company raised its revenue forecast to a new range of $1.345 to $1.36 billion. The earnings per share forecast was then raised to a range of $1.76 to $1.81, including a 5 cent tax gain. Their latest fiscal year guidance was for revenues of $1.36 billion to $1.365 billion, and earnings per share of $1.81 to $1.83.
Likewise, analyst estimates have come up a bit. Back in early June, analysts were expecting $1.35 billion in revenues and $1.63 in earnings for this fiscal year, and $1.68 billion and $2.08 for the next fiscal year (ending January 2014). Current expectations call for $1.37 billion and $1.84 this year, and $1.71 billion and $2.27 next fiscal year. This company has been known for providing conservative guidance in the past, so we'll see if the forecast continues to go higher for next year.
Disclosure: I have no positions in any stocks mentioned, and no plans to initiate any positions within the next 72 hours. I wrote this article myself, and it expresses my own opinions. I am not receiving compensation for it (other than from Seeking Alpha). I have no business relationship with any company whose stock is mentioned in this article.
Additional disclosure: Investors are always reminded that before making any investment, you should do your own proper due diligence on any name directly or indirectly mentioned in this article. Investors should also consider seeking advice from a broker or financial adviser before making any investment decisions. Any material in this article should be considered general information, and not relied on as a formal investment recommendation.