If you're thinking of making some stock purchases based on broker, website or magazine 2013 stock recommendations, you may want to review how they performed in 2012. We tracked the 2012 performance of the stock pick portfolios for SmartMoney, Fortune, Kiplinger and Barron's publications and also brokers/financial advisors, JP Morgan, Morgan Stanley, Merrill Lynch, Credit Suisse, Raymond James, S&P Capital IQ, Sabrient Systems, Goldman Sachs and individual picks from 10 top advisors. How did they perform? Roughly half of the 155 stocks selected beat the S&P 500 SPY ETF, which gained 11.56%, however, only 65 of the stocks beat the Nasdaq 100 ETF QQQ, which gained 14.44%. The average performance of all 155 selections (some duplicates) was 13.68% - pretty much the same as the market indexes. So are the selections of the financial gurus any better than chance?
Let's look at the 13 portfolios tracked separately; The four winners were Sabrient Systems, Morgan Stanley, Barrons and Credit Suisse, which beat both the Nasdaq and S&P market performances all with gains over 16%. The clear winner, however, was Sabrient Systems with a 43% gain for the year beating the closest rival by more than double. Its impressive gain was approximately three times the performance of the S&P 500. See the chart below: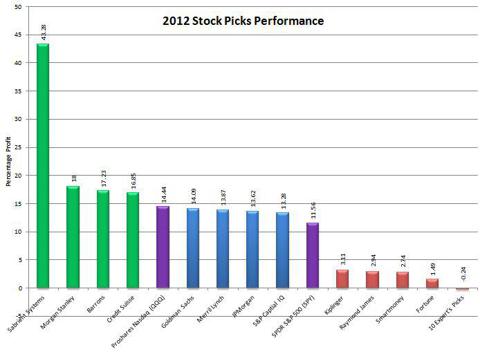 The five losers that failed to beat the S&P performance were the group of 10 experts, Kiplinger, Raymond James, SmartMoney (which ceased publication this year) and Fortune. You can see the individual 2012 portfolios, stock picks and weekly performances here.
The top 10 performing stocks were: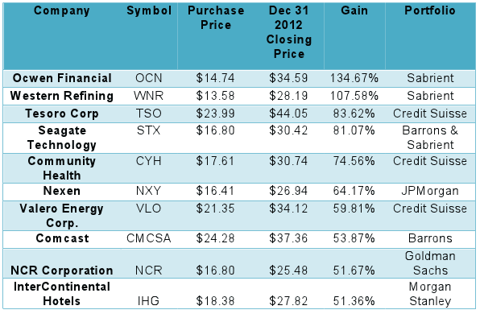 The bottom 10 worst performers were: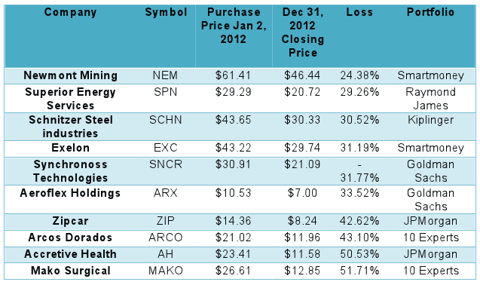 Stocks that were selected by more than one stock picker provided only slightly better performance on average than the market. Apple (NASDAQ:AAPL) was the most selected stock with five picks last year and despite a year end decline was still up 30% for 2012. Chevron (NYSE:CVX) was the second most selected stock last year with three picks but lost 0.55%. The following were selected by two pickers; Altria (NYSE:MO) +9.74%, Brinker International (NYSE:EAT) +13.98%, Freeport McMoRan (NYSE:FCX) -10.63%, Haliburton (NYSE:HAL), Lincoln National (NYSE:LNC) +29.5%, Microsoft (NASDAQ:MSFT) +0.60%, Royal Bank of Canada (NYSE:RY) +16.48%, Target (NYSE:TGT) +14.03%, Union Pacific (NYSE:UNP) +16.32% and Seagate Technologies (NASDAQ:STX) +81.07%.
At this point, you're probably still wondering where you can get Sabrient Systems' 2013 stock pick list. Unfortunately, it is not providing this free of charge this year, however, one is probably KKR & Co. (NYSE:KKR). You can read more here on this stock.
Disclosure: I have no positions in any stocks mentioned, and no plans to initiate any positions within the next 72 hours. I wrote this article myself, and it expresses my own opinions. I am not receiving compensation for it (other than from Seeking Alpha). I have no business relationship with any company whose stock is mentioned in this article.