As the year has recently ended, most companies have finished their current quarters, and for most, their fiscal years. We are just a few weeks away from the start of earnings season. This quarter will be especially important, to see if the looming fiscal cliff has had on companies and the economy. With earnings season headed our way, it's time to look at where expectations stand, and what analysts are currently thinking. Here are five names who have seen analysts taking down their estimates. These names aren't just ones who have seen estimates come down recently, but also some that have seen estimates come down over longer time periods as well.
Intel (NASDAQ:INTC):
Intel has seen its estimates continue to come down throughout the year. The company started the year with a revenue growth forecast of 7% to 9%, but many expected that to be cut at the Q2 earnings report, and it was. Back in May, analysts were expecting to do about $2.50 in earnings per share this year, compared to $2.39 in 2011. Don't forget, Intel was buying back plenty of stock, so the buyback was helping that figure. Net income wasn't doing as well.
Intel did cut that yearly revenue forecast at the Q2 report, to a new range of 3% to 5% growth. Analysts took down their expectations accordingly, and in early September, the analyst average for 2012 earnings was at $2.29. But the whole scenario changed when Intel issued a revenue warning. The company stated that weak PC spending would have an adverse impact on revenues, and they also lowered their margin forecast as they continued to spend big on R&D.
Intel's Q4 revenue forecast was slightly disappointing, but it was their margin forecast that was a bit troublesome. Intel guided to Q4 GAAP gross margins of 57%, compared to 63.3% in Q3 and 62.5% in last year's Q4. Analysts believe that Intel has too much inventory currently and that average selling prices are decreasing slightly. Plus, Intel is still spending big on R&D, and that is costly.
The lowered margin forecast has caused analysts to reduce their earnings expectations for both 2012 and 2013. On October 12th, analysts were looking for $2.12 this year and $2.15 next year. Since then, estimates for this year have only come down by a penny, but analysts have hammered 2013 expectations. The current analyst average is for $1.94, and remember, Intel is buying back plenty of stock, and just raised $6 billion to keep the buybacks flowing. Given that fears of the buyback slowing down have been alleviated, I'm surprised that analysts having started raising 2013 estimates. I guess we'll see in a couple of weeks how things are when Intel reports its Q4 and full year 2012 results. For those that want to read any of my past articles on Intel detailing 2012's events, click here.
Deckers Outdoor (NASDAQ:DECK):
Deckers is the company behind UGGs, and also owns the Teva and Sanuk brands. With a warm winter last year, Deckers sales slowed and inventory built up. Additionally, prices of sheepskin, one of Deckers' largest costs, were soaring. Deckers earnings started to dwindle and the company has continued to lower its forecasts for both revenue and earnings. I put together the following table to show where the average analyst estimates for Deckers' 2012 and 2013 earnings have been over time. The 2010 number is actual, and the 2011 number was actual as of the 4/26/12 update.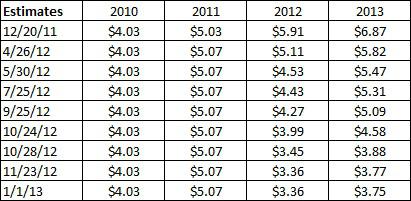 As we entered 2012, analysts were expecting Deckers to show great earnings growth in 2012 and 2013. This didn't include the sizable stock buyback that Deckers announced in late Februrary. But as Deckers started lowering their forecast, analysts were forced to as well. Even with Deckers expanding their buyback a few months ago, it hasn't helped to stop the bleeding. Deckers latest guidance was for an earnings drop of 33% this year, which is roughly where analysts are now. The company does expect margins to rebound for its fall 2013 lineup as sheepskin prices have come down, but the company has also lowered prices. Analysts currently expect an 11.6% rise in earnings per share next year, even with the huge buyback, and most of the improvement is forecasted for the second half of 2013.
The one thing that makes Deckers unique is that it has seen a lot of positive notes from analysts lately, including one from Sterne Agee, which has been a noted bear on the name. Those analysts believe that we will see a nice rebound in Deckers during the second half of 2013, which is what the company has said so far. We also saw decent notes out from Jefferies and from Wedbush. Many of these analysts put buy ratings on Deckers, along with price targets representing decent stock price appreciation. However, as you can see from the table above, the analysts weren't raising their earnings forecast on Deckers. The analysts are anticipating a rebound in the second half of 2013 from Deckers, so they are saying buy now. Deckers still has a lot to prove though, as they have essentially issued below-consensus guidance four quarters in a row.
Amazon (NASDAQ:AMZN):
The online retailer has seen its expectations go lower and lower over a very long period of time. Analysts have expected a rebound in earnings for a couple of years now, and is hasn't come. As 2011 went on, analysts that expected $2, $3, or more kept cutting their estimates. Amazon ended up with just $1.37 in 2011 earnings.
Before Amazon reported its 2011 Q4 numbers, analysts were expecting $1.88 in earnings from Amazon this year. Those numbers have come way down. The following two tables were taken from Yahoo! Finance's earnings estimate page. The important numbers to look at are the 2012 and 2013 numbers on the right. The first table shown is from October 25th, right before Amazon reported Q3 results.

Amazon reported a huge third quarter loss, which has made analysts continue their earnings forecast reductions. Estimates have been whacked for both this year and next. The following table shows where estimates stand now.

Just in the past two months or so, analysts have cut their Q4 average from $0.52 to $0.28, the 2012 forecast from a $0.69 profit to a $0.03 loss, and 2013 from $2.29 to $1.74. Given the fact that Amazon guided to a potential operating loss for Q4, they could easily report another loss in Q4. If they do, the estimates will continue to come down, even as revenues shoot higher. I recently discussed Amazon in more depth, talking about the company's smoke and mirrors not lasting forever.
Microsoft (NASDAQ:MSFT):
Unlike the three names already on this list, Microsoft has not seen such a long, drawn out decline in its earnings reductions. The tech giant has seen earnings estimates come down a bit since the company reported its fiscal Q1 results, which were a bit disappointing. The table below shows where estimates stand now, with the "90 days ago" number being prior to the Q1 report.

As you can see, estimates for the current fiscal year are down 13 cents and 9 cents for the following fiscal year. Analysts have not been impressed with Microsoft's Windows 8 launch so far, and they don't believe the Surface tablet is gaining too much traction. Here's a couple of quotes from a MKM Partners' note that have been echoed throughout the analyst community.
"Surface RT, launched on October 26th, appears to have been met with little consumer enthusiasm to date."

"In addition, the Intel-based Surface Pro will be launched in January 2013 at an $899+ price point, a level that we do not view as competitive with alternative tablets such as the iPad. At this price point, we believe Microsoft is positioning Surface Pro as an alternative to an ultra-book, a form factor that has yet to have a material impact in the market given uncompetitive price points. "

"We believe Microsoft will have to cut price, at risk of further alienating its OEM partners, for Surface Pro to gain any material share in the consumer market."

"Windows 8 may have frozen the market with consumers still evaluating the new user interface and as OEMs evaluate which form factors they want to introduce and figure out how to compete with Microsoft going forward."
Overall, weakness in the PC industry has been a theme during the second half of 2012. Intel is on this list for that reason as well. When Microsoft reports its fiscal Q2 numbers in a couple of weeks, we'll see how things really are. If Microsoft disappoints again, look for estimates to come down even further. You might see other names affected as well, such as Intel, and probably some of the computer names like Dell (DELL) and Hewlett Packard (NYSE:HPQ).
Molycorp (MCP):
The rare earth mineral processor and produce has seen its estimates come down dramatically as the company has continually missed revenue and earnings estimates. The company's expensive acquisition of Neo Material Technologies led to a large debt raise that added a lot of interest expense. At the beginning of August, analysts were expecting the company to have 2012 revenues of $701 million and 2013 revenues of $1.49 billion. Current expectations call for just $605 million and $954 million, respectively.
The bigger take down has been in earnings estimates. Going into the year, analysts were expecting about $3.17 in earnings for this year. The following table, from August 2nd, shows how estimates came down from early May to early August.

While the falls from $1.32 to $1.11 and $3.82 to $3.14 seem large, respectively, they are nothing compared to what we've seen since. The following table shows where estimates stand now, and have trended over the last 90 days.

So we've gone from $3.17 to $1.32 to $1.11 to $0.41 to now a loss of $0.04 for 2012, and 2013 expectations haven't fared much better. Molycorp, and the whole rare earth space, have been expected to show tremendous growth. So far, the results have not been there, which is why this stock has gone from $24 to $9.44 in the past year, and well off the $70 plus highs we saw less than 2 years ago.
Disclosure: I have no positions in any stocks mentioned, and no plans to initiate any positions within the next 72 hours. I wrote this article myself, and it expresses my own opinions. I am not receiving compensation for it (other than from Seeking Alpha). I have no business relationship with any company whose stock is mentioned in this article.
Additional disclosure: Investors are always reminded that before making any investment, you should do your own proper due diligence on any name directly or indirectly mentioned in this article. Investors should also consider seeking advice from a broker or financial adviser before making any investment decisions. Any material in this article should be considered general information, and not relied on as a formal investment recommendation.