Building a stream of income is an important goal for many investors. During this time of prolonged low interest rates due to central bank policies around the world, however, the usual channel for income building, the bonds markets, are disappointing investors with very low yields.
With income-minded investors turning increasingly to equities, dividend paying stocks have been getting more and more attention. Today I'm going to look at what I believe is a great opportunity to build dividend income safely and meaningfully by buying a beaten down stock: Vodafone.
Vodafone is a truly global telecommunications business headquartered in the UK with 404 million customers worldwide. They are a megacap company with a market cap of over $120 billion. Much of their profit comes from Europe, but a large and growing part comes from emerging markets. Vodafone also owns a 45% non-controlling interest in Verizon, which adds American diversification as well.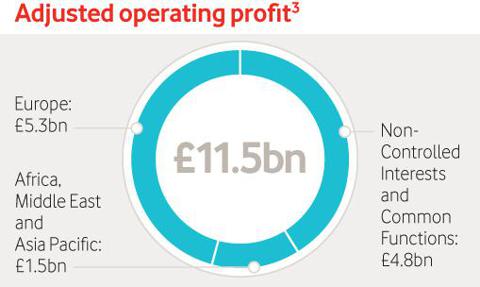 Source: Annual report, March 2012
Profit conversion to USD: Europe - $8.647 bilion, Africa Middle East and Asia Pacific - $2.447 billion, Non-controlled Interests and Common Functions - $7.831 billion
While many of the better dividend stocks are trading at or near their highs, Vodafone is definitely not. Looking at the one year chart, we can see that Vodafone's ADR shares (NASDAQ:VOD) is just about at its 52-week low. At these levels, the ADR shares are now yielding around 5.8%, significantly higher than most viable dividend-paying telecoms.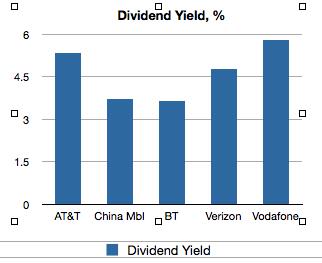 Data from Morningstar, yield includes 3c surcharge. For more information on the ADR dividend visit Vodafone's Investor Relations page on the subject.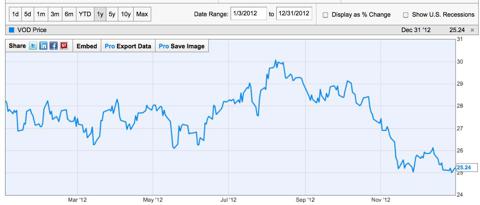 "Bad Weather"
The old saying is that things are cheap for a reason. Vodafone's significant discount is due to its sagging primary market, Europe, and southern Europe in particular, where it gets a significant share of its revenue.
In the first half of 2012, year on year revenues from both Italy and Spain were -12.8%, Greek revenues were -10.7%, Portuguese revenues were -6.8% and Romanian revenues were also -7.5%. Northern & Central European revenues were up 0.7%, but that is clearly not enough to counteract the malaise of Southern Europe.
Overall, revenues were -1.4% excluding the stake in Verizon (NYSE:VZ).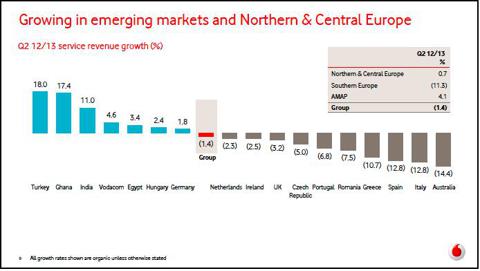 Vodafone Half-year Financial Report, 1H 2012
Worst of all, the company's losses widened to a US dollar equivalent of over $802 million in 1H 2012 on the back of a $9.626 billion write down of its Spanish and Italian units. To paraphrase Chief Financial Officer Andy Halford, half of this writedown of assets is due to sharply reduced outlook and the other half was due to foreign exchange and discount rates from sovereign debt rating reductions.
Besides the recent loss, long-term declines in profitability metrics are also of concern.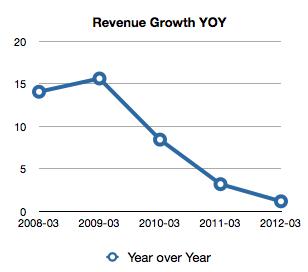 Data by Morningstar
We can see above that since the Great Recession, revenue has decelerated and growth is now near zero. This is the result of being dragged down by Southern Europe and a cooler emerging markets situation, no doubt.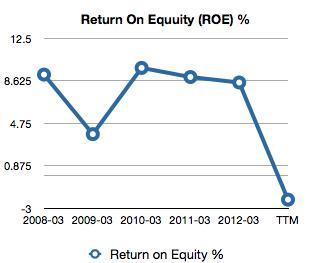 Data by Morningstar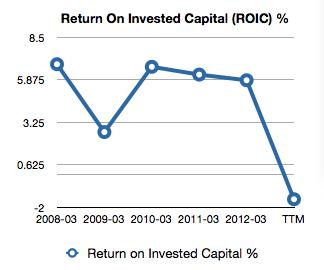 Data By Morningstar
Looking at Return on Equity and Return on Invested Capital respectively, both have recovered in 2010 and 2011 but have been cratered by revenue declines in Southern Europe.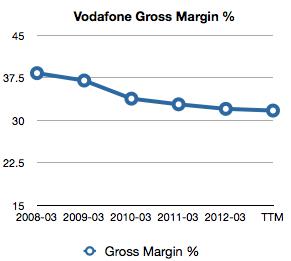 Data By Morningstar
Gross Margin decline is the biggest concern of management. They are acutely aware of the declines.
I think, put simply, this is Northern Europe and investments in customer growth; it is about top-line pressures in Southern Europe; and it is about improvements generally in the AMAP (Africa, Middle East, Asia Pacific), particularly in Vodacom (South Africa) and India (...)
In fact, they have owned up to it and seem to have a realistic plan to stop the trend. Their overall goal is to stabilize margins by 2014.
We are absolutely still targeting to get the rate of reduction in the margin down year-on-year again for the full year. Why are we confident we can do that? We have got the scale improvements coming through in the AMAP region, (...) Some of the price-plan changes we have introduced, we think, should have a benefit on subsidy levels. And finally, we continue to drive on a number of cost initiatives, which will bear fruit during the latter part of the year.
Vodafone CFO Andy Halford, Half-year Financial Report, 1H 2012
"Better Weather"
Not all is gloom-and-doom at Vodafone. As we've seen above in the revenue growth charts by country, there is impressive growth coming from Turkey, Ghana, India and a number of other smaller markets. While Southern Europe drags the aggregate numbers down for now, it can't do so forever as at some point the decline there will hit a point of inflection. These emerging markets, conversely, have many years of growth left. This is a great tailwind for Vodafone.
Second, Vodafone is a major benefactor of the boom in wireless data. In fact, revenue growth from data outpaces growth from its emerging markets. In Europe, its primary market, smartphone penetration is only 27% as of March of 2012, so there is still much room to grow.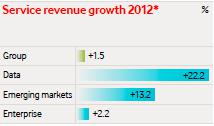 Graphic, as well as facts on wireless data in above and below paragraphs, are from the 2012 Vodafone Annual Report
Vodafone does face some structural challenges in wireless data. For example, Average Revenue Per User (ARPU) is $16.32 per month higher in its best markets, but only "marginally higher" in some others. In addition, data usage per person is far lower in Europe than in the US or Asia. And while "commercial costs" (smart phone subsidies) cancel out nearly all of the ARPU increases, more smartphone competition will reduce costs, open mid-tier markets and drive down these costly "customer investments." In any case, the top-line growth from data is undeniable and will benefit Vodafone for a long time.
Finally, lets not forget about Verizon, which has been a brilliant bight spot for Vodafone this year.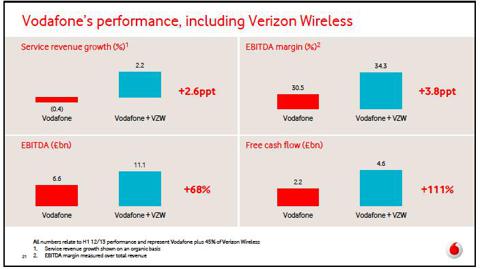 Vodafone First-Half Financial Report Presentation
The above graphic illustrates the story very well. When we include the performance from Vodafone's 45% non-controlling stake in Verizon, even this abysmal period looks palatable. Service revenue growth turns positive. EBITDA margins jump. Profit before the write-downs are 68% higher and free cash flow more than doubles.
But Most Of All, The Dividend Is Secure
Financial statements on sites such as Google or Yahoo fail to appreciate Vodafone's situation. Looking at free cash flow dividend coverage alone, it appears that the dividend is no longer sustainable. Since Verizon is not part of Vodafone's corporate structure, however, Verizon's dividend paid to Vodafone is often not recorded on websites such as Yahoo or Google. When we do consider Verizon's dividend payment to Vodafone, we can see that Vodafone's 5.8% dividend yield is covered and secure.
| | | |
| --- | --- | --- |
| All numbers in US Dollar Equivalents, millions |   | Dividend Payout |
| Free Cash Flow | $9,961 |   |
| Equity Dividend | $10,837 | 108.8% |
| Income Dividend From Verizon | $4,658 |   |
| Free Cash Flow with Verizon Dividend | $14,619 | 74.1% |
Data from Vodafone March 2012 Annual Report
Summary
Vodafone has significant negative catalysts. Recent reports do show cashflow and revenue down slightly. Earnings have declined more than slightly. Although management's long term target is for modest growth, flat earnings and revenues would not be a surprise in 2013. Skimpy growth prospects and declining margins are cause for legitimate concern. For these reasons, dividend and dividend growth investors should be reluctant to make it a core holding.
However, Vodafone is a very accountable company with a realistic plan to stabilize margins and turn around lagging businesses. Their broad, global presence gives investors exposure to many markets, some of which are hard to access. In this diversification, Vodafone provides a unique value proposition.
Most importantly, at this price point, a 5.8% yield gives us a safe way for dividend-minded investors to boost their income meaningfully.
Disclosure: I am long VOD. I wrote this article myself, and it expresses my own opinions. I am not receiving compensation for it (other than from Seeking Alpha). I have no business relationship with any company whose stock is mentioned in this article.