Central & Eastern Europe (NYSE:CEE) offers an ex-BRIC emerging market region that has shown strength in 2012. Perhaps the best example of a smaller CEE success story is a telecom with exposure in multiple countries in the region: Hellenic Telecom Organization (OTCPK:HLTOY). HLTOY has seen a strong and linear six month price increase of 160%. Was the stock punished by the Greece debt crisis and extreme pessimism, and is now bouncing back? Or is some of the growth also due to organic or market factors? HLTOY's performance has beaten other Greek stocks and exchange traded funds. Could HLTOY's alpha be tied growth specifically to the CEE telecommunications (telecom) market? If yes, where is the next HLTOY?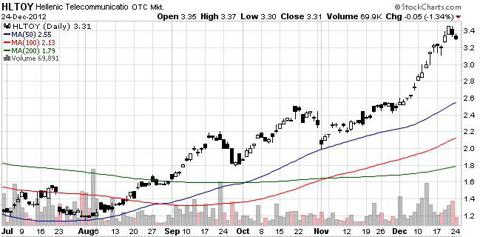 Is this a Greece effect, or something more?
Most Greek stocks have seen positive price increases since the summer riots of 2012. However, it is clear that HLTOY has continued to rise when others have struggled. Here is HLTOY shown vs. Navios Maritime (NYSE:NM), National Bank of Greece (NYSE:NBG), and Alpha Bank (OTCPK:ALBKY), as well as the Global X Funds FTSE Greek 20 ETF (NYSE:GREK):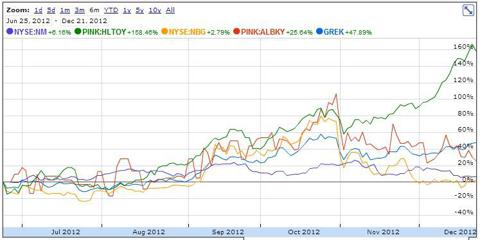 Success of HLTOY is not specific to a bounce back from Greece pessimism. Could the HLTOY performance be related to the telecom sector in the region?
A Telecom ETF for CEE?
Not surprisingly, there is no ETF dedicated to telecommunication companies in CEE. For this article, CEE will be defined based on the United Nation's country designations.
One applicable telecom ETF to consider is the iShares MSCI ACWI ex U.S. Telecom Services ETF (NYSE:AXTE). Unfortunately, this ETF is dominated by Western European and larger cap firms: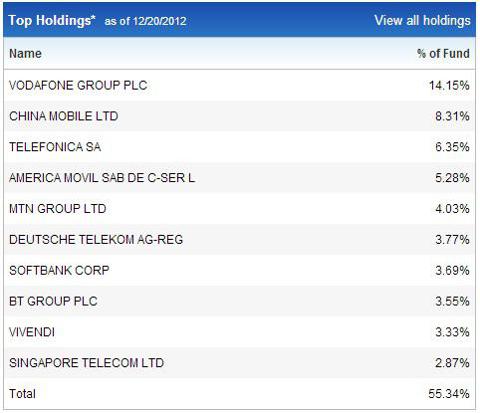 AXTE performance is fairly closely correlated with the S& 500's: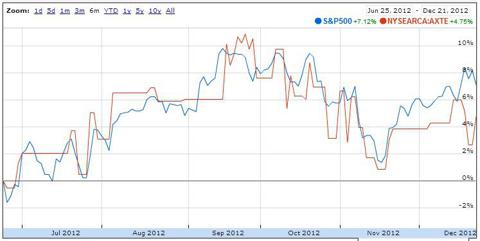 This shows the success of HLTOY and others is not an ex-US telecom effect: if it were, such strength would be visible vs. the S&P 500. So if strength in HLTOY, a telecom with sales focused in multiple CEE countries, is not due to a larger ex-US telecom strength, and its strength is not solely due to a bounce back from a Greece over-sold condition, then could it be regional strength?
The CEE ETFs
There are three general ETFs for investing in CEE across industry sectors. These are
iShares MSCI Emerging Markets Eastern Europe ETF (NYSE:ESR)
U.S. Global Investors Eastern European Fund (MUTF:EUROX)
SPDR® S&P® Emerging Europe ETF (NYSE:GUR)
Their relative 1 year performance:

The regional strength seen across these ETFs is positive. However, when compared with HLTOY it does not seem correlated: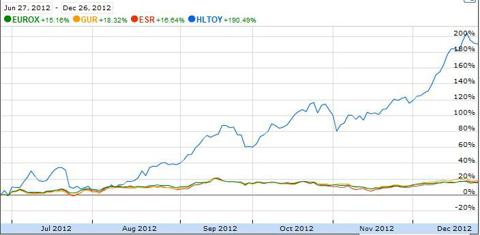 This implies HLTOY's strength is not simply reflective of regional strength. Does this also disprove that the strength could be specific to the intersection of the region and the sector? No. Of the Top 10 Holdings for each ETF, there is only 1 CEE telecom, and it barely breaks into the Top 10.
GUR Holdings, no telecom: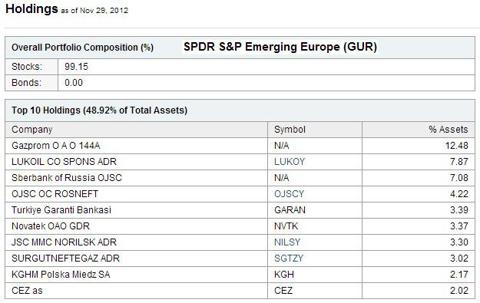 GUR holdings as of November were dominated by oil, natural gas, energy, mining and banking stocks.
EUROX Holdings, no telecom: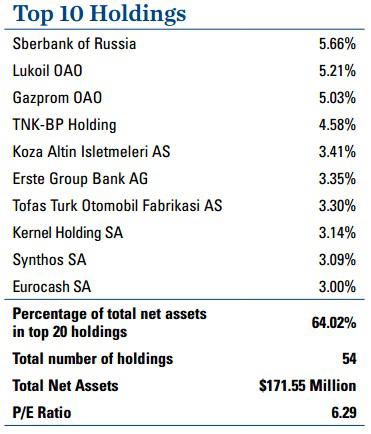 Source: EUROX holdings as of November 2012.
ESR Holdings, 1 telecom: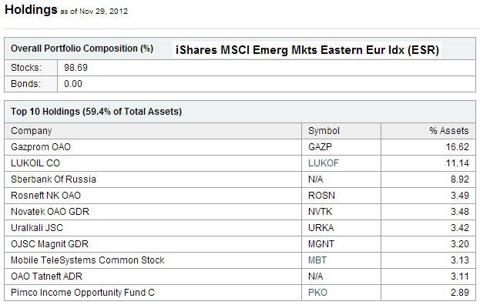 If there is a high-growth story in the CEE telecoms, it will not be apparent nor leverage-able via regional ETFs.
The Universe of 'invest-able' CEE Telecoms
Exposure to CEE telecoms can only be achieved by investing in individual stocks. Two major challenges with this approach are a) the stocks are often not traded in markets available to investors, and b) if they are available, there may not be historical, recent, and consistent chart information on the stock.
The public stocks available on Western exchanges with historical, recent, and consistent price and fundamental data include, by country:
Belarus
velcom (owned by Telekom Austria, OTCPK:TKAGY)
Mobile Telesystems OJSC (NYSE:MBT)
Life (owned by Turkcell, NYSE:TKC)
Bulgaria
MobilTel (owned by Telekom Austria, TKAGY.PK)
GLOBUL (owned by Hellenic Telecom, HLTOY)
Czech Republic
Hungary:
T-Mobile (owned by Deutsche Telekom, DTEGY, operated by Magyar Telekom Telecommunications PLC, OTCPK:MYTAY)
Telenor (OTCPK:TELNF)
Vodafone
UPC Magyarország (operated by Liberty Global Europe, owned by Liberty Global, NASDAQ:LBTYA)
Moldova
Orange (owned by France Telecom, FTE)
Poland:
Orange (owned by France Telecom, NYSE:FTE)
T-Mobile (owned by Deutsche Telekom, DTEGY)
Telekomunikacja Polska Spolka Akcyjna (OTC:TKMGF)
Romania:
Orange (owned by France Telecom, NYSE:FTE)
Vodafone
HLTOY (Greece)
UPC Romania (operated by Liberty Global Europe, owned by Liberty Global, NASDAQ:LBTYA)
Russia:
Mobile Telesystems OJSC
Rostelecom (OTCQX:ROSYY)
VimpelCom Ltd (NYSE:VIP)
Slovakia
Orange (owned by France Telecom, NYSE:FTE)
Telekom (owned by Deutsche Telekom, OTC:DTEGY)
Telefonica Czech Republic (TEE.MU or FRA:TEE)
Ukraine
VimpelCom Ltd
Mobile Telesystems OJSC
Life:) (owned by Turkcell, NYSE:TKC)
Firms that trade on less available exchanges or have limited availability of charts or data include, for example, MegaFon, Mobilniye, Moskovskaya Gorodskaya Tel, Sistema, and others. A more exhaustive list of mobile operators by country is available here, and another list of all operators is here.
Who are the Pure-Plays Left To Trade?
Throwing aside companies with substantial exposure to Western Europe as well as those with hard to find fundamental and technical data, the following is a list of true 'investable' CEE regional telecoms:
HLTOY
MBT
ROSYY
TKAGY (aside from Austria, all TKAGY's business is CEE)
TKMGF
VIP
Comparing the fundamentals of these pure-plays: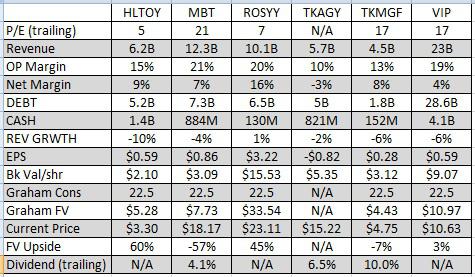 A key row in this matrix is the Fair Value (FV) upside. This is calculated using a Graham stock fair value formula:
The figure takes into account earnings per share and book value per share to measure a stock's maximum fair market value. In other words, it is the upper end of the price range that a defensive investor should pay for the stock. Theoretically, any stock trading below its Graham Number is considered undervalued. The formula is as follows: The Graham Number = Square Root of (22.5) x (TTM EPS) x (MRQ Book Value per Share).
(Source: Nandy, in Zacks). In the chart above, FV is Fair Value and Graham Cons is Graham Constant of 22.5.
The two stocks shown to be value-priced are HLTOY and ROSYY. A technically-oriented value-investor's look at the HLTOY charts might conclude a lot of the upside has already been extracted. ROSYY on the other hand seems to be trading lower than many of its historical price-points: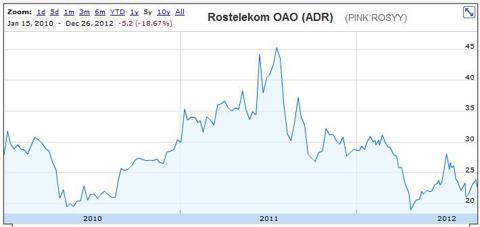 From a fundamental perspective, Gazprom's banking unit offers this forecast for ROSYY:

Conclusion
From this data taken together, it can be concluded:
specific stock success from CEE telecoms is not due to a global non-US telecom sector surge
there is no single ETF that provides exposure to CEE telecom companies
a number of localized telecom firms are either private, trade only on local exchanges, or trade without availability of accurate, consistent historic and current data, and thus may be less palatable for risk-averse or retail investors
there are about half a dozen 'pure-plays' across the region accessible to retail investors with solid data availability
of the six stocks, there are only two that seem obviously undervalued, HLTOY and ROSYY
of the six pure-play CEE telecoms, ROSYY is the one with the highest net margin and the only one with positive quarter over quarter revenue growth
While HLTOY is up 90%+ YTD, ROSYY is down over 15% YTD, obviating any claim that the upside is already priced into the stock
ROSYY is undervalued, by early Q213 it should increase at least 20%+, with a price target of $29.40 at former resistance. Likely it should rise to $36.00 or more.
Sources: Yahoo Finance, Gazprom, Google Finance, Rostelecom, other sources noted above.
Disclosure: I am long OTCPK:HLTOY, OTCQX:ROSYY, OTCPK:MYTAY. I wrote this article myself, and it expresses my own opinions. I am not receiving compensation for it (other than from Seeking Alpha). I have no business relationship with any company whose stock is mentioned in this article.