Commodity Chart Of The Day
Daily Silver
(click image to enlarge)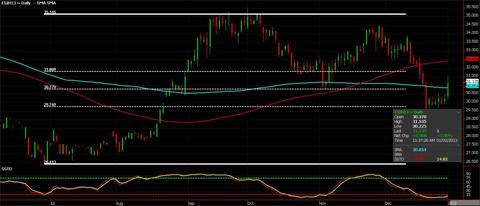 After establishing a base around $30/ounce just above the 61.8% Fibonacci retracement level, silver has started to appreciate. As of this post, prices are higher by 3% and trading back above the 200 day MA -- identified by the light blue line -- at $30.85/ounce. Prices have retaken their 50% Fib level and should be on their way to their 100 day MA -- identified by the red line -- approximately $1.50 above current levels.
I have advised clients to add length and view $30 as solid support in March futures. I do not expect the pace higher to match the pace on the way down, but in the weeks and months ahead, I do expect higher ground. My suggestion for metals speculators is buying dips in either gold or silver, anticipating prices to get back to levels seen in the fall sometime in Q1. Recognize that when trading metals, trading silver is a much bumpier ride, as displayed today, with silver appreciating 3%, while gold has gained less than 1%. My clients have come to recognize that when positioned properly in silver, it can make you more money but conversely, it comes with more inherent risk. Ultimately, they both should move in the same direction, but consider your risk tolerance when choosing the vehicle of choice. That means the appropriate metal and whether futures or options are more suitable.
As for a resolution for the fiscal cliff, I view the latest move as only buying time and no real solution. As we get started in 2013, I expect the money printing and potential inflation to keep a floor under metals and I think at some capacity, most portfolios should have some exposure to these two metals with a longer-term stance.
Risk Disclaimer: The opinions contained herein are for general information only and not tailored to any specific investor's needs or investment goals. Any opinions expressed in this article are as of the date indicated. Trading futures, options, and Forex involves substantial risk of loss and is not suitable for all investors. Past performance is not necessarily indicative of future results.
Disclosure: I have no positions in any stocks mentioned, and no plans to initiate any positions within the next 72 hours. I wrote this article myself, and it expresses my own opinions. I am not receiving compensation for it. I have no business relationship with any company whose stock is mentioned in this article.