This article will discuss five stocks that I believe will come back in 2013 with price increases. I also own shares of all five companies so I find these stocks suitable for my stock portfolio. There are some key general attributes that I see in these stocks that make them appealing to me. They are as follows:
All five of these companies pay a dividend.
All five of these companies have seen significant stock price drops over the last year and/or few years.
All of these companies are very well known and are among the leaders in their respective industries.
All of these companies provide substantial opportunities to generate income for an income investor based on their dividends and/or covered call choices.
As an investor, my goal is to generate income via dividends, interest, and from covered calls. I recently read an article in the Wall Street Journal on Saturday/Sunday December 29-30, 2012 (THE INTELLIGENT INVESTOR by Jason Zweig) titled "At Long Last, Could the Dividend Revolution Be Here?" In this article, the author noted that companies in the S&P 500 will pay out regular cash dividends of $281 billion which is predicted by S&P Dow Jones Indices. This is a 17% increase from 2011 and is 13% above the previous record in 2008. To me, this solidifies the fact that dividends are the trend and companies now more than ever will pay out as much in dividends as they can. For these particular five companies highlighted here, I believe the market has priced in risks that the dividends may be cut from here on out and/or that they will continue to produce sub-par earnings. For all five of these companies, I believe that this fear is overdone, and that the stock prices have come down too far.
The first company that I think will come back in 2013 is Best Buy (NYSE:BBY). As of December 28, 2012, its stock price closed at $11.29. Over the past 52 weeks, the stock has been absolutely decimated, as shown in the following chart.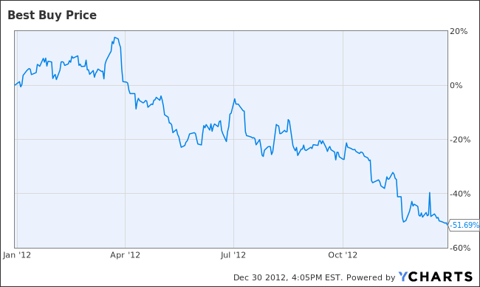 I do not view this stock price decrease by Best Buy as a bad thing, though I think it is unfortunate that it has had to drop this far. The company is still earning money and is forecasted to have a strong year this year. That being said, now is also a great opportunity for shareholders who already own shares to buy more at a lower price, to take advantage of making their average cost basis per share lower. Best Buy has many things going for it. There is the rumor that the company will be taken private at a premium price to shareholders. This is the final piece of news that compelled me to buy the stock. Additionally, the stock pays a .68 annual dividend for a current yield of 6%. The quarterly dividend was raised in September 2012 to .17 from .16 previously. For a company that has fallen this far in price, I would expect to see questions coming in about its ability to turn a profit. For Best Buy, this is simply not the case. Thanks to days like Black Friday, the company is forecasted by analysts to earn $1.50 in the fourth quarter, and $2.43 in the year. The dominance of Best Buy's brand name was apparent in Black Friday news releases ranking company store traffic and website traffic. Best Buy's website received the third highest amount of traffic out of any retailer on Black Friday. Foot traffic (in store visitors) during Black Friday in general was also strong for retailers, and Best Buy's decision to match prices with online retailers such as Amazon (NASDAQ:AMZN) should reduce this year's "showrooming" effect.
The next company I would like to highlight for a comeback pick in 2013 is Staples (NASDAQ:SPLS). Here is a chart of the company's performance in 2013.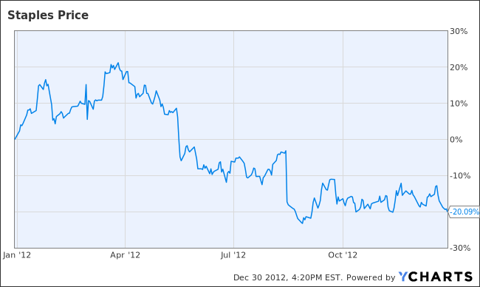 Again, I see this steep price decrease as a good buying opportunity. Staples pays a dividend of .44 annually, giving it a current yield of 4%. The news that it is possible that private equity firms may want to take the company private in the future is a great bonus for owning the stock. For this fiscal year, the company is forecasted to earn $1.38 per share and in the next fiscal year, a slight increase from that is predicted. Staples is the world's largest office products company and is the second largest internet retailer (which the company mentions in most if not all of its press releases). This is a fact that I think is not understood by many potential investors. Only Amazon has a larger internet presence. With small businesses suffering with the economy currently, any uptick in this business segment could bring increased profitability to the company. I believe there is great opportunity in Staples. The opportunities that the small business sector may recover in 2013, the fact that private equity may take the company private, and because the company is earning a good amount of eps, makes this an attractive stock to buy additional shares of at a lower price to obtain a lower overall per-share cost basis.
Nokia (NYSE:NOK) is the third company that I believe can see a comeback in 2013. The following is its stock price performance in the last 52 weeks.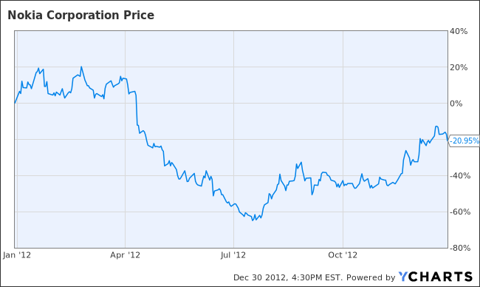 As you can see in the chart, this year has not been great for Nokia's stock price. The stock has had a tremendous rally though from when it was down 60% on the year, as it has climbed back up considerably. With positive news coming out about its Lumia sales, this has caused share prices to rise. Nokia has a lot of things going for it. It has a lot of cash on its balance sheet and it looks to be able to continue paying a dividend in the following year, as it declares one annually and not quarterly. There have been varying estimations for the break-up value of Nokia's stake in Nokia-Siemens. Its patents are also quite valuable as they produce income for Nokia every year. That and other pieces of the company such as its map technologies (which resulted from its acquisition of Navteq for $8.1 billion) make it have strong value even in the case of Nokia having to seek strategic alternatives if it cannot increase eps.
Next, we have Hewlett-Packard Company (NYSE:HPQ). I think Meg Whitman is a great CEO and based on her experience at Ebay, I believe she is a great person to turn the company around. Here is a 52 week price chart for this company.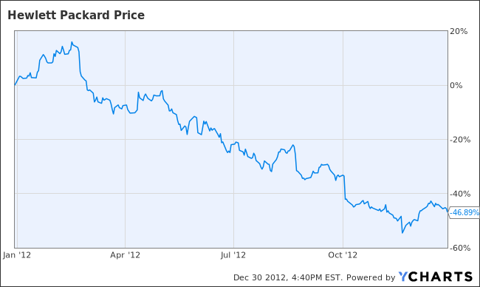 The stock has had a tough year. The Autonomy fiasco has certainly not been good news to say the least. Accounting questions and irregularities have a tendency to hammer a stock price initially, but for a good company these stumbles can prove to be short-term events. McKesson Corporation (NYSE:MCK) is a great example of this as accounting irregularities many years back hammered the stock price initially, as it went down 50% in one day if I remember correctly. Over the course of the last 10 years or so, McKesson has recovered all of those losses and then some. I believe Hewlett-Packard is a solid company with a strong brand name and great product offerings, and that a stumbling block like its Autonomy acquisition will prove to be a short-term hindrance to its stock price. Hewlett-Packard pays an annual dividend of .53, giving it a current yield of 3.9%. Per analyst estimates, it is scheduled to earn $3.31 this year and $3.48 next year. It clearly is a profitable company despite the one-time charges to earnings. I see its current price as a great buying opportunity.
Finally, we have ArcelorMittal (NYSE:MT). ArcelorMittal is the world's largest steelmaker by output. The following is its price change in the last 52 weeks.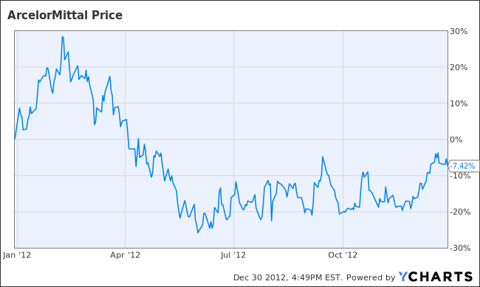 The stock has had the best price performance in 2012 versus the other four stocks discussed here. This has still been a price decrease though. The company announced recently that the 2013 dividend is planned to be cut to .20 from .75 annually. However, what I think is important to note is that this is subject to a vote by the board of directors. Until the board meets and votes on it, nothing will be changed. I was able to get the last .1875 quarterly dividend of this year and it may even be possible for the first quarter or two of 2013 to still have that same dividend amount. This will really supercharge returns as expectations are low currently for this steel giant. Its current market cap is $26.09 billion. The troubles in Europe in addition to the fact that the global demand for steel right now is low, have made this a challenging time for this company. The stock was at over $100 per share in 2008 at one point (per a Yahoo! Finance price chart). This is a glimpse of how good the company can be in good times, and I believe that in the long run we will get there again. I believe that at current price levels, a lot of forecasted future bad news has already been priced in. After the company announced its most recent earnings and proposed the cut in the dividend, the stock has actually gone up in price. This shows me that we may have bottomed here for at least awhile, if not longer.
How I Supercharge Returns in Excess of Regular Dividends -
Out of these stocks highlighted here, their dividends are a major draw. In addition to dividends, I have covered calls that I sold against some of my positions. Out of these five companies, the one that looks like it will have the lowest dividend in 2013 - ArcelorMittal, has a beta of 2.53. This means that its stock price is more volatile, and brings a higher price for a covered call than it would if it had a lower beta. By having the covered call(s) against my position in ArcelorMittal, adding that to the dividend received produces substantial returns. For instance, let's take an example of the June 2013 calls for ArcelorMittal. The current bid price is .92 for the June 2013 calls with a $19 strike price. If you sell one contract for your position of 100 shares, you will get $92 (before commissions and fees). Add that $92 to the dividend you will get in the first two quarters (possibly only 5 cents per quarter) and you will have $102. $102 for six months of holding the stock, is 6.06% of your $1,684 investment (before commissions) of buying 100 shares now. If the shares are $19 or more when the calls expire, you have to sell them for $19 per share. You would then gain $102 + the extra capital gain proceeds ($19-$16.84 per share gain). If the stock does not reach $19, you keep the $102 and can get another covered call for six months down the road all over again.
For Best Buy, the options are holding up in value for higher strike prices due to the possibility of the company being taken private. The June 2013 calls with a strike price of $15 have a current bid of .61. That would be $61 plus about 34 cents or so for two quarters of dividends. For 100 shares, that would bring $95 before commissions and fees. 100 shares in the open market at current prices would cost about $1,130. In this case, that would be an 8.4% total return in six months. Best Buy has a beta of 1.44, which is another reason that the options have decent value.
As you can see in these two examples of options for these five companies, you can really generate a good amount of income by owning these shares. Options are only possible in increments of 100 shares, so you have to have at least 100 shares to be able to take advantage of this extra income opportunity. The other companies offer great options as well and for all five of my positions in these stocks, I have covered calls against at least some of those positions in all of the companies.
Reasons for a 2013 comeback for these stocks -
All of the stocks were down in 2012, leaving significant room for upside even just by regaining lost value from 2012 in 2013.
The dividends paid by these companies should provide a stock price floor for them, as long as the dividends are not cut. (cut further in the case of ArcelorMittal)
The companies remain strong competitors, if not leaders in their respective industries.
All of the companies have seen competitive challenges within their industries versus the competition and/or from weaker demand compared to previous years. 2013 is a great year for this demand to increase and for these companies to rise to the occasion and start taking market share from their competitors. (ie Best Buy competing better with Amazon)
Disclaimer - This article is not a solicitation to purchase securities and should not be construed as such. It is simple to educate and inform and to share my views on my opinions of great potential comeback stocks for 2013.
Thank you for reading this article and I encourage you to take a look at these great dividend stocks for a potential comeback in 2013.
Disclosure: I am long HPQ, MT, SPLS, BBY, NOK. I wrote this article myself, and it expresses my own opinions. I am not receiving compensation for it (other than from Seeking Alpha). I have no business relationship with any company whose stock is mentioned in this article.
Additional disclosure: I also have covered calls against some of my positions in HPQ, MT, SPLS, BBY, and NOK.