While the avoidance of a Fiscal Cliff has helped some commodity markets such as crude oil and precious metals rally, there are several world weather events that again have become bearish for soybeans and natural gas. Heating oil prices may be next to fall as near record warm weather hits parts of the Midwest and East next week.
The brief cold snap we had across the United States this last week failed to muster any sort of decent rally in natural gas. We began telling clients late last week and on Monday, that due to near record warm ocean temperatures along the Atlantic, the MJO moving into phase 3-5 the next 15 days and cooler than normal eastern Pacific ocean temperatures (-PDO), that cold would be ephemeral. It appears that parts of the Midwest and especially the Eastern U.S. will see rapidly melting snow cover and temperatures well above normal this weekend and much of next week. Hence, we became more bearish natural gas again. While the potential exists for colder mid-late winter weather, huge record supplies continue to haunt this market. If one observes market action the last 4 winters, we need major persistent cold to get traders excited. This is something I do not see right now.
SOURCE: WSI
The yellow you see off the west coast of the U.S. is "key" to whether or not U.S. energy areas get cold or not later. This ridge is too far west to bring major cold into the heart of the U.S. By this weekend and much of next week, the yellow over the Northeast represents much above normal temperatures that may pressure heating oil futures and keep natural gas prices under pressure.
I think we will begin to see heating oil prices sell-off after a gallant 10% rise in crude oil recently. Heating oil may begin to slide versus gasoline and/or crude over the next week or two as I expect temperatures in western Europe and the eastern U.S. to warm up a lot.
The map below shows the MJO which will be moving into phase 4/5 which is a warm signal for most key U.S. energy areas heading into at least Mid January now.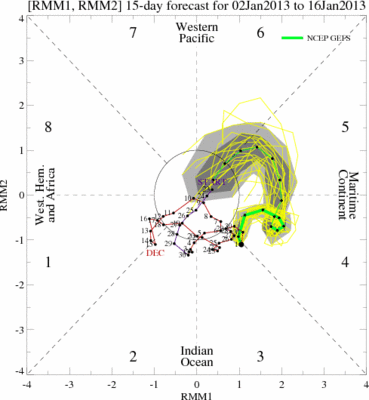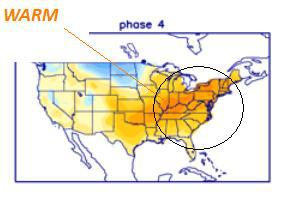 Source of Maps above: NCEP
The MJO (above) is wave that propagates every 20-35 days from the Indian Ocean across into the Atlantic. It is typically more evident during El Nino events and is responsible for the infamous "Pineapple Express" that came sometimes flood California and ruin skiing in the Pacific Northwest. When the MJO is strong enough, it can also offset what is going on over the Arctic and Canada, in which the "potential exists" later for some very cold weather in key energy areas.
However, as the MJO goes into phase 4/5 next week, we will see some days with temperatures over 50-55 degrees in key Midwest and Eastern heating oil and natural gas areas. So the potential exists for natufal prices to fall close to $3.00 again. Not a good situation for the ETF UNG.
In other markets, coffee prices are in the verge of breaking out of their downtrend due to on going dryness over some 40-50% of the main N. Brazil coffee areas. However, it is uncertain whether or not a major bull market will be in store due to large world stocks and the fact that some improvement in rainfall may be expected in about a week or so. Global supplies remain high and if was not for the fact I see some rain coming to key areas of Brazil, then the coffee market and the ETF (NYSEARCA:JO) would be able to rally some 10-15% in coming weeks. Otherwise, I am a bit unsure where this market is headed right now.
Source: Commodity Weather Group
Coffee areas in Brazil (above) need rains in the next week or two otherwise coffee prices could explode. 25% of the Brazil soybean crop is also too dry, but key soybean areas should see improved moisture during this critical time.
We have painted a mostly bearish picture for cocoa prices the last 2-3 months after we predicted that El Nino would not form last September. While the world is suppose to see a cocoa deficit in 2013, and some short covering could occur, cooler ocean temperatures developing off the coast of Peru, warm waters near Greenland, all portend little chance for any major weather issues for the West African cocoa crop, heading into 2013. Weather is not the only factor of course, but I see little chance for a major rally in cocoa prices at least for another few weeks and perhaps most of 2013.
I think one of my higher confidence trades the last 3 months has been my bearish attitude in soybeans. Almost every major trading advisory service and FCM have been bullish this market due to ideas of incredibly tight stocks and potential demand. However, between the combination of Chinese export cancellations and mostly ideal weather in South America, I still feel that the easy money being long this market, was made last summer during the drought. The potential exists for another $1.00 or more down over the next 3-6 weeks in soybean futures. No question that there have been planting issues in Argentina, with another 2 million hectares of the soybean crop left to plant due to excessive rains. Also, Northeast Brazil is too dry. However, with a record South American crop still expected, I do not see much upside potential for this market. The soybean ETF (NYSEARCA:SOYB) may have another 5% down the next few weeks and possibly 10-15% down by later next summer.
With respect to corn and wheat, corn exports have been 50% of what the USDA projected due to worries over the Ethanol program. There is international pressure from several countries, that record high corn prices last summer could adversely affect some economies. This may cause the US to curtail its ethanol program. Combine this reality with good South American crops and corn prices have taken it on the china.
Perhaps the biggest surprise in the grain market to me is in the wheat market. Lower corn prices and ideas that world acreage will increase in 2013 has pressured this market, but the drought in the Plains continues with a good deal of the Kansas and Nebraska wheat crop in fair to poor condition. So why has this market yawned at the on going drought? It typically is not until the March-May time frame that traders worry about U.S. weather in the wheat belt and there is still a chance for the crop to recover somewhat come spring.
Here is an interesting audio [Source: USDA (Kansas December crop condition)] about the state of the Kansas wheat crop. Based on this, one would normally be bullish the market, but wheat prices are still relatively high from historical standards and the odds of the drought continuing next spring are lower than they have been.
Disclosure: I have no positions in any stocks mentioned, and no plans to initiate any positions within the next 72 hours. I wrote this article myself, and it expresses my own opinions. I am not receiving compensation for it (other than from Seeking Alpha). I have no business relationship with any company whose stock is mentioned in this article.