This just in (via The Wall Street Journal):
India's government may again raise import taxes on gold in an effort to curb demand for the metal, one of the biggest contributors to the country's widening current-account deficit.

The government may raise the import tax on gold to 5% from 4% within a week, and to 6% in the federal budget, which is usually presented toward the end of February.
India is the world's largest consumer of gold (25%), and it imports most of it. The Indian government has in the past raised import taxes to curb the gold demand. It has prevented banks from lending money for gold purchases. That reduced demand in India by some 20% in 2012.
Seems like that is not considered to be enough by the government of India. They are at it again.
As reasons of my articles know, I am not bullish on gold in 2013. I has earlier expressed my doubts about whether gold can survive the lack of demand in India. In particular, I expressed concern about the future of gold given that it didn't do much of anything with all the fiscal cliff drama.
Here's how gold has done during the fiscal cliff negotiations against the market. Even on the morning after the cliff negotiations, when the deficit is forecast to be up by $4 Trillion and hence is likely to be inflationary, the SPDR S&P 500 Trust ETF (NYSEARCA:SPY) has gone up double that of the SPDR Gold Trust ETF (NYSEARCA:GLD).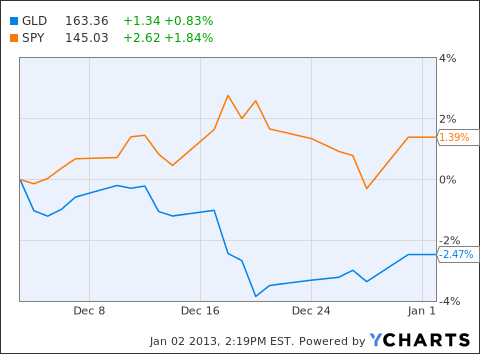 There is a saying - never fight the Fed when investing. When it comes to investing in gold, I posit there is a similar saying. Do not fight the Government of India. They will not stop till they have choked off the gold imports for India. They successfully lowered it from about 1,000 tonnes in 2011 to 800 tonnes in 2012. The projections are that in 2013 gold imports will be about 550 tonnes (a 45% decline). While many people have ignored this projection, they have been put on notice by the Indian government in its latest move.
So I reiterate my previous advice to gold investors. When the entity that buys 25% of global demand decides to slim that down by 45%, I posit prices will follow suit. However, I also know how the gold market goes. It is not in any way based on fundamentals, and is all about sentiment. So, I am not about to short gold, but I must say I am sore tempted.
For those strong at heart, a few short choices may be the SPDR Gold Trust ETF (GLD), the Market Vectors Gold Miners ETF (NYSEARCA:GDX), and the Market Vectors Junior Gold Miners ETF (NYSEARCA:GDXJ).
Disclosure: I have no positions in any stocks mentioned, and no plans to initiate any positions within the next 72 hours. I wrote this article myself, and it expresses my own opinions. I am not receiving compensation for it (other than from Seeking Alpha). I have no business relationship with any company whose stock is mentioned in this article.
Disclaimer: This is not meant as investment advice. I do not have a crystal ball. I only have opinions, free at that. Before investing in any of the above-mentioned securities, investors should do their own research, consult their financial advisors, and make their own choice.