Given the continued low interest rate environment, real estate investment trusts look poised to provide investors with attractive total return potential once again in 2013. Cheap capital costs affording wholesale expansion potential and steady dividend payouts make the REIT space comparatively attractive when looking at other income investment alternatives in a ZIRP world.
But, despite attractive industry fundamentals, investors need to look carefully at individual opportunities and grasp the valuation nuances of the space. Though I would argue that a large portion of the obvious value has been picked through over the past couple of years, there still appears ample profit opportunity. Carefully chosen REITs could provide better forward total return than most other dividend equities when looking near- to intermediate-term.
Yield as a Starting Point
While yield examination may be perceived as a rather crude way of evaluating the group, I think it provides a great initial, instructive screen for relative risk and current market sentiment. In the current REIT environment I would characterize yield-based risk and reward in three simple categories: low (sub 4% yield), medium (4-6% yield) and high (above 6% yield). Here are some examples:
Lower Risk: Simon Property Group (NYSE:SPG), Ventas (NYSE:VTR), AvalonBay Communities (NYSE:AVB). These are generally well-established companies with larger market caps, variable growth rates, reputable business models, usually higher FFO and liquidation valuations, and hence, lower yields. The lower risk is usually perceived through geographic diversity, breadth of property-type ownership, stability of tenant base, and consistency of performance.
Medium Risk: Realty Income (NYSE:O), Mid-America Apt. Communities (NYSE:MAA), Healthcare Realty (NYSE:HR). These are also well established REITs with comparatively lower market capitalizations, lower FFO valuations, and might come with a more non-

diversified

, riskier business model, and subsequently higher yield.
Higher Risk: Government Properties Income Trust (NYSE:GOV), Omega Healthcare Investors (NYSE:OHI), Whitestone REIT (NYSEMKT:WSR). These companies may possess highly concentrated business models, managements that are considered either untested or shaky, or have other attributes that raise the investment risk bar. The higher dividend payout rewards investors for taking on an elevated level of business uncertainty or could be indicative of a company-specific problem.
What Are You Looking For?
As a total return investor, I look to maximize growth and income potential while minimizing risk, and thus will seek out REITs that offer that value combination. Other investors may look to maximize safety and consistency with, as SA author extraordinaire Brad Thomas terms them, "sleep well at night" REITs. More aggressive REIT participants may simply look for start-ups, ultra-high dividend payers, or other companies that are expanding their businesses at the highest rates.
Therefore, risk tolerance, just as it does in all other aspects of security selection, plays a key role in specific REIT selection. From my perspective in 2013, the sweet spot of total return will come from investment in a mix of medium and higher risk REITs as noted above. I believe investors that focus on higher capitalized, lower yield names will see a performance lag going forward. While I wouldn't necessarily recommend selling a "swan" REIT, I don't think I would want to allocate capital aggressively to them in the current climate if I were looking for total return performance.
Thinking About Diversification
For income and buy-and-hold investors I'm a big proponent of diversification, so when forming a REIT portfolio, certainly evaluate the various subsectors of the space (shopping centers, apartments, health-care, storage, etc....). Thoughtful over- and under-weighting of areas that appear well (or less well) positioned from both an overall business and valuation perspective will provide your best opportunity for total return success.
In the years ahead, from a demographic and supply/demand perspective, I see no other area better positioned than healthcare REITs. As such, companies like Senior Housing (NYSE:SNH), skilled nursing facility kingpin Omega Healthcare and office landlord Healthcare Realty should benefit. I own all three of these names and prefer their niche specialization, valuation and higher yields compared to their larger capitalized, more diversified, better known cohorts Ventas, HCP, Inc. (NYSE:HCP), and Health Care REIT (NYSE:HCN). I also think the smaller healthcare players could be potential acquisition targets, thus adding to their relative allure.
I also like the fundamentals, and by and large, the valuations of commercial triple net lease players like National Retail (NYSE:NNN), W.P Carey (NYSE:WPC), and Realty Income. Should Realty Income's merger with American Capital Realty (NASDAQ:ARCT) close, it will become the 800 pound gorilla in the space and a great name to own, at the right price. A more risky play, but one that I like is Lexington Properties (NYSE:LXP), which owns a mix of retail, office, and industrial buildings.
One property type that I would definitely underweight is the shopping center space. While I agree with the notion that they are "safer" investments from a business perspective, I think that the positive fundamentals and outlook for companies like Simon Property and Tanger Outlets (SKT) are beyond baked into their stocks. With operating and asset valuations approaching stratospheric proportions, combined with sub 3% dividend yield, these are at best holds in my book. The total return proposition does not justify allocating capital here. I recently sold my position in Tanger and rotated elsewhere.
Another area to underweight would be the apartment landlords. Companies like AvalonBay and Essex (NYSE:ESS) are well run and own beautiful complexes in attractive markets, but again, the valuations and lack of yield fail to impress. One stock I do like here is Home Properties (NYSE:HME), which owns apartments mostly in the mid-Atlantic region and appears to have decent total return potential. I also exited my position in American Campus Communities (NYSE:ACC) and would prefer to take a chance on emerging player in collegiate housing Campus Crest (NYSE:CCG), although have not done so as of this writing.
REIT Risks
Though the fundamental outlook for REITs appears positive, be sure to understand group and stock-specific risk. REITs are particularly economically and financially sensitive, dependent on macro conditions and on the subspace and geographic region in which they operate, borrowing costs, and other factors. Four years ago, with access to capital closed and the banking system on the ropes, REITs were buried instantly by the market.
5-Year Dow Jones REIT Index Chart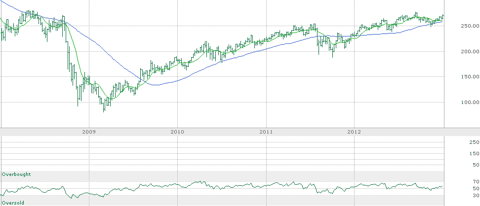 A rising rate scenario would likely bode negatively for REITs, as risk-free yield, basically nil today, and rising bond rates could and would compete for investor dollars. Borrowing costs would rise, likely slowing rates of expansion and potentially affecting distribution rates. However, hawkish monetary policy appears unlikely given current economic realities.
Individual operations can be affected by tenant credit quality, occupancy rates, and the amount of upkeep necessary to keep property attractive and functionally sound. The overall value of each company's real estate will fluctuate dependent on perception and reality in the cities, states, and regions where property is owned. Net operating income will vary based on the prices property is purchased for and the rental dollars management is able to receive.
Another source of risk is company management. Should management be unsuccessful in portfolio maneuvers and/or unskilled in timing the capital markets, total return can be impacted greatly. As retail investors, since we can't do a meet and greet with management, at minimum know the background of the person running the company.
Strategy Summary
For the foreseeable future, REITs appear to be a reasonable choice for investors seeking an income-focused total return play. Using the blueprint above, one can easily craft a handful of trusts that fit with individual risk, income, and return goals.
From a total return potential perspective, I feel one should skew a portfolio towards medium- and higher-yielding REITS as defined above, with attention paid to health care and triple net operators. I would tend to avoid adding investment capital to anything paying less than a three percent dividend, and this includes many shopping center and apartment owners.
Finally, though group risks are always at play, unless we see a dramatic turn in monetary policy, those risks will likely stay at bay.
Disclosure: I am long HME, ARCT, LXP, HR, OHI, SNH, WSR. I wrote this article myself, and it expresses my own opinions. I am not receiving compensation for it (other than from Seeking Alpha). I have no business relationship with any company whose stock is mentioned in this article.
Additional disclosure: Disclaimer: The above should not be considered or construed as individualized or specific investment advice. Do your own research and consult a professional, if necessary, before making investment decisions.