Many investors have entered into "panic mode" as they have seen the price of Apple (NASDAQ:AAPL) erode over the last several months. Since peaking out around $705 in September, Apple closed at $509 last Friday, December 28th. $509? Yeah, a difference of almost $200. Though Apple did manage to rally almost 4.5% on during the Monday session, it's still far from being back on top. Apple must have seriously changed in the past couple of months for something so dramatic to happen, right? Not so much. Lets take a look at some of Apple's numbers to determine if this company is still okay. Below is a one-year chart of Apple: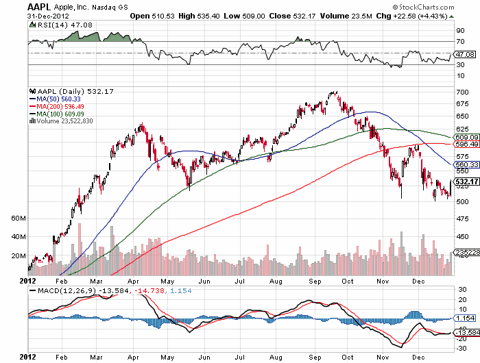 Source: Stockcharts.com
Apple has predominantly controlled the smartphone and tablet market for the past several years. Perhaps due to the magnitude of its stock price, the company has almost always traded at what seemed to be a discount, especially considering the incredible growth we witnessed on a quarterly basis. Arguably, the company won't remain in the top spot without the late Steve Jobs, but I think Apple is trading far too cheap when considering it is still a growth giant.
Even though Samsung has the world's biggest market share in smartphones, that doesn't mean Apple hasn't enjoyed its fair share of control and profit. When you go out with friends or are at the cafe, what are people talking and texting on? Certainly not a BlackBerry from Research in Motion (RIMM). Even the Nokia (NYSE:NOK) Lumia and Microsoft (NASDAQ:MSFT) Windows phones don't seem that popular. Everywhere you look, it seems to be an iPhone in hand. The best part about people who own iPhones? The don't want to give it up. A study from Goldman Sachs revealed this:
The survey found that 88 percent of the people who currently own an Apple device are highly likely or likely to stick with Apple for their next smartphone or tablet. The figure jumps to 96 percent among people who own two or more Apple devices. The survey also asked respondents about their decision to switch platforms if the upfront price to buy a device was discounted. 21 percent said that they would stick to Apple's ecosystem irrespective of whatever discount they were offered.
Here is a chart of the former information for the survey from Goldman Sachs: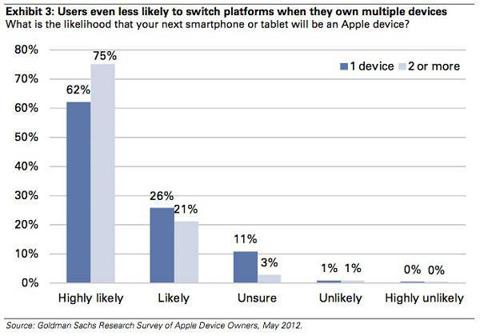 As discussed above, Samsung is the world's largest smartphone provider. Although Apple holds the number two spot, it doesn't have as much exposure to Asia as Samsung does. The following two charts will demonstrate smartphone market share and smartphone sales in 3Q 2012 compared to that of 3Q 2011:
Market Share (click to enlarge):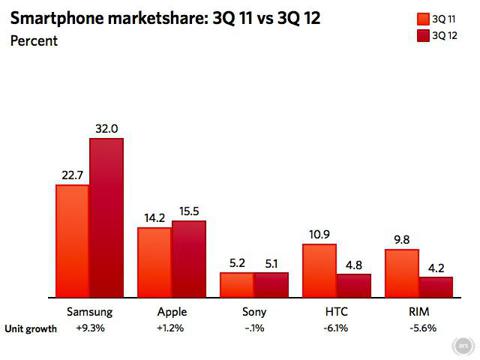 Source: Canalys
Units Sold (click to enlarge):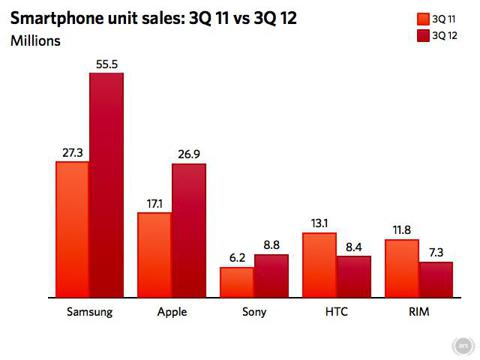 Source: Canalys
In a previous article about a deal with China Mobile (NYSE:CHL) I discussed the potential of such an agreement. It's actually quite a lot of iPhones that Apple could potentially sell. Ordinarily, I would think that Jobs would've pushed for a huge deal, something that would grant shareholders huge profits for several years to come. However, I think that Tim Cook, the current CEO, will be more likely to get a deal done, but less likely to get the favorable terms that Jobs would've gotten.
Either way, China Mobile has more than 650 million mobile subscribers, making it the biggest provider in the world. To put it in perspective, this is more than double the subscriber base that AT&T (NYSE:T) and Verizon (NYSE:VZ) have, combined. Even if Apple was only able to sell iPhones to 25% of China Mobile's subscribers, that's still over 165 million units. It's important for shareholders to keep their minds focused on the longer term potential, rather than the short-term turmoil.
For a while, Apple completely dominated the tablet market. Though it didn't sell nearly as many units as the iPhone, it was the only real player for quite some time. At least now, there is finally some competition in the area. Amazon's (NASDAQ:AMZN) Kindle Fire seemed to present a threat for some time, but Amazon loses money on every unit sold. When it was announced that Amazon wasn't selling as many Kindles as they had estimated, the stock actually rallied because the company was saving money. With the New iPad Mini, Apple has begun to take share from the lower priced tablet market.
The full-sized iPad has been the best tablet in the industry, without question. But with so many low priced tablets entering the space over the years, of course Apple's margins would begin to compress. There's no question that Apple dominated the entire smartphone and tablet space for several years, with every other company playing catch up. Although these companies are beginning to eat away at market share, it doesn't mean Apple won't continue to grow. Every technology company seems to fade, and Apple will likely be no different, but its time has not come.
In a mid-2012 survey among iPad users, there was astonishing results. These results fully backed Apple users as loving their new device. I wrote about it before and here are some of the more eye-popping figures:
The 'New iPad' was most popular amongst new users despite just being released.
47% of iPad-owning households have two or more, up from just 30.1% in 2011.
46.6% use their iPad between 2-5 hours per day.
46.7% now use the iPad as their primary computer, up from 29.1% in 2010.
To demonstrate how much users love their iPads, here is a chart found from the same survey mentioned above, showing the retention rate of the iPad, where users responded with an overwhelming "no" when asked if they would consider using a rival tablet: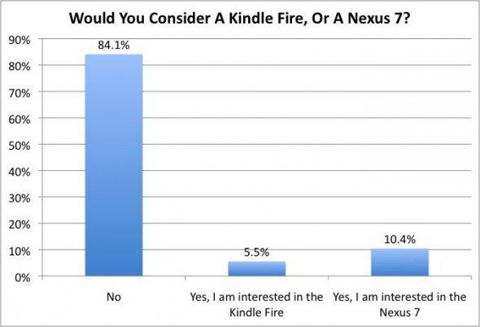 Source: Business Insider
Furthermore, iBooks has taken much of Amazon's Kindle Books business away. In 2010, iBooks only had 36% of users reading books through its service, compared to the 50% that the Kindle had. After three years, that figure has flipped dramatically, with over 51% for iBooks compared to 36.5% for Kindle. Below is a chart illustrating this information: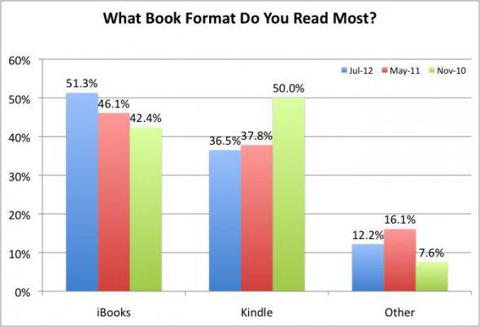 Source: Business Insider
Personally, I think that Apple will still be very successful. Its devices didn't go out of style overnight or make any detrimental changes. The next big catalyst would obviously be a new product, which has yet to be determined. The assumption here is something to do with television, something Cook hinted at in a recent interview. Below is a table of Apple's revenues for the previous three years (2009, 2010, 2011), the current year (2012), and the future two year estimates (2013, 2014):
Revenues (In Millions):
| | | | |
| --- | --- | --- | --- |
| Year | Revenues ($) | Change From Last Year ($) | Change From Last Year (%) |
| 2009 | 42,905 | +5,414 | +12.6% |
| 2010 | 65,225 | +22,320 | +52 |
| 2011 | 108,249 | +43,024 | +66 |
| 2012 | 156,508 | +48,259 | +44.5 |
| 2013* | 192,000 | +35,492 | +22.67 |
| 2014* | 221,000 | +29,000 | +15 |
(*) = Indicates that these are based on estimates for the fiscal years of 2013 and 2014.
As we can see above, Apple has demonstrated immense growth in terms of revenues over the past several years. Though the growth has begun to shrink, it still remains in double digits. Before discussing this aspect further, lets take a look at earnings per share (NYSEARCA:EPS) growth over the same time horizons. Below, the table:
Earnings Per Share:
| | | | |
| --- | --- | --- | --- |
| Year | Earnings Per Share | Change From Last Year ($) | Change From Last Year (%) |
| 2009 | 9.08 | +2.3 | +33.9% |
| 2010 | 15.15 | +6.07 | +66.8 |
| 2011 | 27.68 | +12.53 | +82.7 |
| 2012 | 44.15 | +16.47 | +59.5 |
| 2013* | 48.81 | +4.66 | +10.5 |
| 2014* | 57.35 | +8.54 | +17.5 |
(*) = Indicates that these are based on estimates for the fiscal years of 2013 and 2014.
There are a couple positives and a couple negatives from the two tables above, and it depends on how you want to interpret it. First the negative: Apple is expected to see severely diminished growth when you compare it to the years of 2009-2012. With that being said, growth is expected to remain in the double digits for both revenues and earnings per share -- and remember, this is assuming Apple does not introduce a completely new product.
Estimates are just that, estimates. They are certainly not set in stone and Apple could go on to do far better -- or far worse -- than the predictions. But with a current trailing twelve month ((ttm)) P/E ratio of 11.5, it suggests Apple is trading relatively cheap compared to other companies in the industry and the S&P 500 in general. When you look at the 2013 P/E ratio of 10.4 and to the 2014 P/E ratio of 8.8, the stock begins to appear extremely cheap.
While the future P/E ratios are derived off of estimates, I think it's safe to say that Apple is trading with a discount, relative to the earnings that it generates each year. There is another metric we can use to measure the growth of a company and its current price. The PEG ratio, which divides the annual EPS growth by the P/E ratio, sheds light onto the company's growth value.
A measurement of 1, would suggest that growth is equal to the valuation (P/E ratio), while a reading of less than 1 would suggest an undervalued state, and a reading of more than 1 would suggest an overvalued state. A quick look at Yahoo! Finance will show the 5-year future PEG ratio to be .58. This suggest that Apple is currently undervalued when compared to its future growth estimates.
Bears and pessimists will argue that Apple is experiencing compressed growth due to other technology companies taking market share from Apple. I won't argue that, and either will the numbers above. It is very clear that both revenues and earnings growth are beginning to slow, but that's not to say it still isn't growing. I think Apple has sold off over the past few months due to increased fears from the volatility and extreme price corrections. Headlines have been popping up saying that iPhone sales have been in decline and that Apple is beginning to flounder.
Worries over supply chains are way overblown in my mind. So is the Chinese sales issue, with some still thinking there was only one person waiting in line for the iPhone 5. The truth of the matter is, Apple is experiencing increased competition from other technology companies. But with over $100 billion in cash, zero debt and double digit growth, I think the stock trades pretty cheap on a valuation basis when you look out a few years. Lets take a look at the charts to see what happened to Apple: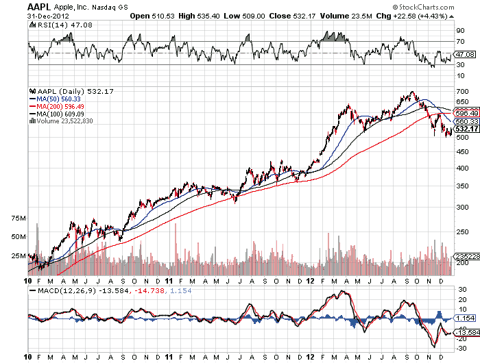 Source: Stockcharts.com
As you can see, after reporting earnings in January of 2012, Apple broke out of its long-term upward trend when it went parabolic. The explosive price action was fun to watch, but dangerous for shareholders. Since topping out in September, shares have corrected over 27%. While shares are still up year-to-date, the charts are a mess. The stock formed what is known as a death cross, where the 50-day simple moving average crosses the 200-day simple moving average to the downside. This is considered quite bearish by technicians and this is what I would consider a broken stock.
But the good news? It isn't a broken company. While the stock might have performed horribly over the past quarter and the charts look pretty ugly, the company itself is doing fine.
The Trade
To be honest, one of the best ways I can see to benefit from owning Apple is selling puts. Especially around the lower $500 mark, selling puts would grant assignment to the put writer with an extremely favorable entry point. With the 4% rally Apple sustained on Monday, this strategy isn't as viable as it was last Friday -- at least near $500 -- but you get the point. Apple has seen sub-$525 levels more than once on this pullback.
Personally, I don't really like naked options. I would likely cap the short put options with a lower strike, long put. This would effectively create what is called a bull put spread. We are looking for the price of Apple to appreciate over the time span of the option's life, so that we do not get assigned -- although getting assigned shares of Apple below $500 is truly a blessing. However, some people may not have enough money or margin to maintain that many shares of Apple, as it will cost roughly $50,000. Here's a trade outline:
Sell 1 AAPL January 530 put @ 15.45
Buy 1 AAPL January 500 put @ 5.85
Net Credit (Max Gain): 9.60 ($960)
Days Until Expiration: 16
Cost Basis (If Assigned): $520.40 ($530 - $9.60 = $520.40)
The example above reflects what selling an at-the-money put option would go for in the front-month expiring contract (January). This would also miss Apple's next earnings report, which is the following week. Now, you certainly could be call-buyer, rather than a put-seller. Selling puts works well because you collect premium and can get exposure to shares. If you don't want exposure to shares, you could simply purchase calls for a net debit.
For Apple, I like to buy slightly out-of-the-money call options. The premium is lower, and it moves fast enough where it could have intrinsic value rather quickly, meaning it moves in-the-money. The only problem with call buying is that you are purchasing the call, rather than getting paid for selling the put. Many options traders would rather be paid to put a position on, than pay for it.
There are certainly advantages to both positions and I think they both represent great opportunities. If Apple happens to sell-off post-earnings because they only sold 45 million iPhones rather than 50 million, I would view this as a tremendous buying opportunity. The January options expire before earnings, leaving volatility out and eliminating that big move -- not to say there couldn't be another one for a different reason -- after-hours move that is typically seen from earnings reports.
Conclusion
Growth is slower than in previous years -- or is at least projected to be -- but will still remain growing for some time to come. The "pros" say to buy when there's blood in the street, and right now, it couldn't be worse for Apple. Nearly every headline, analyst announcement, and update seems to be negative, but all of this I would contribute to short-term weakness.
Apple has the growth, the customer loyalty and the leverage to remain a dominant market player. Any new, dazzling product or a potential deal with China Mobile will probably take Apple to new highs. Even without either of the two, the growth from iPad and iPhone sales alone is enough of a reason for me to own the stock at these current levels, at least for the foreseeable future. Until I stop seeing iPads, iPhones and iPods being highly used by consumers, I won't stop believing in Apple.
Disclosure: I have no positions in any stocks mentioned, but may initiate a long position in AAPL over the next 72 hours. I wrote this article myself, and it expresses my own opinions. I am not receiving compensation for it (other than from Seeking Alpha). I have no business relationship with any company whose stock is mentioned in this article.