Over the last five months, the Communications Equipment sector has been outperforming the market. Within this sector, two stocks that have caught my attention are Acme Packet (NASDAQ:APKT) and Audiocodes (NASDAQ:AUDC). Acme Packet and Audiocodes have been seeing orders for their networking products rise as industry trends have been moving in ways that favor them. Both companies have benefited from enterprises converting their legacy PBX networks to IP based networks and moving away from traditional voice calls towards a unified communications platform over an IP network. Acme Packet is also benefiting from a spike in growth in Voice over LTE (VoLTE), while Audiocodes is benefiting from the growth in cloud based contact centers.
Acme Packet
Acme Packet is the leader in the session border controller (SBC) market. Focused mainly on the service providers, it has had great success delivering network solutions to them in the form of voice, data and unified communications over IP networks. During a fireside chat at the Credit Suisse Technology Conference on November 27th, Acme Packet CEO and Chairman, Andrew Orly explained that the weakness in the stock over the past year had been a result of its top two customers AT&T (NYSE:T) and Verizon (NYSE:VZ) both cutting cap ex spending by 30%. Since July, 2012 the stock has rebounded as I believe a new round of cap ex spending has taken place with wireless service providers rushing to increase their spending on VoLTE as they try to meet the demand on their LTE networks caused by the introduction of Apple's iPhone 5 and Samsung's Galaxy 3S both LTE enabled smartphones. Acme Packet is at the forefront of this trend as they supply directly to the service providers.
Audiocodes
Audiocodes is a small cap Israeli company that has been a leader and innovator in the VoIP market for 17 years. Like Acme Packet, it is poised to take advantages of the current growth drivers in the sector. While Acme Packet has had success with the service providers, Audiocodes is aiming to emulate that success with enterprises. It already has a strong partnership with Microsoft and is a gold partner in its Lync platform. Audiocodes is poised to take advantage of an upcoming increase in Lync sales as enterprises increasingly replace their legacy PBX systems with a unified communications (UC) platform over an IP network. Audiocodes has also been setting itself up for larger deals as it recently introduced the Mediant 4000, an E-SBC that has a capacity for 4,000 seats and allows it to go after Fortune 100 companies for the first time. In its last conference call, the company announced some Fortune 1000 companies that they are working with as partners of Microsoft, including Ernst and Young, Honeywell and Ebay.
Another market that is seeing double digit growth is the cloud based contact center market. Audiocodes is a certified partner of Genesys which was spun off from Alcatel-Lucent and its gateway is the only one that Genesys puts a recommendation on. Audiocodes' business is growing as Genesys grows and as we see more and more contact centers moving to the cloud, we can only expect to see a continued increase in sales by Audiocodes. Two weeks ago, Audiocodes announced a certification deal with AT&T for Genesys contact centers.
Valuations: (provided by Yahoo Finance)
Acme Packet
Market Cap - $1.54 billion
Forward P/E - 43
Price to Sales - 5.2
Price to Book - 3.1
Cash per Share - $5.39
Audiocodes
Market Cap - $129 million
Forward P/E - 20
Price to Sales - 0.94
Price to Book - 1.3
Cash per Share - $1
In looking at the valuations above, we can see that Acme Packet currently has a high forward P/E of 43. With this multiple, Wall Street is taking into account the expected growth in the sector with the move away from legacy PBX networks towards IP based networks. This trend could cause the sector to be one of the hot sectors in 2013. If this is the case then Audiocodes looks a steal at less than one times sales, as this multiple could easily be increased to as high as three time sales.
AKPT Daily Chart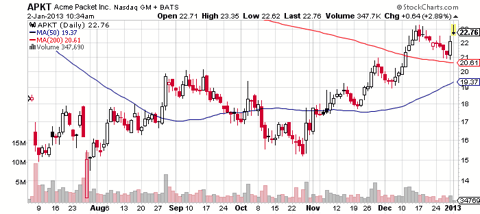 As we can see on the daily chart, Acme Packet made a bottom at the end of July. It has since traded from that low of $13.26 up to its recent high of $23.35. On its move up it crossed both its 50 day and 200 day moving averages, both positive moves. Over the past two weeks it pulled back (on light volume) along with the rest of the market as "fiscal cliff" worries gripped the market, but it found support just above the 200 day moving average and looks set to make a short term run to $25. When the broader markets turn around I would expect Acme Packet to be one of the leaders. We should see a Golden Cross buy signal in the next few weeks as the 50 day moving average continues to rise and crosses the 200 day moving average. This is a very bullish pattern and should aid APKT reaching my target price of $30 over the next few months.
AUDC Daily Chart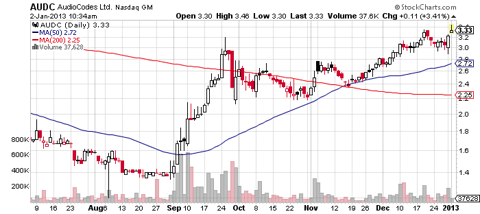 Audiocodes made a bottom in August and then broke out on big volume in September. It traded up to $3.20 and then consolidated that move by moving sideways before breaking out again in November. This breakout coincided with a golden cross (when the 50 day moving average crossed above the 200 day moving average) a very bullish sign. Last week it traded up to $3.35 before seeing a small pullback on light volume and then made a reversal higher with a bullish engulfing candle and looks set to trade higher.
Conclusion:
Acme Packet and Audiocodes have been outperforming the market over the last five months. They are both riding strong business trends that should continue for the next few years at the least. I expect to see Acme Packet become a market leader this year and where it goes Audiocodes will follow. Audiocodes represents a less risky play as it has lower valuations and I would expect to see an expansion of its multiples over the coming quarters. Both charts are pointing to higher prices over the coming months and my target for Acme Packet is $30, and my target for Audiocodes is $6.50.
Disclosure: I am long AUDC. I wrote this article myself, and it expresses my own opinions. I am not receiving compensation for it. I have no business relationship with any company whose stock is mentioned in this article.