On Wednesday, the ICE futures market certainly energized the price of Arabica Coffee. Futures of Arabica Coffee set for March delivery popped nearly 3.9% ($0.056/pound) to settle at $1.4940/pound, their highest point since mid-November.
According to WSJ.com, the pop in price was "due largely in part to Congress's passage of a bill to avoid the "fiscal cliff" [that] boosted investors' appetite for commodities, especially one that declined sharply throughout 2012."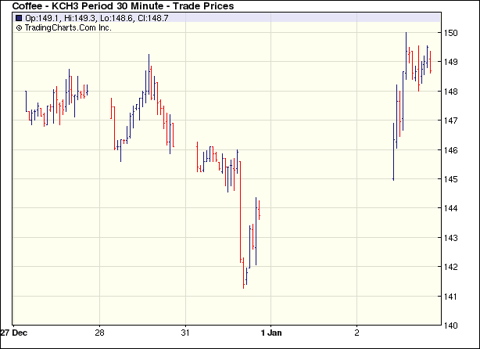 The 'fiscal cliff' wasn't the only driving factor for the commodity on Wednesday. Also giving coffee a lift during Wednesday's trading session was the strengthening of the Brazilian Real against the U.S. dollar. During today's currency trading session, the Real hit BRL2.0366 against the U.S. dollar.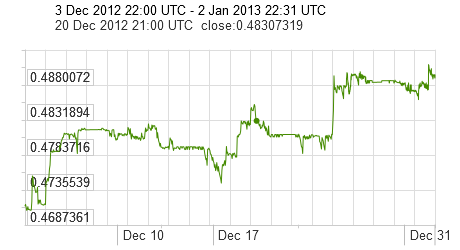 For U.S.-based investors of the iPath Dow Jones-UBS Coffee ETN (NYSEARCA:JO), I think today's positive session (and slight rally) could be a step in the right direction. Those who held positions in the ETN saw shares fall 42.54%, over the course of the last 12 months as global inventories soared to record highs. That said, a rally in coffee prices may actually benefit the bottom line of such companies as Starbucks (NASDAQ:SBUX), Dunkin' Brands (NASDAQ:DNKN), and Green Mountain Coffee Roasters (NASDAQ:GMCR).
The 2013 market outlook for Arabica Coffee seems conservatively positive. According to Barclays, "Brazil's 2013-14 'off-year' crop should experience a smaller downturn than previous 'off-years' as weather has been favorable for flowering coffee trees. Previous 'off-years' have experienced declines as high as 20%. That said, we only expect a modest decline of 5.9%." If Arabica Coffee can continue to show signs of life and meet and/or exceed Barclays' full year price target of $1.71/pound, a 14.45% full-year rally (based on today's closing price) could be well within reach.
Disclosure: I am long SBUX. I wrote this article myself, and it expresses my own opinions. I am not receiving compensation for it (other than from Seeking Alpha). I have no business relationship with any company whose stock is mentioned in this article.