Last week I was putting together some late night research for an article I wrote called Retail REITs Outperform: Some Things Can't Be Replicated On-Line. While I was writing that article I kept reading over a quote from Bobby Taubman, CEO of Taubman Centers (NYSE:TCO). What fascinated me about this quote was Taubman's explanation of how the world of "brick and mortar" has evolved into a highly advanced level of multi-channel consumer decision making. As Taubman explained:
The best retailers touch their customers seamlessly whether through e-commerce, catalogs, direct mail or brick and mortar. Brick and mortar enables retailers to holistically present and establish their brands, create an experience that inspires customers, and allows them to socialize and interact with others. Technology has improved the customer experience at all levels - the front of the house, the logistics chain, its efficiency and pricing, and customer knowledge and service. Social media will continue to enhance the connectivity of the customer and retailer, but in this omni-channel world, the brand is more important than ever.
Much like whatever stock you decide to buy today or tomorrow, you will more than likely read about it on-line and then investigate the security in greater detail. The first channel you turn to may be Seeking Alpha, The Street, or Forbes.com; however, that is simply the initial encounter and more than likely before you buy, you will look hard at the businesses behind the security as a prospective buyer would of the whole business. Ben Graham described this modern day "omni-channel" investment process as follows:
It must never be forgotten, that a stockholder is an owner of the business and an employer of its officers.
A Visit to my Neighborhood Regal Cinema
Over the holidays I was beginning to get a mild case of cabin fever so I asked my kids if they wanted to venture out to see a movie. With my kids it's awfully hard to get a consensus but this time we all agreed that we would go see The Hobbit: An Unexpected Journey in 3-D.
Now the truth be known, I had recently heard that the local Regal 16 was acquired by Realty Income (NYSE:O) so I decided I would pretend I was the landlord and "look at the businesses behind the security as a prospective buyer" would. (Upon reviewing the deal, Realty Income acquired the complex on July 31, 2012 at a cost of $12.5 million). Remember that Realty Income has over 8% invested in theatre properties (AMC at 4.8% and Regal at 3.3%):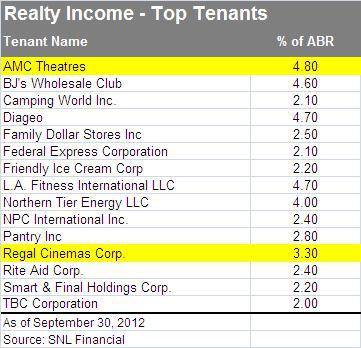 Before venturing out with the family I decided to use my iPhone to see what time The Hobbit started (another way to connect the customer to the business). With plenty of options, I packed up the troops and we headed over to Spartan 16 to check out the action packed movie (little did my wife know that I was actually working… looking at the business behind the security that is).
I arrived and of course the parking lot was packed. Little did I know that The Hobbit was the top movie for a third-straight week and to top it off, the year-end release capping off a record-setting $10.8 billion year in moviegoing. (source: here)

Finding Real Value in Holistic Entertainment
When I returned from the movie ($75 on tickets and snacks. Ouch!) I clicked on to start my next Seeking Alpha article and I ran across a comment from a reader on the previously mentioned article:
Shopping is a social activity for many people - and many malls have smartly added non shopping social activities to their malls - i.e. restaurants (not the food court type), theatres, gyms, and even some grocery stores. Who wants to spend their life sitting at home?
So could there be value in being a pure landlord to social interaction? Is there a REIT that owns unique properties combining sustainable income attributes with long term brick and mortar? If so, is there a "margin of safety" in the investment fundamentals?
Then the light went off! I was writing this article yesterday (How To Find A Wonderful REIT At A Moderate Price) and the "take away" (for the content) was to find "a wonderful " REIT "at a moderate price". In that article, I explained that by using the P/AFFO analysis an investor could filter out the best opportunities worthy of ownership. So right at the bottom of the randomly selected list of REITs (in that article), I spotted perhaps a "wonderful" REIT with a "moderate" price (see EPR in yellow).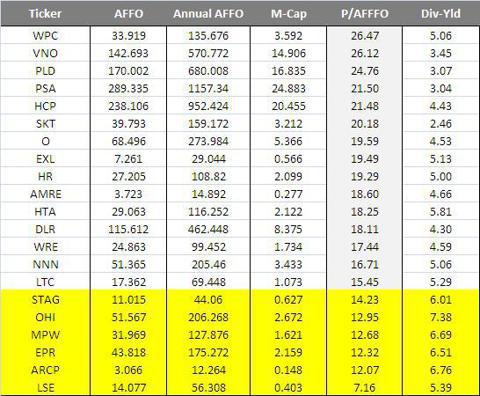 EPR Properties: This Could Be a Star in the Making
EPR Properties (NYSE:EPR) (formerly known as Entertainment Properties Trust) is a ~$3 billion REIT by gross asset value and the largest owner of entertainment-related real estate, with a large concentration in the theater industry, comprising 67% of its total portfolio (based on investment value), as well as charter school properties, ski hills and entertainment retail centers.
The Kansas City-based REIT's new name reflects the company's growing transition into other asset classes beyond entertainment (aka., theaters), specifically education (aka., charter schools) and recreation (aka., differentiated retail).
As of the latest quarter, EPR owned 191 properties in 37 States, DC, and Canada. Here is a snapshot of the portfolio: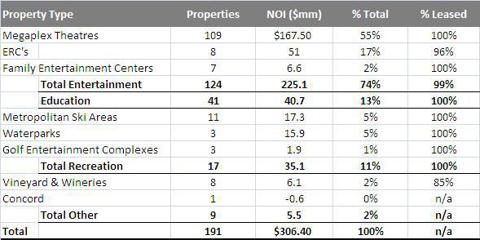 AMC is EPR's largest tenant followed by Rave, Imagine Charter Schools and Regal Cinemas.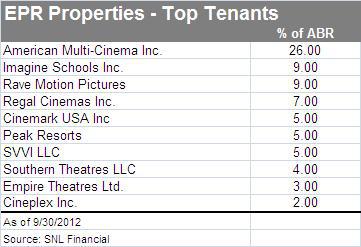 Entertainment remains the anchor of EPR's revenue model with 74% of income generated. Education and recreation make up around 13% and 11% respectively.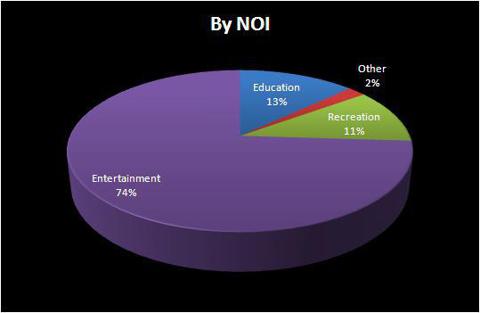 EPR has an enterprise value of around $3.8 billion that consists of $2.1 billion in common equity, $600 million of unsecured bonds, $240 million in term loans and $330 million in preferred issues.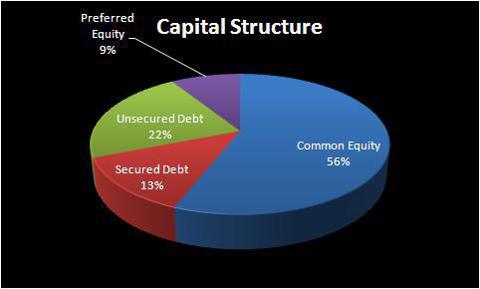 Earlier last year (August) EPR floated $350 million of 10 year senior unsecured notes with a coupon of 5.75%. This was the company's second offering of senior unsecured rate of debt. This transaction was viewed as highly successful both for the demand demonstrated and the materially lower spread over comparable term treasuries than previous offerings.
Subsequent to the quarter end, EPR executed a refinancing of one of its preferred stock issues (redeeming the Series D 7.375% preferred issue and replacing it with a new Series F 6.575% issue with a lower coupon by three quarters of a percent). Both of these transactions demonstrate quality access to the capital markets and continued risk management of liabilities with durations consistent with the assets and with no maturity concentrations in any one year.
EPR has around 36% leverage (debt/total cap) with overall occupancy strong at 98%.

EPR's coverage ratios have been consistently strong and remained strong for the first nine months of this year with interest coverage at 3.6 times, and both fixed charge coverage and debt service coverage at 2.7 times. EPR's debt-to-adjusted EBITDA ratio was 4.7 times for the third quarter annualized and the debt-to-gross assets ratio was 41% at September 30.

EPR's FFO payout ratio for the last quarter was around 80% and in-line with the peer group.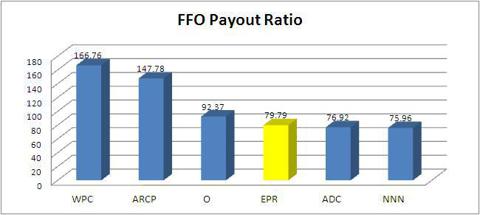 EPR reported Q3-12 FFO as adjusted per diluted common share of $0.96 of FFO as adjusted per diluted share, an increase of 12% over the same period last year. Year-to-date FFO totals $2.74, which is an increase of 9% over the same time last year. As noted on the company's recent earnings call,
This level of results as well as our outlook for the final quarter lead us to increase our guidance for FFO as adjusted per share to a range of $3.64 to $3.69, an increase of over $0.04 on the midpoint compared to our prior guidance range.

As is our custom, we're also at this time introducing our guidance for next calendar year 2013. For next year, we expect FFO per diluted share between $3.77 and $3.92, an increase of 5% over the midpoint of our guidance for the current year. This is based on an outlook of investment spending of about $300 million for the year, a level very comparable with the current year. No determination has been made about our dividend level for next year, but traditionally we look to increase it in the first calendar quarter and about the same rate of our expected FFO per share growth.
At quarter-end, EPR had total outstanding debt of $1.3 billion about $10.6 billion of this debt is either fixed rate debt or debt that has been fixed through interest rate swaps with a blended coupon of approximately 5.7%. EPR had nothing outstanding at quarter end under its $400 million line of credit and it had around $25 million of cash on hand.
So How Does EPR Compare with the Other Bond-Proxy REITs?
As I explained in a recent Seeking Alpha article:
My theory of Realty Income as a "bond-proxy" alternative goes that bonds are meant to stabilize your portfolio and dampen the volatility inherent with the violent swings of the stock market. They are also meant to provide diversification benefits by zigging when stocks zag and vice versa. In this way, bonds can significantly reduce the risk of your portfolio without reducing returns too much. Realty Income seems to meet both of these requirements with higher returns and income than the average bond fund.
Clearly Realty Income's primary competitive advantage is the company's low cost of capital (as evidenced by the company's recently closed bond with a weighted average of 2.7%). The difference between Realty Income's costs of capital and its acquisition cap rates (averaging 7.5%) is around 500 bps.
Compare that with EPR, a company that continues to invest at relatively healthy cap rates (acquiring theaters, charter schools and other entertainment concepts) at roughly 8.0%-10.5% initial yield. EPR still maintains a nice spread and, in addition, EPR has around 37% secured mortgage debt compared with just 5.4% for Realty Income. In addition, most of EPR's theater deals are build-to-suit meaning that they source the robust yields utilizing the company's uniquely originated relationships.
Clearly there is more credit risk for EPR (when compared with Realty Income) and I would be remiss if I did not provide the dividend differentials. First off, here is a snapshot of the peer triple net REITs and their respective dividend yields.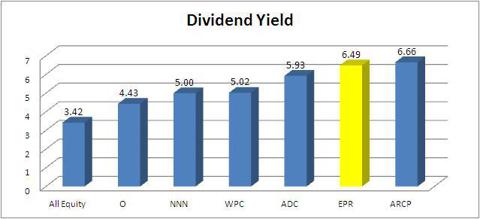 Now, compare the "blue chip" Realty Income's 18 year track record (as a public company):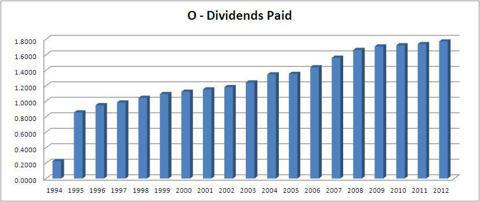 And now let's examine the dividend history for EPR:

Now 2009 was not the best year for EPR but it is important to see how the company responded to after the Great Recession - including 7% + dividend increases in 2011 and 2012.

When examining the fundamentals of EPR we discover a specialized REIT with a history of consistent FFO growth. Although the company did experience an operating hiccup as a result of the great recession, the company has resumed its upward FFO growth since 2010. But perhaps most importantly, EPR appears to be very reasonably valued based on traditional measurements of valuation regarding a REIT. These valuation metrics include fair value relative to its income (the pinkish purplish line on the graph), and its intrinsic value based on Funds From Operations (FFO- the orange line marked with an F).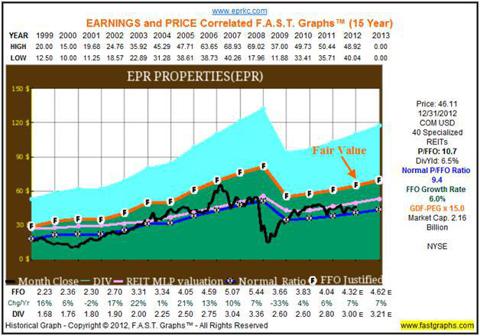 Although EPR did prudently reduce their dividend for fiscal 2009, it continued to offer an above-market dividend yield. Moreover, the dividend has begun growing again as the real estate market continues to improve. Regardless of what happened in 2009, long-term shareholders enjoyed both capital appreciation and cumulative dividends that were far in excess of the general market as measured by the Standard & Poor's 500.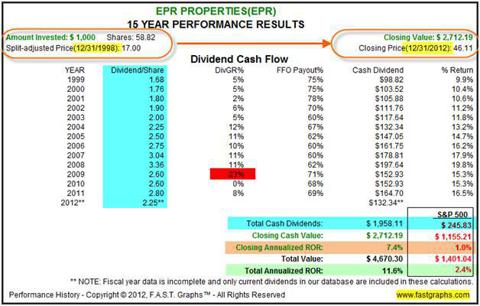 When the business results are viewed since the great recession, we again see a consistent record of growth and very attractive current valuation. Moreover, the 6.5% dividend yield represents an extremely attractive opportunity for yield hungry investors in today's low interest rate environment.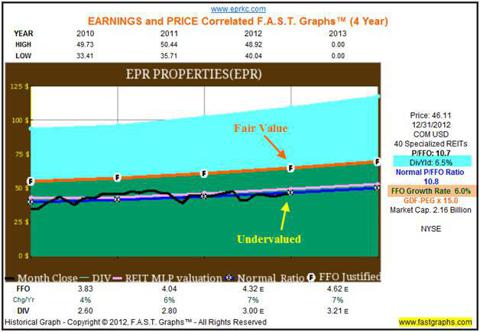 Consequently, EPR Properties has continued to outperform the S&P 500 based on income and capital growth even though the general market environment has been strong since year-end 2009. Therefore, we discover that this high-quality specialized REIT as a legacy of outperformance during both good times and bad.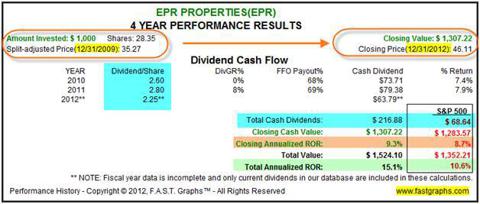 If you assume that the consensus estimates from leading analysts for future growth is correct, then EPR may provide the opportunity for significant above average future total returns. Additionally, the high current dividend yield relative to the general low level of current interest rates pays you handsomely to wait for the upside to manifest (it is difficult to overlook EPR shares yielding 6.75% with 10-year Treasuries hovering around 1.75%).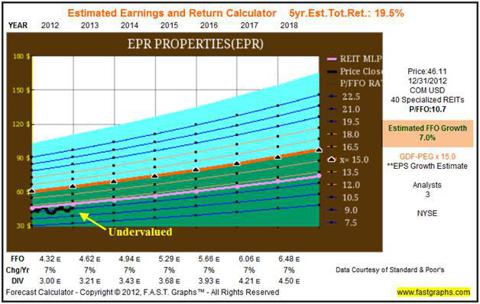 Let's Not Forget the Risk
In a previous article I wrote on EPR (written June 18, 2012) I failed to address (in detail) several non-income producing assets owned by EPR - notably the Catskills project and vineyard assets. Since that time, EPR has entered into contracts to sell two of the vineyards and following the completion of that transaction, EPR's remaining investment in the vineyard and winery space will sit at approximately $75 million. In addition, EPR's land investment in a Catskills, New York - a casino anchored project - has continued to weigh on the stock. However, the land deal that became unglued with a failed bank party is now progressing with an established partner and there could be considerable value creation in the future. Here is a link to the proposed development.
Also, EPR has one charter school tenant (Imagine) who has run into a bit of a predicament relative to operations. Remembering that charter schools are a new asset class and EPR has not had any economic vacancy (yet) and the company is in the process of substituting assets (leased to Imagine) to resolve the tenant based concern.
Now Back to the Movie
I really liked the Hobbit and I would recommend it to moviegoers of any age. In addition, I like EPR and the REIT's innovative operating model has created moderate value (despite Catskill deal, the winery failure, and the charter school, Imagine). Remembering that EPR's sustainability is a direct function of what Bobby Taubman called "holistic" value.
Analyst's consensus NAV targets range from a low of $45.00 to a high of $51.00. EPR closed Wednesday at $46.25 ($2.167 market cap) that represents a dividend yield of 6.49%. Continued execution (i.e., cash flow stability) on EPR's new fronts will be the driver for EPR shares to trade higher and I could see this company returning 20% + a year from now (15% growth + 6.5% dividend).
As you move up the risk curve, EPR could be an interesting play. It could be time to check out this show stopping yield. Tune in and get a front row seat with this high yielding REIT.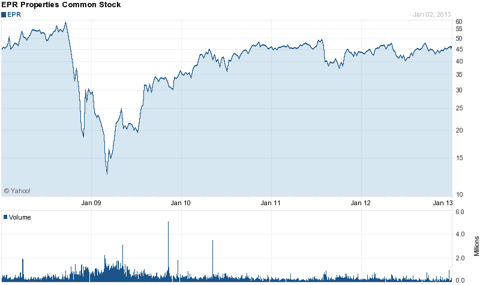 Check out one of EPR's leased TopGolf facilities here.
Source: SNL Financial and FASTgraphs
REITs mentioned: (NYSE:NNN), (ARCP), (NYSE:ADC), (NYSE:WPC)
Disclosure: I have no positions in any stocks mentioned, and no plans to initiate any positions within the next 72 hours. I wrote this article myself, and it expresses my own opinions. I am not receiving compensation for it (other than from Seeking Alpha). I have no business relationship with any company whose stock is mentioned in this article.