China Auto Logistics (NASDAQ:CALI) remains one of my favorite stocks to own going into 2013. The company has had an amazing recent 78% increase in revenues growth report. CALI primarily engages in the sale and trading of imported automobiles in China. The company also offers financing services, including letter of credit issuance, purchase deposit financing, and import duty advances services, as well as automobile value-added services comprising customs clearance, storage, and nationwide delivery services.
China is the key driver of global car sales. An improving economic performance is expected to lead to a double-digit increase in car sales next year, up from a 7% advance in 2012. China now accounts for nearly 20% of global car sales and one-quarter of global volumes if trucks are included. Increasing urbanization, rising incomes and low vehicle penetration rates will continue to drive rapid gains in China's car sales over the next decade.
Financial Highlights
In the recent earnings report, CALI has shown tremendous growth. There was a 78% increase in revenues growth year over year. They had a record number of auto sales of $168.4 million. In the first 9 months of 2012, the company realized a total revenue of around half a billion dollars, which is impressive since the market capital of the company reads at $11 million. Please also note that ending September 2012, the company had $11 million.
Future growth
CALI also has connections with the Chinese government. Earlier this year, Mr. Jiang Zengwei, China's Deputy Minister of commerce, commented that the Chinese government will continue to support CALI and other young firms.
CALI is the leader in online car sales in China. The company has 4 websites where users can browse luxury cars online. CALI also provides inventory financing for auto dealers and web-based advertising.
Fundamental Analysis
Market cap of just $11 million
Shares outstanding $3.96 million
45% of the float is owned by insiders!
5% float is short as of 30th, November 2012.
Technical Analysis
If we look at the daily chart, CALI has been consolidating on low volume. Institutions have been loading heavily as can be seen on the surge in volume in November. The price jumped from around $1.50 to $7, and consolidated around $3-$4 in the last month.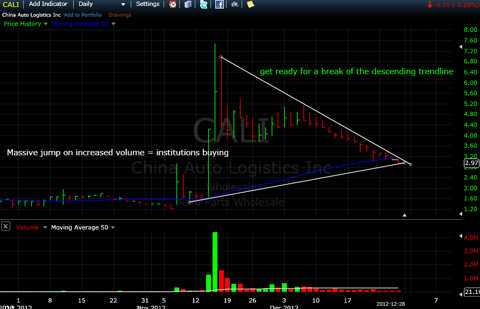 The weekly chart is also interesting. The gap has been filled last week.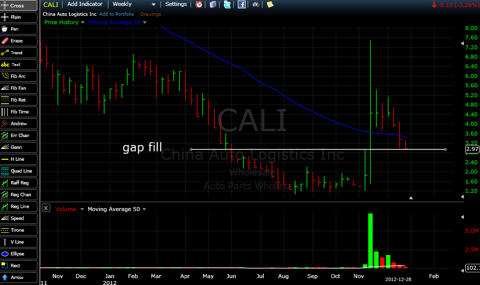 Finally, an interesting yearly chart shows that CALI has been on the market for 4 years with 4 red years. I believe once investors realize the potential in the company, we can start seeing a change.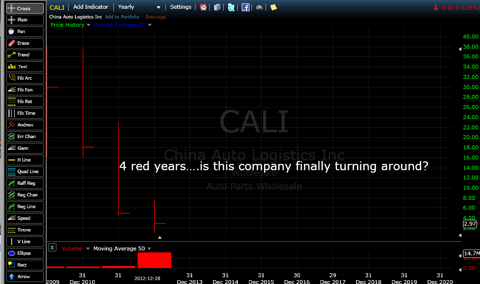 The future for CALI
I expect that the economy in China will grow slowly between now and 2020. If you are a patient holder CALI is showing some promises as seen in 2012. Institutions are loading up. More importantly, insiders continue to hold 45% of the float, with no sales in the last 4 years. Now that the gap has been filled, I expect some consolidation between $3 and $4, and eventually a run up into new highs into 2013. Target 12$.
Disclosure: I am long CALI. I wrote this article myself, and it expresses my own opinions. I am not receiving compensation for it (other than from Seeking Alpha). I have no business relationship with any company whose stock is mentioned in this article.