In doing some fresh scans for 2013, I found a company that has a very small market cap of only $38 million but competes in the very large market of prostate cancer. EDAP TMS SA (NASDAQ:EDAP) looks like a very solid speculative play not only because of its future revenue prospects, but also because it brings in significant revenue right now. I always like to see companies who grow responsibly. In the pharmaceutical industry, a company with a low market cap that isn't burning a lot of cash relative to its size is pretty rare. Let's take a closer look.
Prostate cancer is the second most common type of cancer in men with 899,000 new cases annually. The market for this disease is estimated to grow to $7.7 billion by 2015. Clearly, even a small fraction of this type of money would make an incredible difference to a company as small as EDAP. Of course, there are big players who put significant resources into capturing these revenue streams.
EDAP develops and markets Ablatherm, an advanced and clinically proven choice for high-intensity focused ultrasound (HIFU) treatment of localized prostate cancer.
In early November, EDAP held a pre- Pre Marketing Approval (PMA) meeting with the U.S. FDA to discuss the submission for the company's Ablatherm-HIFU Phase II/III clinical trial for the indication of low risk, localized prostate cancer. Based on the guidance received in this FDA interaction, EDAP is finalizing its PMA file for submission in January 2013.

The largest, longest-term study ever presented on HIFU reported outcomes from 2,552 patients treated throughout Europe, where Ablatherm-HIFU is currently available. Patients diagnosed with stage T1-T3 prostate cancer with low, moderate, or high risk for disease progression were treated with Ablatherm-HIFU. Outcomes were followed using a secure online registry database, which tracked progression as measured by prostate-specific antigen (PSA) levels and prostate biopsy data. The study showed 83% of patients had no biopsy evidence of disease after treatment with Ablatherm HIFU.

Results from the multi-center study were consistent across progression risk groups, demonstrating that HIFU is effective at controlling prostate cancer for all patients. These clinical outcomes were also highly reproducible, which has a critical real-world impact on how effectively HIFU can be used to treat the disease worldwide.
Another product that EDAP is excited about is its Sonolith Praktis which is a modular lithotripter. This is used for a medical procedure that uses shock waves to break up stones in the kidney, bladder, or ureter (tube that carries urine from your kidneys to your bladder). After the procedure, the tiny pieces of stones pass out of your body in your urine.

EDAP lists the following features for this product:
As part of a new modular endourological platform concept, the Sonolith Praktis combines the latest technology developed in extracorporeal lithotripsy with a compact and innovative design.

User-friendly- Sonolith Praktis is easy to install with no special personnel or equipment requirement. It is adaptable to all currently used mobile X-Ray systems and ultrasound scanners.

Mobility- The machines are transportable and ergonomic while being adaptable to any healthcare environment.

Safety- The use of a hydrophone for real-time calculation of the power being emitted combined with an innovative control ensures maximum safety and efficiency.

Patient comfort-

· With its wide power range and optimized geometry, the Electroconductive technology offers total flexibility in the selection of the therapeutic protocol.

· Each treatment can be easily adapted to the patient according to their age and health.

· Dual imaging and localization systems

· Adaptable to existing imaging systems for better utilization
During the 2012 third quarter conference call, EDAP spoke about its progress. Marc Oczachowski, EDAP's Chief Executive Officer, commented:
Our revenues for the first nine months of 2012 reflected the robust sales growth of our renewed lithotripsy device platform. We continue to pursue sales and marketing initiatives around the globe and recently strengthened our U.S. sales team with the appointment of a Senior Sales Manager experienced in lithotripsy. The Company showed 13% revenue growth at the end of the third quarter of 2012, as compared to last year, and we foresee additional positive momentum for the remainder of this year. As we approach the last week of November, our replenished device backlog is comprised of nineteen lithotripsy devices and three Ablatherm-HIFU devices.
During the conference call, the company also noted that in October 2012, EDAP appointed Bill Brown as its U.S. based Senior Sales Manager. With more than two decades in the medical field and over ten years in lithotripsy device sales, Mr. Brown joins EDAP's U.S. team to enhance and strengthen the EDAP U.S. expansion program.
Also in October, urologists with long-term Ablatherm-HIFU experience participated in a panel discussions at Third International Symposium on Focused Ultrasound, in Washington, D.C. On two separate panels, they outlined their experience using ultrasound guided Ablatherm-HIFU to treat prostate cancer and highlighted Ablatherm-HIFU's substantial clinical track record, with more than 32,000 prostate cancer treatments successfully performed.
Other companies with treatments for prostate cancer include, but are not limited to:
Merck's (NYSE:MRK) Proscar, also sold generically as Finasteride, has been shown to reduce some men's risk of developing prostate cancer by a quarter, to 18 percent from 24 percent, in a trial described in the New England Journal of Medicine in July 2003.
Dendreon's (NASDAQ:DNDN) much maligned Provenge is designed to stimulate a patient's immune system to target prostate cancer cells.
The process involves the exposure of a patient's immune cells to a protein that functions as a prostate cancer-associated antigen. An antigen is a substance that causes the body to react with an immune response. This process activates the patient's immune cells against prostate cancer to help the immune system better fight the disease.
As many will recall, a few years ago the company's stock saw a rollercoaster ride from $5 a share to over $55 a share, only to come crashing down when management failed to properly inform insurance companies regarding the cost of the treatment.
Endo's (NASDAQ:ENDP)
Histrelin is used to treat hormone-sensitive cancers of the prostate in men and uterine fibroids in women. In addition, Histrelin has been proven to be highly effective in treating central precocious puberty in children. It is available as a daily intramuscular injection.

Histrelin is also available in a 12-month subcutaneous implant (Vantas) for the palliative treatment of advanced prostate cancer.
EDAP chart technicals: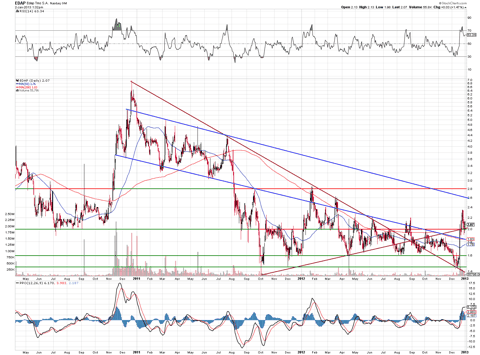 EDAP recently broke out of an extended down trend dating back to November (shown in maroon) and has moved past the psychological resistance at $2. The stock also has formed a new uptrend that could push this much higher. It has found new support at that level and appears it wants to make a break higher to test $2.80. If we can get a large enough volume break at that point there is not much stopping it from testing $3.80, especially for such a low floater.
Share Statistics
Avg Vol (3 month)3:
63,000
Avg Vol (10 day)3:
162,533
Shares Outstanding5:
18.26M
Float:
18.21M
% Held by Insiders:
5.09%
% Held by Institutions:
30.90%
Shares Short (as of Dec 14, 2012):
65.49K
Short Ratio (as of Dec 14, 2012):
1.60
Short % of Float (as of Dec 14, 2012):
N/A
Shares Short (prior month):
59.94K
There is decent institutional ownership, but I would like to see more insider ownership here. As mentioned prior, EDAP is a very low floater, so any decent volume will move the stock hard and fast.
When EDAP received European approval in 2006 the stock shot over $20. Obviously, the stock has been beaten down to around $2/share since. I would typically expect this scenario to be a result of big dilution which is not the case with EDAP. The revenue coming has allowed continued development without harming shareholders even more by printing tons of shares to raise cash. If a European approval could spark the stock this much six years ago, a U.S. approval would certainly seem very significant mainly because of this lack of dilution.
This is why I like a reasonable long play or at least an option play where you can minimize your risk while creating high reward potential. In addition, the company has also filed for Chinese approval. Since China tends to piggy back on American FDA decisions of this nature, it could add to the positive nature of an FDA approval. I will be watching the movement of this stock and its related options closely this year.
Disclosure: I have no positions in any stocks mentioned, but may initiate a long position in EDAP over the next 72 hours. I wrote this article myself, and it expresses my own opinions. I am not receiving compensation for it. I have no business relationship with any company whose stock is mentioned in this article.
Disclaimer: This article is intended for informational and entertainment use only, and should not be construed as professional investment advice. They are my opinions only. Trading stocks is risky -- always be sure to know and understand your risk tolerance. You can incur substantial financial losses in any trade or investment. Always do your own due diligence before buying and selling any stock, and/or consult with a licensed financial adviser.