Aflac Incorporated(NYSE:AFL) is a leading provider of supplemental health and life insurance, operating mainly in Japan. Every type of analysis I conducted on the company indicates a strong buying opportunity. The company is strong fundamentally, selling for a cheap valuation, has recently pulled back, and carries only a reasonable amount of risk.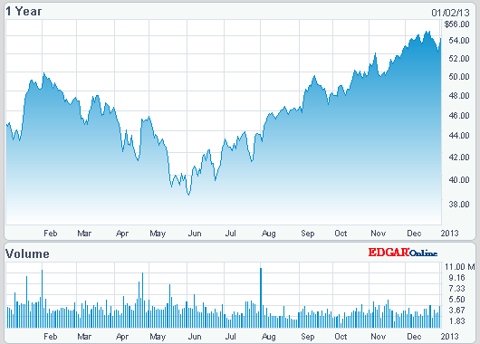 chart from nasdaq.com
Valuation: By any metric, Aflac is strong and cheap. I searched the balance sheet, income statement, and cash flow statement for a reason not to buy Aflac Incorporated, but I couldn't find any sign of weakness, and the strengths are overwhelming.
Price/Earnings: 8.85

Price/Sales: 1

Return on Equity: 19.86%

Revenue Growth (Q/Q): 11.9%

Total Cash: $3.02 Billion

Forward Dividend Yield: 2.6%
information from yahoo.com
Growth: The valuation metrics above would indicate a buy on a company without growth, however, Aflac does not fit that description. The income statement for the year of 2012 will show the highest net income in at least four years, even though the annual net income figures have been somewhat inconsistent. The balance sheet shows strong growth of revenue as well as net tangible assets.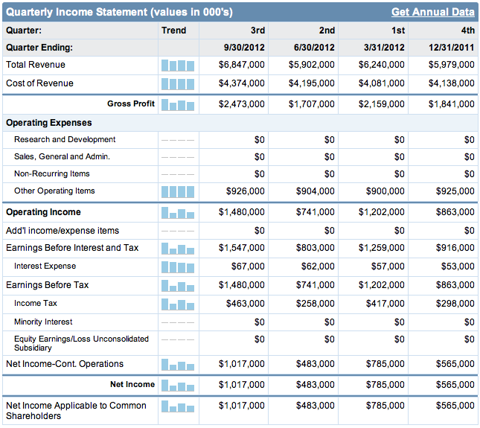 image from nasdaq.com
Risks: Right now Aflac's future seems to carry relatively low risk, however risk is never nonexistent. Most of Aflac's current business is in Japan. Operating internationally always creates additional risk. The company could lose market share in Japan, the Japanese government could change regulations around insurance policies, or exchange rates could cut into profits.
Conclusion: Aflac is a growing company, selling at a cheap valuation, that has recently pulled back in price. With the strength today resulting from the resolution of the fiscal cliff, the market may be strong in the coming year. The company is a buy for a short- or long-term position.
Disclosure: I have no positions in any stocks mentioned, but may initiate a long position in AFL over the next 72 hours. I wrote this article myself, and it expresses my own opinions. I am not receiving compensation for it (other than from Seeking Alpha). I have no business relationship with any company whose stock is mentioned in this article.