Reeds Inc. (NASDAQ:REED) is a stock that I have been watching in the last few weeks. REED engages in the development, manufacture, marketing and sale of natural non-alcoholic carbonated soft drinks, new age beverages, candies and ice creams primarily in the United States, Canada, Europe and Asia.
In the latest quarterly report, REED has been showing tremendous growth. Revenues for the third quarter of 2012 increased 23% to $7.9 million. Year-to-date revenues were $22.3 million, an increase of 26% from 2011. The company has spent aggressively on the launch of their latest product Kombucha. This affected their bottom line and minimal net income was reported in their latest quarter. Founder and CEO Chris Reid, believes this new product could be their strongest growth driver. REED's version of Kombucha will be a live probiotic drink which will be much cheaper than their own ginger brew but can carry twice the selling price and profit margin. Once national chains start selling this drink, I believe REED's earnings can easily double in 2013.
Fundamentals
1. Market capital of $70.69m.
2. $1.43m cash in the bank.
3. Float of $8.71m.
4. % of float owned by insiders is 42.19%!
5. 5% of the float is short.
Technical Analysis
The daily chart is showing a period of consolidation as prices have stabilized between $5 and $6. MACD is starting to trend higher again which shows that the buyers are stepping in and ready to push REED higher.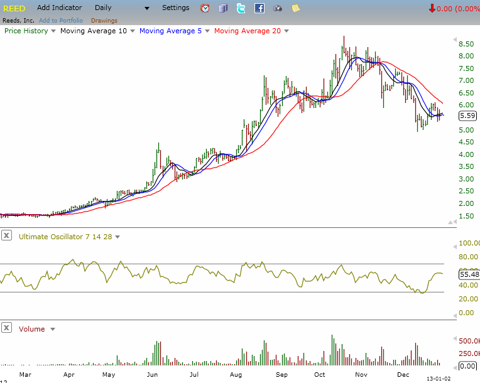 The weekly chart is more interesting. Full Stochastics and Williams %R show oversold levels. The price on the weekly chart is over the 50-day moving average, further showing strength.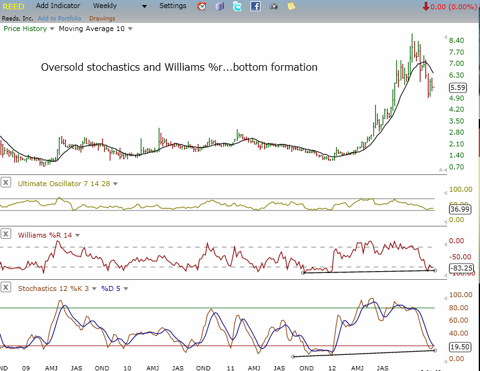 Risk
There are some risks associated with investing in REED. The cost of goods sold together with research and development can provide a threat to the overall profits. Pricing pressures can also create problems. Reed has approximately $6.66m in debt and this means that REED might either tender a loan or might raise cash via a secondary offering.
Conclusion
REED remains one of my favorite stocks going into 2013. REED has now started to trade on the NYSE as of December 31st, 2012, which will garner further interest in the company. Earnings estimates continue to improve and with their exciting new product launching soon, one can expect higher share prices. I predict a target price of $10 by the end of 2013.
Disclosure: I have no positions in any stocks mentioned, but may initiate a long position in REED over the next 72 hours. I wrote this article myself, and it expresses my own opinions. I am not receiving compensation for it (other than from Seeking Alpha). I have no business relationship with any company whose stock is mentioned in this article.