The past few months have been turbulent ones for Apple (NASDAQ:AAPL) investors. While tax-selling has played a role in Apple's recent slide, we believe that it is impossible to deny that worries over Apple's competitive positioning and product roadmap have played a role. Apple's Q1 2013 (fiscal) earnings release, currently set for January 23, will be one of the company's most anticipated earnings in years, and is likely to be the most important technology sector earnings report. Investors are likely to scrutinize the company like never before to see if CEO Tim Cook will be able to steer the company forward without Steve Jobs. While we believe that concerns regarding Apple are unfounded, and have been using Apple's recent decline to add to our position in the company, not all are convinced that this is the case. Investors will be looking for any and all clues as to what Apple will report on January 23, and a look into its supply chain may yield some answers.
Excluding Several Suppliers
Unfortunately, several of Apple's suppliers have either already reported their most recent quarterly results, or will report them after Apple. However, that does not mean that their results do not yield insight into the state of Apple's business. The suppliers we will cover in this section include Broadcom (BRCM), ARM Holdings (NASDAQ:ARMH), Multi-Fineline Electronix (NASDAQ:MFLX), and Qualcomm (NASDAQ:QCOM).
Skyworks Solutions: The Lone Major Supplier
With ARM Holdings, Broadcom, Qualcomm, and Multi-Fineline unable to provide material new insight into Apple's earnings before the company releases its earnings, this task falls to Skyworks Solutions (NASDAQ:SWKS), which supplies power amplifiers for the iPhone. Skyworks is set to announce fiscal Q1 2013 earnings on January 17 (Q1 2012 earnings were announced on January 19, 2012), and the current consensus estimate (provided by Reuters) for Skyworks is to report EPS of $0.54 on revenues of $450.6 million.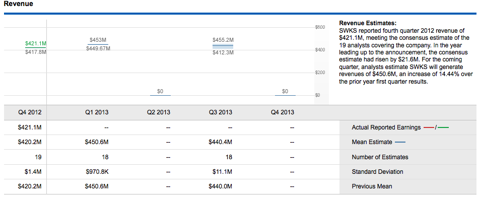 Estimated EPS of $0.54 implies year-over-year growth of just 5.88% on a non-GAAP basis, a potentially alarming signal. However, revenues are set to grow by 14.44%, implying that the EPS issues at Skyworks could be internal, given that projected sales growth is outpacing projected earnings growth. Annualized estimates for Skyworks' fiscal 2013 and 2014 show that any issues in this quarter are likely temporary.

Fiscal 2013 earnings are set to grow by 11.05% to $2.11 per share, and by 16.11% in fiscal 2014.
Conclusions
Apple's investors must remain vigilant over the next several weeks, and be aware of any preannouncements from Apple's major suppliers. In particular, Apple investors should be on the lookout for preliminary Q1 2013 results from Multi-Fineline, as well as Q1 2013 earnings from Skyworks (we believe it is essential for Apple investors to listen to Skyworks' earnings call). And we believe that Apple's guidance could very well matter more than its earnings. The hysteria that has surrounded Apple over the past several months has lowered expectations for Q1 results, and analysts have already reduced their estimates for Q1 2013.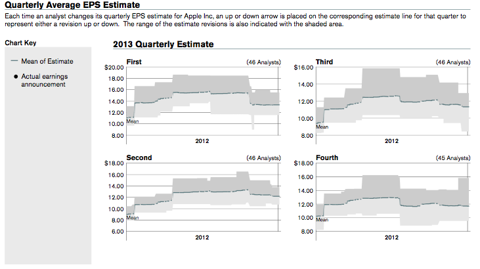 In our view, Apple's sellof has been overdone, and few of the headlines regarding the company better illustrate this fact that the debut of the iPhone 5 in China. On December 14, Apple plunged as analysts were quick to point out that the iPhone 5 had met a "cool" reception in China, due to a lack of lines at the country's Apple stores. However, Apple announced on December 16 that it had sold 2 million iPhone 5's in China. The reason that there were few lines at Apple stores in China was due to the fact that there were riots when the iPhone 4S went on sale, forcing Apple to move more of its distribution online in order to preserve public safety in the face of insatiable demand for its products. The iPhone 5's launch in China is even more impressive when viewed in the context of the country's 3G subscriber pool. As ISI analyst Brian Marshall notes, the iPhone 5 was sold to about 1% of the U.S. postpaid wireless market (around 200 million subscribers) within the first 10 days of sales. And in just 3 days, Apple has managed to sell the iPhone 5 to 1.5% of China's 3G market (currently estimated to be around 150 million subscribers).
We have been using Apple's recent selloff to add to our position in the company's stock. We think that this selloff is overdone, and that any perceived weakness in Q1 is largely priced in. We are confident that CEO Tim Cook will be assertive on the company's earnings call, and can articulate that Apple's best days are not behind it. There has been a good deal of criticism levied at Apple, even though the company has not released any holiday quarter earnings that can be criticized. Based on its January 2, 2013 closing price of $549.03, Apple has lost over 22% of its value since hitting an all-time high of $705.07, something we believe is excessive. A confluence of factors has served to drive down Apple's stock price, and the company's trademark silence has amplified the issue, for investors must wait until Apple reports its Q1 earnings to hear from the company's executives about the state of business. As Argus analyst Jim Kelleher notes in his latest note on Apple, "the decline in the stock far outstrips any change in the fundamental outlook, even assuming some modest deterioration from earlier inflated expectations." We agree with this analysis, and believe that investors who remain with Apple will be rewarded for their conviction in the face of a myriad of negative headlines and conjecture.
Disclosure: I am long AAPL, ARMH, QCOM, BRCM, SWKS. I wrote this article myself, and it expresses my own opinions. I am not receiving compensation for it (other than from Seeking Alpha). I have no business relationship with any company whose stock is mentioned in this article.