In the audio market, Cirrus Logic (NASDAQ:CRUS) provides audio applications to the smartphone, tablet, video, and media player markets. It also provides applications to the home theater, car amplifier, sound-bar, and media PC markets. Tier 1 consumers include Bose, Ford (NYSE:F), Harman, LG, Samsung (OTC:SSNLF), Sirius XM Radio (NASDAQ:SIRI), Sony (NYSE:SNE), and others. Cirrus also provides energy digital control applications to the LED lighting market.
Before we continue, let's look at the company's Q2 fiscal 2013 results. Cirrus Logic reported fiscal second-quarter earnings that were higher by 154.2% year over year, or 71 cents per share. Revenue surged 91% to $194 million for the quarter year over year. Management's outlook is even rosier with projected revenue expected to come in at $270 million to $300 million for Q3.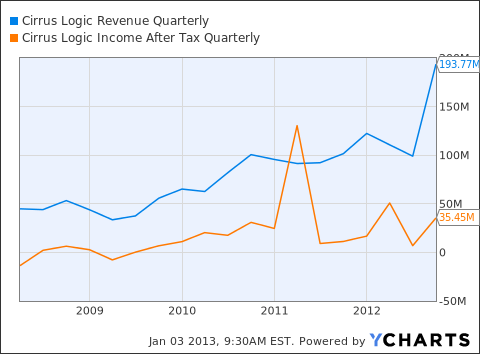 Let's Look at the Numbers
Analysts are upbeat about the company with three strong buy, four buy, and two hold recommendations. The median 12-month target price for the stock is $53.5, with the high-end target at $64 per share.
Also impressive is that analysts expect next year's earnings to be higher then they originally thought 90 days ago. According to data from Yahoo Finance, analysts polled 90 days ago were looking at $2.74 per share earnings for the year ending March 2013, and today the figure is $3.48.
Since the current fiscal calendar year is almost over, I think we have to start looking at the year ahead. Again, according to analyst estimates for the fiscal calendar year 2014 ending March 2014, the company is expected to make $3.93. Let me make that a little clearer. In 15 months from now, the company (if analysts have it right) will make almost $4 per share after tax.
The question is: Wwhat multiple do we put on this company? Let me help you little in this regard. The current trailing P/E is 18.6, with the forward P/E projected to be 7.59. Even if we put a multiple of 14 on the stock, the price in about 15 months from now should be about $56 per share, or just above the median target price of $53.5. And if that happens, that's almost 100% upside from the current price ($29.84).
Before you go out and place buy orders, I have to give you one additional piece of information because there's no such thing as a free lunch. According to the company's latest 10-K filing:
While we generate sales from a broad base of customers worldwide, the loss of any of our key customers, or a significant reduction in sales to any one of them, would significantly reduce our sales and adversely affect our business. For the first six months of fiscal years 2013 and 2012 , our 10 largest end customers represented approximately 80 percent and 71 percent of our sales, respectively.

We had one end customer, Apple Inc., who purchased through multiple contract manufacturers and represented approximately 72 percent and 57 percent of the Company's total sales for the first six months of fiscal years 2013 and 2012, respectively.
So a drawback for investors might be that Cirrus Logic is too dependent on Apple (NASDAQ:AAPL). In fact, when Apple alone drives 72% of sales, dependent is an understatement.
However, the chances of Apple being able to find another vender is slim. Also, we have no shred of evidence that Apple is not happy with the company or that it is looking elsewhere. So the company's fortune is tied in with Apple's fortune at the moment. I think this is a good thing, for we also have no shred of evidence that Apple's revenue will fall anytime soon. Apple's revenue might flatten in several years, but I am not aware of anyone forecasting negative growth for Apple.
Besides the low forward P/E, another catalysts for the stock -- which analysts have not incorporated in their future EPS estimates -- is that on Nov. 20 the company announced a $200 million share repurchase program.
Cirrus Logic, Inc., a leader in high-precision analog and digital signal processing components, announced that its Board of Directors has authorized the repurchase of up to $200 million of the company's common stock. The repurchases will be funded from working capital and anticipated cash from operations, and may occur from time to time depending on general market and economic conditions.
The company has $133 million in cash and cash equivalents, about $184 million in net receivables and $144 million in inventory. During the most recent conference call, the company stated that receivables would be coming down and that capex spending would also be on a more normal level looking forward. The company also has no debt to service, so a $200 million share repurchase program should not be difficult to execute.
Bottom Line
Normally, we have to apply some kind of a discount to the stock because of the large percentage of business the company does with Apple. However, since Apple is such a stable company and Cirrus Logic is experiencing such high growth rates with a very solid balance sheet and no debt -- and in light of the share repurchase program -- I don't see why we should put a discount.
Also, I don't see the market discounting this company in any way, and as such I don't see any reason why we should either. So you can put a discount if you want, but I don't think a discount is warranted.
My projected 12- to 15-month target price is $56 or higher. That is almost 100% upside from current levels, with relatively little risk, provided that Apple still exists as a customer until then. If the company's share repurchase program is executed, you can add at least 15% to 20% to the target price.
Disclosure: I have no positions in any stocks mentioned, and no plans to initiate any positions within the next 72 hours. I wrote this article myself, and it expresses my own opinions. I am not receiving compensation for it (other than from Seeking Alpha). I have no business relationship with any company whose stock is mentioned in this article.