Taiwan Semiconductor Manufacturing (NYSE:TSM) is the world's largest dedicated chip foundry. TSM has benefited from the battle between Apple Inc. (NASDAQ:AAPL) and Samsung. As reported, Apple moved the production of its A6X processors used in the fourth-generation iPad to TSM, which may begin trial productions of the chips in Q1. It is also being speculated that Apple is switching to TSM's 20nm process for quad-core processors it uses in a number of products. As TSM continues to expand and capture Apple's orders, it is strengthening its leadership position further in the foundry industry.
TSM is Becoming Even More Competitive
As commented by Citigroup analyst, Roland Shu, TSM is shifting their competitive models from a "cost-driven" model to a "technology-driven" model. TSM's near monopoly on some advanced manufacturing technologies places it ahead of a number of competitors. According to Shu, TSM may be able to use its competitive position to secure one or two additional large customers contributing over 10% of its revenue in the upcoming year or two. If this happens, TSM will be able to manage its risk of dependency on Apple better in the long-term.
Analysts' Calls and Earnings Estimates
On Dec. 28, 2012, TSM has been reiterated by TheStreet Ratings as a buy with a ratings score of A+. As reported, "The company's strengths can be seen in multiple areas, such as its revenue growth, increase in net income, solid stock price performance and growth in earnings per share. Although the company may harbor some minor weaknesses, we feel they are unlikely to have a significant impact on results." The report also mentioned that TSM had reported somewhat volatile earnings recently, which the analyst believed the company is poised for EPS growth in the coming year. TSM reported lower earnings of $0.86 versus $1.08 in the prior year and the market expects an improvement in earnings this year.
On Dec. 7, 2012, analysts at Credit Suisse upgraded TSM from a "neutral" rating to an "outperform" rating. On Nov. 12, Goldman Sachs upgraded TSM from a "neutral" rating to a "conviction buy" rating. Lastly, UBS AG upgraded TSM from a "neutral" to a "buy" rating on Nov. 8, 2012.
Analysts, on average, are predicting an EPS of $0.27 with revenue of $4.43B for the current quarter ending in December 2012. Analysts are also estimating an EPS of $1.07 with revenue of $17.10B for the current 2012 fiscal year. For 2013, analysts are projecting an EPS of $1.09 with revenue of $18.80B, which is 9.90% more than 2012, as seen from the table below.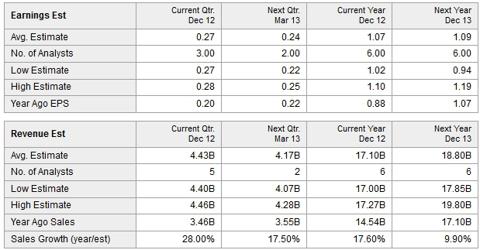 Source: Yahoo! Finance
Key Stats and Valuation
By using the data obtained from Morningstar, TSM's key stats will be compared to its competitors in the semiconductors industry, including United Microelectronics Corp. (NYSE:UMC) and Semiconductor Manufacturing International Corporation (NYSE:SMI). TSM has lower revenue growth and EPS growth (3 year average) of 8.6 and 10.8, as compared to the averages of 10.8 and 28.1. TSM generates stronger operating margin of 35.0%, ttm, and net margin of 32.6%, ttm, comparing to the averages of 19.3% and 12.1%, ttm, respectively. TSM has a higher ROE of 24.5, compared to the average of 13.9, and a lower debt-to-equity of 0.1, as compared to the average of 0.4.
TSM has a P/E of 17.5, which is lower than the industry average of 20.0 but higher than TSM's 5 year average of 15.6. TSM's current P/B of 4.0 and P/S of 5.7 are all higher than the industry averages of 2.5 and 2.2, as well as TSM's 5 year averages of 3.4 and 5.0. TSM has a forward P/E of 14.5, which is slightly higher than the S&P 500's average of 14.2. TSM has a PEG ratio of 1.5.
Technical Analysis
TSM closed at $18.10 with 5.48% gain on Wednesday. TSM had a new 52 weeks high of $18.12 on Wednesday's trading. The volume of 10.23M was 20.21% more than the 30 day average volume of 8.51M. TSM has a beta of 1.05. The MACD (12, 26, 9) turned bullish yesterday. The RSI (14) indicator was showing a strong buying momentum at 75.93, which was also in the over-bought territory. TSM is currently trading above its 50-day MA of $16.51 and 200-day MA of $14.84 and the next resistance is $18.59, the R1 pivot point, followed by $19.07, the R2 pivot point, as seen from the chart below.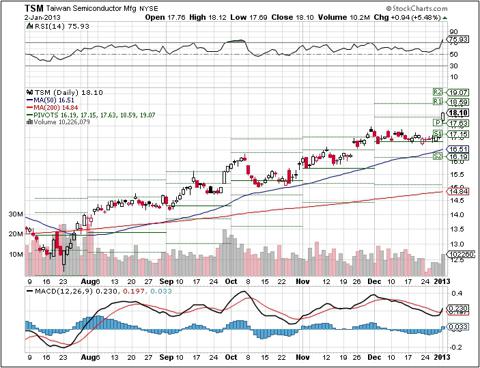 Source: StockCharts.com
Options Play
On Sep 30, 2012, a short put position of Jan, 2013 at the strike price of $12.50 with the credit premium of $0.20 was suggested in my first coverage article on TSM. The trade could either be closed with $0.05 cost now or could become worthless if TSM closes above $12.50 by Jan. 19, 2013.
For long-term bullish investors who intend to acquire the TSM stock at a discounted price, a short put position at the strike price of $15.00 for April 20, 2013 could be considered. Since the options volume for April, 2013 is still small, investors need to place limited orders and it may take a while for the orders to be filled. The current bid and ask prices are $0.15 and $0.20.
Note: All prices are at the time of writing on January 2, 2013 and all calculations are before fees and expenses. Investors and traders are recommended to do their own due diligence and research before making any trading/investing decisions.
Disclosure: I have no positions in any stocks mentioned, but may initiate a long position in TSM over the next 72 hours. I wrote this article myself, and it expresses my own opinions. I am not receiving compensation for it (other than from Seeking Alpha). I have no business relationship with any company whose stock is mentioned in this article.