I have reviewed LinkedIn (LNKD) before and have said this stock is a bubble of mythical proportions. Please note, I don't have a beef with the company and I am sure that it is a great company and the people there are very nice people.
Like the phrase in the movie says, "it's only business, not personal". And the business at hand is valuation concerns and what long term shareholders can expect to get from holding LinkedIn.
Yesterday Barclays (NYSE:BCS) downgraded LinkedIn on valuation concerns. Dow Jones' Drew Fitzgerald commented on the Barclays downgrade:
Bullish on LinkedIn for more than a year, Barclays finds no reason to boost its $125 price target further and hence downgrades the professional-networking service to equal weight. Wall Street's 2013 revenue estimate is now 8% above Barclays' view and the investment bank thinks LNKD's initial forecast "could come in slightly below consensus," especially "given management's history of conservatism." The investment bank also stresses that its downgrade isn't the result of a darkened view on LNKD. "We continue to be positive on the fundamentals and growth outlook."
Even if LinkedIn's forecast comes in top line, the stock is still a sell based on its current valuation. As a reminder, the forward P/E of the company is 88, with a Price/Sales and Price/Book ratio of 14.5 even.
My question is, why would any investor want to be in this stock for the long term, and wait for the fundamentals to catch up to the stock's valuation (and risk a correction for any reason), when they can buy a fairly valued company today, that offers good prospects for appreciation based on today's valuation metrics?
Why would someone pay through the nose to own any such stock? I can't find any reason. And I repeat, I can't understand how investors sleep at night having such a bubble in their portfolio.
I think that other sell side analysts will follow downgrading the stock also, now that someone has taken the first step and has publicly declared in a polite and politically correct manner that the stock is expensive.
And remember what I have said about Wall Street ratings. If a company is not a buy, then it is a sell. No one has probably told you but, "equal weight" and "market perform" are secret Wall Street code names for sell.
Short Interests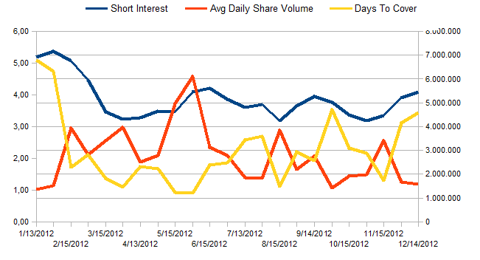 Data from Nasdaq
While short interests are elevated a bit, I am surprised that we have not seen many more short sales. I don't know if long term strategic short players will follow on Barclays downgrade, but I think shorting this stock is a relatively long term good play, even if it takes a while for investors to discover just how expensive this stock really is.
Technical picture
There is not much to go on as far as the technical picture is concerned. However, certain indicators do call for weakens. One particular indicator I want to point your attention to is the one on the bottom. It is a proprietary volume indicator I made several years ago to track if we have sellers or buyers in a stock. As the indicator shows, is ready to fall below zero, which means we will be having more sellers than buyers.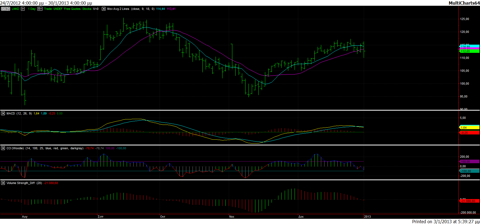 Final note
While I think this stock is a relativity safe short bet, I would not short it, for I have noticed that there are many bubble stocks out there that refuse to fall. I would only sell this stock short on confirmed technical weakens with strong volume. Technically speaking, a safer short bet would be if the stock trends below $95 on strong volume.
Other than that: if you have it, sell it; if you don't, do nothing.
Disclosure: I have no positions in any stocks mentioned, and no plans to initiate any positions within the next 72 hours. I wrote this article myself, and it expresses my own opinions. I am not receiving compensation for it (other than from Seeking Alpha). I have no business relationship with any company whose stock is mentioned in this article.