Alcoa (NYSE:AA) kicks off the 4th quarter 2012 earnings season after the bell on Tuesday night, January 8th, when the aluminum giant is expected to report its Q4 2012 earnings.
Analyst consensus is expecting $0.07 per share on $5.6 billion in revenue, for an expected year-over-year (y/y) decline in revenues of 9%, while earnings per share are expected to be in the black versus a $0.02 per share loss last year.
Both earnings per share and revenue estimates have been stable since the last earnings update in early October.
In early November, AA held its annual analyst / investor day for the Street, and while some of it is the usual pablum fed to the masses, Alcoa did highlight 3 strategic priorities:
1.) Profitable growth
2.) Disciplined execution
3.) The "Alcoa Advantage"
To be frank, any business could (and should) have these objectives, so they sound rather generic, but Klaus and Co. did get into the basics of supply and demand. One positive they did note was that as a commodity business, they at least gave lip service to being a "low-cost" provider.
Alcoa said they expected aluminum demand to increase by 6% in 2013, a little lower than 2012's 7% and a lot of that is tied to China, which seems to be a double-edged sword for Alcoa. While China is a source of aluminum demand for the giant, China also produces aluminum, so the market seems to be on constant tenterhooks, trying to determine where China is on the "net supplier / net consumer" scale.
The real negative I see about Alcoa is the amount of aluminum remaining in worldwide inventory, which has kept a lid on the LME price of aluminum. Although aluminum is thought to be taking share from copper, from what we've read the supply / demand balance for copper is much tighter than that for aluminum.
Alcoa's margins have been under horrible pressure, as the gross margin has fallen from 20.3% in June '10 to 9.7% as of September 30, '12, the operating margin has fallen from 10.1% to 1.6% during the same time period, and the net margin has fallen from 4.6% to 2.5%.
If the reader is looking for correlations, it is when the problems started with Greece and the Western European economies and China's economy started to slow dramatically that Alcoa's results really fell off the charts.
And that is why we still hold the stock: trading at 80% of tangible book value ((NYSEMKT:TBV)) and 5(x) cash-flow, AA is still generating free-cash-flow (16(x) free-cash-flow), and more importantly, if you look at the attached chart, AA has been forming a long base for the last 15 months.
Alcoa has actually been able to report better-than-expected revenue the last 6 quarters, but because of the margin pressures and aluminum pricing, the company cannot yet turn revenues into earnings and cash-flow.
Here is what we are watching in the Q4 '12 Alcoa report:
1.) Forward aluminum price guidance: if you look at a chart of aluminum on the LME, it looks like aluminum is trying to bottom.
2.) China supply / demand matrix for 2013. Will the resurgent Chinese economy and a possible bottoming in the Western European economies, help aluminum pricing and demand?
3.) What do AA's margins and cash-flow look like - can Klaus do more within a tough operating environment?
We are still hanging with Alcoa given the tangible book discount and the still decent cash-flow. Alcoa is a deep value stock within our client portfolios.
Most investors have long forgotten that Alcoa earned $3 per share in 2006, so a stronger US economy and a stronger Western Europe and China translates into earnings leverage for the alumina giant. The stock price peaked at $48 in mid 2007.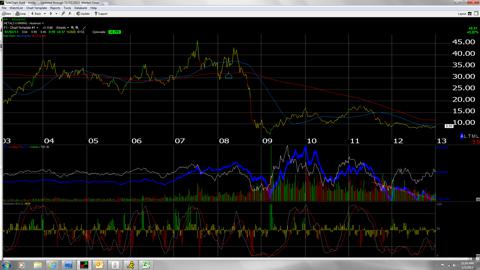 Disclosure: I am long AA. I wrote this article myself, and it expresses my own opinions. I am not receiving compensation for it (other than from Seeking Alpha). I have no business relationship with any company whose stock is mentioned in this article.