In 1941 Ted Williams went 6 for 8 in his final two games of the season, lifting his batting average to .406. In the past 70 years, no other ballplayer has eclipsed .400. Investing is a lot like baseball. Even the best stock pickers will tell you you'll be lucky to make money on half your trades.
Yet, three stocks have the distinction of rewarding shareholders with Q1 gains in each of the past 10 years:
Priceline (NASDAQ:PCLN), the iconic travel site;
Parexel (NASDAQ:PRXL), a small cap contract research organization for the drug industry and;
V F Corp (NYSE:VFC), the owner of Lee jeans and Timberland - to name just two of its storied brands.
Out of more than 1800 widely traded stocks in the Seasonal Investor database, these three have put up a track record even the Splendid Splinter would find impressive.
Each of the three, with potential catalysts, are discussed below.
Catalysts suggest these three may repeat yet again in 2013.
Last year was challenging for Priceline. A lot of the company's business is generated overseas, which meant slumping European Union holiday spending and currency headwinds tied to the stronger U.S. dollar took a toll.
Investors were justifiably unimpressed. From Priceline's peak near $775 in Q1, shares fell to a low near $550. The 30% drop disheartened investors who had grown accustomed to Priceline's nearly unbroken rise from its lows in 2008 through 2011; a period when the stock gained over 1600%.
As a result, many walked away from the name to focus on other plays, which may be creating an opportunity for willing investors today.
After all, all hasn't been bleak at Priceline. The company has beat analyst expectations in each of the past 4 quarters, despite the EU and currency headwinds. And, analysts still expect 2013 earnings per share of $37.44, up from $36.30 90 days ago. This gives Priceline a forward PE of 17.5, just about smack in the middle of its 5 year PE range.
In Q3, revenue climbed a respectable 17% versus a 45% year-over-year gain in Q3 2011. However, the rate of growth has decelerated, suggesting investors will be watching this quarter closely.
During the company's Q3 earnings call, Priceline guided for lower average daily room rates ("ADR") internationally and for a 5% lift in U.S. ADRs.
According to STR, average daily rates rose 2.5% in Asia Pacific in November, which is a bit better than the 0.9% year-to-date growth. In Europe, November's ADR helped year-to-date ADR growth come in up 4.9%, the highest in 5 years. The rate in the U.K., an important market for Priceline, rose 12% year-to-date through November. Here in the U.S., ADR's were 3.7% higher in the final week of December, 3.5% higher in November and 4.2% higher in October.
The company also assumed foreign exchange would be 1.30 per Euro and 1.61 per British Pound, about where they finished the year.
Given those numbers and Priceline's penchant for conservative guidance, it seems a solid bet the company will be closer to the upper end of its 15-22% top line guidance than the lower end.
At Parexel, a whole lot of healthcare uncertainty got put to rest this past year. As part of the ongoing overhaul at the FDA, more drugs are being reviewed more quickly which is helping drug makers offset patent losses.
At the same time, those drug companies continue to shift expenses to contract researchers such as Parexel. This has helped Parexel post greater than 25% year-over-year growth in each of the past two quarters.
Analysts also expect good things this year and next. In 2013, consensus is calling for a 27% lift in EPS. In 2014, they expect EPS to grow an additional 31%. Investors got insight into FYQ2 ending December at the end of last month when the company announced its accretive purchase of regulatory management firm Liquent. Parexel boosted revenue guidance to $415-420 million from a prior $410-415 million. And, it upped its FY13 guidance to $1.68 billion to $1.70 billion, from $1.63 billion to $1.66 billion.
A lot of the company's upside opportunity comes from expectations it will leverage strategic investments to support long term partnerships with drug makers such as Pfizer (NYSE:PFE).
These deals require up front spending, which later can be leveraged for earnings upside. In each of the last three quarters, Parexel's earnings growth has outpaced revenue growth, suggesting it is beginning to leverage investments made in 2011.
Probably the biggest tailwind pushing V F Corp into 2013 is holiday inventory stocking at retailers, leveraged against lower cotton costs. This dynamic prompted the company to boast in October it will deliver its highest ever quarterly gross margin in Q4.
According to Thomson Reuters, comparable store sales increased 4.5% at 17 large retailers in December, which was 3.3% above projections.
This bodes well for VF Corp, which saw its sales rise 14% in Q3 as gross margins expanded by 140 basis points to 46.7%. The company should also benefit from its online direct-to-consumer sales. E-commerce sales growth continues to outpace traditional storefronts and VF's direct-to-consumer segment saw sales expand 28% year-over-year in Q3.
Given retailers' post-recession laser focus on inventory levels, it's likely any inventory overhangs will be moved through quickly, supporting re-stocking for spring.
V F also stands to benefit from its outdoor and action oriented portfolio, which includes Vans and The North Face and produces 53% of total sales. Those brands continue to show growth and the category continues to offer higher margins and growth rates than jeanswear.
And, while jeanswear should grow mid single digits, its profit margin should benefit nicely from the ongoing drop in cotton prices year-over-year. A year ago, "A" index cotton prices were 95.45 cents per pound. In December, they had dropped to 83.37 cents. This brought the calendar year average to 89.24 cents per pound, down from 155.7 cents in 2011.
While there's no guarantee seasonality will reward these three yet again. History suggests these names have something other than random walks supporting them in Q1. If so, these may offer investors profits exiting winter.
Source: Seasonal Investor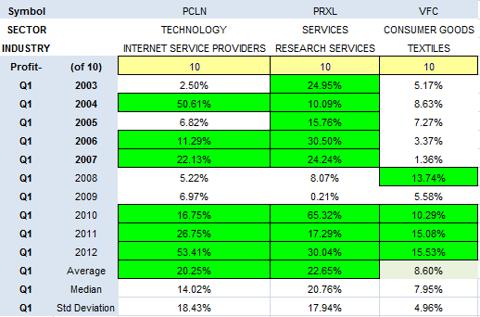 Disclosure: I have no positions in any stocks mentioned, but may initiate a long position in VFC over the next 72 hours. I wrote this article myself, and it expresses my own opinions. I am not receiving compensation for it (other than from Seeking Alpha). I have no business relationship with any company whose stock is mentioned in this article.