The market certainly has had a tremendous start to the year. However, we still have quite a few things to get through (the sequester process, debt limit talks, the effect of tax increases on the economy, etc.) before the coast is clear. Investors should still be slightly cautious here and be wary of equities that seem overvalued. One stock that looks like it is a bit stretched here is Google (NASDAQ:GOOG).
Here are key recent negatives for Google:
Insiders have dumped approximately two-thirds of their holdings on the market over the last six months.
Consensus earnings estimates continue to fall. FY 2013 consensus earnings have fallen some $3 a share over the past three months.
The shares are rapidly approaching the $750 level they failed at badly a few months ago (see Chart 1).
Click to enlarge images.
Chart 1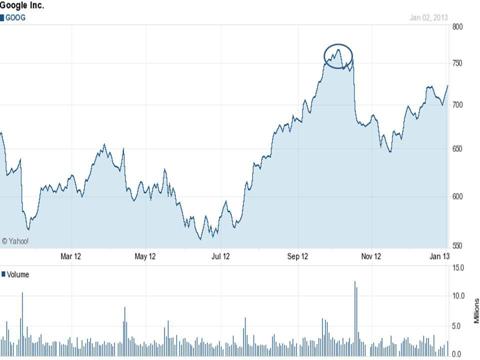 To some extent, Google has acted as a proxy for technology in lieu of Apple (NASDAQ:AAPL) since the Cupertino giant peaked in September (see Chart 2). If Apple has bottomed, which I suspect, and starts to rebound, the situation could reverse. It looks as if that has begun over the past five days (see Chart 3).
Chart 2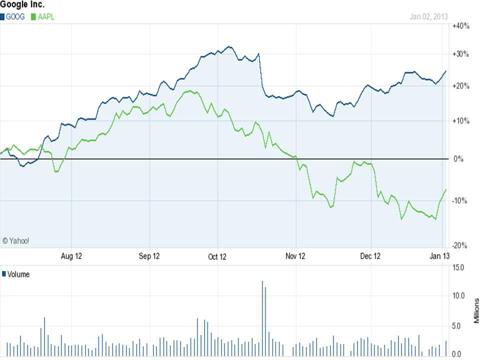 Chart 3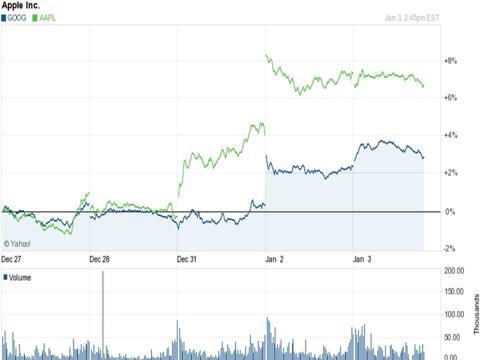 Here are four additional reasons why I believe GOOG has little short-term upside at $725 a share:
Revenue growth is expected to fall significantly from 2012's 40%-plus rate in FY 2013 (the consensus estimate is currently a 24% increase).
The stock is within 10% of the median price target of $800 held by the 34 analysts who follow the stock. It has not had an analyst upgrade in months.
The company is becoming a bigger and bigger target for regulators both domestically and in Europe. Although it recently settled with the FTC on favorable terms, Europe will prove to be more challenging given its views on competition.
The purchase of Motorola Mobility last year is going to weaken margins, overall growth, and its balance sheet in 2013 vs. before the acquisition. The acquisition also aggravates the Asian handset makers it is now competing with.
I like Google's long-term prospects, but I would not be surprised if the stock takes a significant breather here.
Disclosure: I am long AAPL. I wrote this article myself, and it expresses my own opinions. I am not receiving compensation for it (other than from Seeking Alpha). I have no business relationship with any company whose stock is mentioned in this article.