By: Brendan Gilmartin
Alcoa (AA) is scheduled to report 4Q 2012 earnings after the closing bell on Tuesday, January 8. A conference call will follow at 5:00 p.m. EST. Alcoa is a critical release, as the company is the first member of the Dow 30 to report quarterly results and is often viewed as a proxy for the ensuing earnings season. The results may therefore have an impact across the broader market, including index futures and ETFs.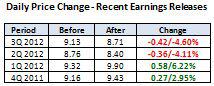 Outliers And Strategy
Sympathy Plays: Kaiser Aluminum (KALU), Century Aluminum (CENX), Alumina (AWC), and Aluminum Corp of China (ACH).
Alcoa is seen posting EPS of $0.06 for the 4Q period (below the $0.07 projected 90 days earlier) (Source: Yahoo Finance). The range of estimates is from (-$0.01) to $0.14. Revenues are seen falling 5.9% to $5.64 bln.
On the London Metal Exchange (LME), aluminum prices were choppy during the fourth quarter, ending roughly 2% lower.
Alcoa shares tend to see minimal movement off earnings, while the index futures (S&P & Dow E-mini) fluctuate more heavily given the psychological impact from the Dow's first quarterly earnings release.
Recent News
12/18: Moody's placed Alcoa's debt on review for a possible downgrade. The firm cited the decline in aluminum prices and the impact on earnings, along with the tepid performance in the U.S. economy, the debt crisis in Europe, and slower growth in China.
11/07: Alcoa Chairman and CEO Klaus Kleinfeld made the following observations from the 2012 Investor Day on November 7:
Outlined strategic priorities to create value, including profitable growth and disciplined execution.
Sees "very exciting" and "extremely good" opportunities in some end markets.
Sees strong demand for aluminum, supply/demand is in balance; Inventories are in decline.
Technical Review
Alcoa shares are rallying ahead of the 4Q 2012 earnings release, rising more than 14% off the mid-November lows, en route to the $9.20 resistance level. In light of the run-up, Alcoa shares are vulnerable to a pullback if results fail to meet the market's elevated expectations. Should results prove to be disappointing, there is downside risk to the 200-Day SMA near $8.85, followed by $8.50. Conversely, there is formidable resistance near $9.20 - a key level going back to early October. (Chart courtesy of StockCharts.com)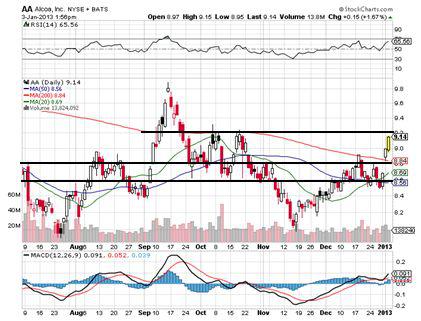 Summary
Alcoa shares have been rallying in recent months, tracking the broader market gains in response to a more optimistic view for the North American economy in 2013. After gapping through both the 50-Day and 200-Day Moving Averages in recent sessions, however, the gains may be a bit stretched, particularly in light of the continued debt challenges afflicting Europe and the softness across many parts of Asia, including China. Weak to flat aluminum prices, in light of the tepid global economic conditions, are another cause for concern ahead of earnings. The caveat to the macro backdrop, however, is the ongoing restructuring effort underway at Alcoa, while CEO Klaus Kleinfeld told investors in early November demand trends were strong and with "extremely good" opportunities in some end markets. With that being said, the results from Alcoa could come out at the low or high end of the forecasted range (-$0.01 - $0.14) and will likely dictate near-term share price direction.
DISCLAIMER: By using this report, you acknowledge that Selerity, Inc. is in no way liable for losses or gains arising out of commentary, analysis, and or data in this report. Your investment decisions and recommendations are made entirely at your discretion. Selerity does not own securities in companies that they write about, is not an investment adviser, and the content contained herein is not an endorsement to buy or sell any securities. No content published as part of this report constitutes a recommendation that any particular investment, security, portfolio of securities, transaction or investment strategy is suitable for any specific person.
Disclosure: I have no positions in any stocks mentioned, and no plans to initiate any positions within the next 72 hours. I wrote this article myself, and it expresses my own opinions. I am not receiving compensation for it (other than from Seeking Alpha). I have no business relationship with any company whose stock is mentioned in this article.