Many of my suggested long term trades are based on the premise that an inflationary period will be starting this spring, given price action in the bond market and seasonal trends. We can prepare to profit off of this future event by investing in the correct sectors now.
We are looking for a sector to invest in that will do well with inflation, but also does not depend on inflation for earnings growth (in case my prediction is too early), like the ever-hibernating energy sector. So, we look in the industrial materials sector. Companies in this sector take basic materials, alter them, and then create more useful goods for industry. This sector, within the context of a cyclical framework, is also a relative outperformer during mature bull markets, such as the current bull market, starting in 2009.
The stock that has attracted my interest, Eagle Materials (NYSE:EXP), makes cement and other building materials, such as gypsum. One glance at the chart of the stock during the past two years, and investors may be shouting, "It's gone up over 300% in the past 16 months! The price is too high!"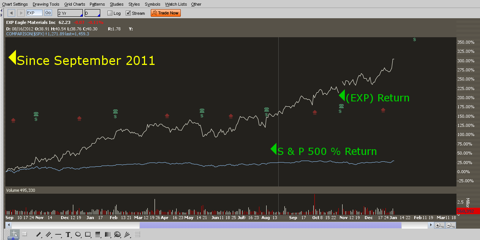 However, this stock's surge upward has legs. Most importantly though, the rally does not look ready to end. First, EPS has been continually growing throughout 2011 and 2012. In addition, analysts expect EXP's 2013 earnings to be more than double 2012 earnings; expected to rise from $0.61/share in 2012 to $1.64 in 2013. The strong growth is then expected to continue through 2014 as well.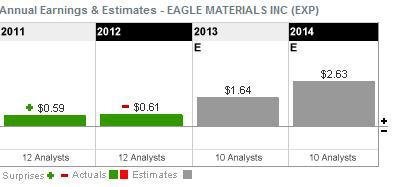 -From BusinessWeek.com
From a supply/demand standpoint, more institutional money is flowing into the stock as well. This "big money" demand usually has the effect of pushing prices up. According to Investors Business Daily, for the past two quarters, more mutual funds and institutions have been buying EXP, and the number of individual funds investing in EXP this quarter versus the last has increased by 3%.
Now we turn to the technicals. As evident in the chart above, EXP has obviously been a relative strength leader, no matter what benchmark (market, sector, competitor) is used as a comparison. Will this relative strength continue? Well, numerous academic studies, such as the Jegadeesh and Titman studies of 2001 and 1993 have shown that intermediate term relative strength is generally followed by further relative strength during the next year. That means that this outperformer should continue to outperform for at least the next several months.
Now, if you are a strict, classical technician, looking for buy signals based solely on support and resistance breakouts, please find your signal to buy in the chart below. During its rally from June 2012 through the end of December, the stock's price movement was confined to a trend channel. However, after the January 2nd rally, the upper channel boundary was broken. Using technical price projection, this gives the next resistance level near $70, so the stock is expected to reach that level at the very least.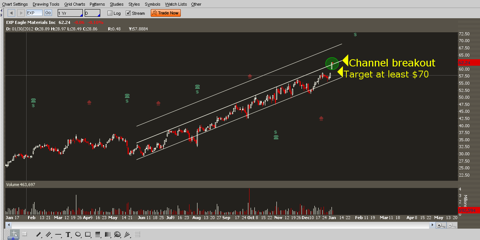 What's the strategy? Buying the stock, of course, is one option (no pun intended, see next paragraph). If you choose to do this, place a stop loss below the bottom of the recent price gap, near $57.50. Expect a price rise to continue through summer and perhaps during fall.
For those versed in options, buying a call option or a call debit spread may be appealing. As you can see in the chart below, option premiums, or "implied volatililties" for EXP stock options are near historical lows. That means that options are relatively cheap for buyers (as an example, with this stock, a 1% increase in implied volatility represents a 7% increase in the price of an at-the-money option).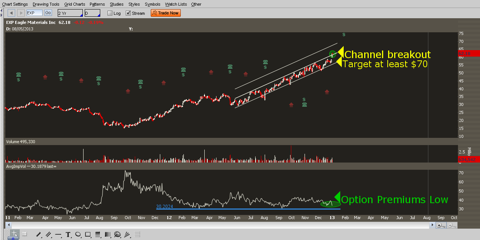 The trade I am considering is to long the July $62.5 call option and to short the $70 call option as a hedge, giving a total risk of $300 per spread. Either way, any bullish strategy should work for profiting off this stock's continued strength.
Happy trading!
Disclosure: I have no positions in any stocks mentioned, but may initiate a long position in EXP over the next 72 hours. I wrote this article myself, and it expresses my own opinions. I am not receiving compensation for it (other than from Seeking Alpha). I have no business relationship with any company whose stock is mentioned in this article.