In an increasingly resource limited world, a growing global economy will likely result in accelerating price pressures in practically all major commodity segments. But at the same time, the threat of a slow-growing or decelerating global economy also creates the possibility of commodity deflation, especially from saturated developed economies. For investors, it creates a classic "What is it worth?" puzzle, with the opportunity for significant investment gains paired with the potential for significant losses and volatility along the way.
We see tremendous opportunities in the commodity space in 2013, not because we're overly bullish on the global economy, but because we forecast a continued "push and pull" on commodity prices. Additional global stimulus would work to create an attractive inflation play, but the lack of further stimulus would almost certainly cause commodity prices to plunge. While both outcomes are plausible, we continue to believe that basic supply/demand fundamentals will drive prices in either direction, and this is a great scenario for a flexible commodity investment strategy.
There are basically two broad types of commodities to invest in: those from above ground (commodities from heaven) and those from below ground (commodities from hell). To take advantage of these opportunities, we're launching two new separately managed accounts - one for each - comprised exclusively of exchange traded funds (ETFs) and exchange traded notes (ETNs). Our portfolios will be comprised of commodity exposure from each broad segment, with both employing an active trend-following strategy to manage risk along the way. Here's what we'll be looking for:
First, we'll be addressing the question of "What to Own?" through a conventional security screening process. Commodities from Heaven will include segments that are a direct or indirect result of the heavens: solar power (NYSEARCA:KWT), water (NASDAQ:PHO), wind energy (NYSEARCA:FAN), and a wide assortment of agricultural commodities such as sugar (NYSEARCA:SGG), cocoa (NYSEARCA:NIB), wheat (NYSEARCA:WEET), corn (NYSEARCA:CORN), livestock (NYSEARCA:LSTK), cotton (BAL), and others.
Commodities from Hell will include market segments from below ground, including oil (NYSEARCA:OIL), coal (NYSEARCA:KOL), natural gas (NYSEARCA:GAZ), precious metals such as gold (NYSEARCA:GLD) and silver (NYSEARCA:SLV), and industrial metals such as copper (NYSEARCA:JJC) and aluminum (NYSEARCA:JJU), among others. Investment selections will be based on liquidity, daily float, fund expenses, execution, and overall efficiency.
The advent of a wide variety of ETFs and ETNs over the past several years make this type of specialty portfolio quite attractive. Add to it the liquidity and transparency available like never before, and the "what to own" part of portfolio construction becomes especially fun.
Second, we'll be addressing the question of "How much to own?" through a rigid, targeted asset allocation methodology. This allocation will largely be equally-weighted among each portfolio's constituents, although it will have the flexibility to overweight those investments that are demonstrating strong upward price trends and to underweight those demonstrating weakening or declining price trends.
Lastly, both portfolios will address the question of "When to Own?" using our firm's trend analysis software, clearTREND. With the significant advances in analytical software over the past several years, these portfolios will be employing an active trend-following strategy that measures historic price trends for a wide variety of securities, and uses that analysis to prescribe portfolio adjustments accordingly. Trend analysis indicates significant potential in the commodity segment of the markets due to its sensitivity to accelerating/decelerating economic growth, capital flows, and of course demographic shifts.
I've compiled several research snapshots from clearTREND on recent standout commodity performers (those that have recently benefited from global stimulus packages but have been punished by the fear of future economic slowdowns). Keep in mind that this flexible commodity strategy targets those segments that continue to demonstrate the largest sustained price and capital flow trends, both rising and falling:
PHO - Water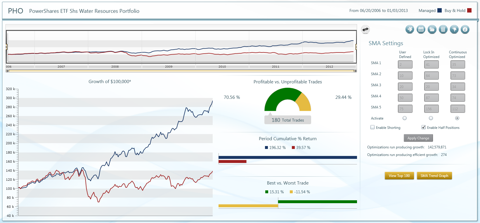 CORN - Corn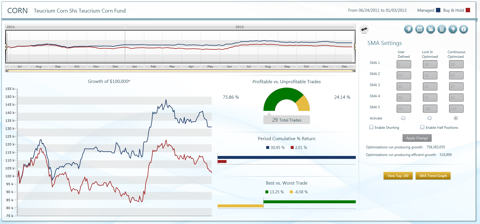 FAN - Wind Power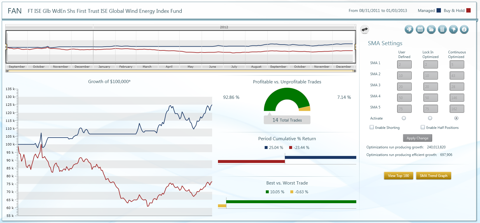 SGG - Sugar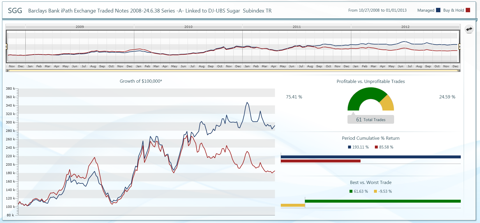 OIL - Oil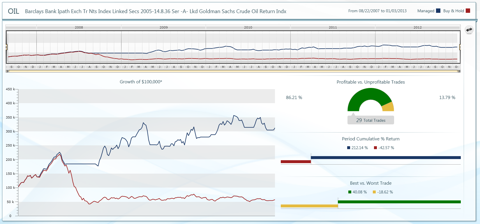 NIB - Cocoa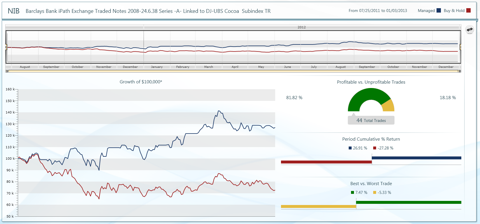 JO - Coffee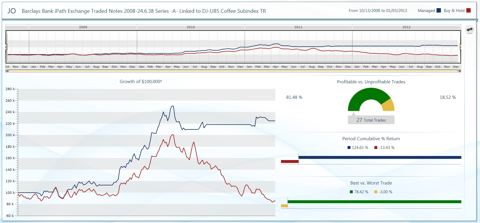 JJC - Copper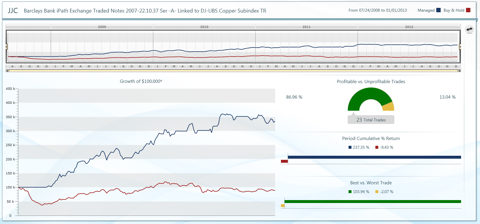 Commodities from Heaven, Commodities from Hell: Two investment themes for 2013 that offer the potential for capital appreciation when coupled with meaningful risk management along the way.
Disclosure: I have no positions in any stocks mentioned, and no plans to initiate any positions within the next 72 hours. I wrote this article myself, and it expresses my own opinions. I am not receiving compensation for it. I have no business relationship with any company whose stock is mentioned in this article.
Additional disclosure: clearTREND Research performance assumes no shorting, no leverage, and is presented gross of trading/management fees. Shorting tends to increase both potential return and standard deviation. Complete research information is available at www.cleartrendresearch.com.