One big surprise of 2012 was the across-the-board slowdown in emerging markets. During the year, many economists and investors realized the challenges that those economies are facing: improving the quality (and lowering the associated inequalities) of a moderating growth rate. These challenges, in particular that of developing a strong internal market, have to be tackled quickly, but they will shape the nature of growth over the medium run. In the short run, many indicators are pointing towards stronger growth ahead: I expect GDP growth to edge up from 3.9% to 4.3% in 2013 for Asia excluding China and Japan.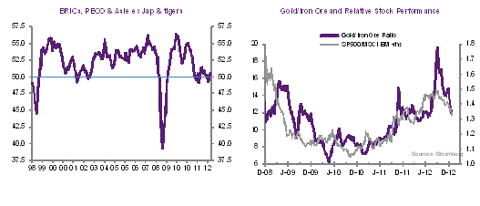 In addition, following the sharp decline of iron ore relative to gold (see chart above, right), the S&P 500 has significantly outperformed the MSCI emerging stocks - this came along with a quirk that I stressed in a previous post: the disconnect between VIX and the S&P 500/MSCI emerging ratio without any significant PERs disconnect.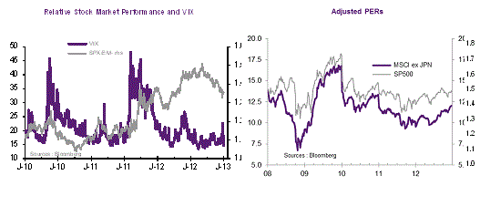 Some investors have mentioned traditional emerging macro risk: higher inflation coupled with worsening current account balances. The charts below suggest that the links still exist: countries where inflation is the strongest are countries where current account deficits are the widest (left); countries where inflation has accelerated the most over the last two years are those where the current account balance has declined the most.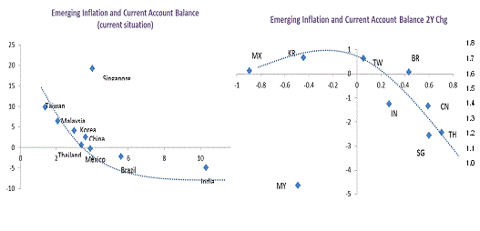 Yet, things have changed drastically over the last decade. There has been a radical shift in emerging markets' balance sheet:
Liabilities: More FDI, equity and a growing share of domestic currency-denominated bonds.
Assets: Huge increase in FX reserves (mostly government bonds of advanced economies).
For EM countries, risks are no longer on the liability but the asset side of their balance sheet.
The charts presented above are clearly a signal for domestic authorities to change the course of their monetary policy (which they have done recently, through FX appreciation for example), but not a sign of a genuine risk of an Asian-Crisis-1997-Redux.
As a result, shunning the potential for emerging stocks is part of my list of don'ts for 2013.
Disclosure: I have no positions in any stocks mentioned, and no plans to initiate any positions within the next 72 hours. I wrote this article myself, and it expresses my own opinions. I am not receiving compensation for it (other than from Seeking Alpha). I have no business relationship with any company whose stock is mentioned in this article.