Increased U.S. natural gas and oil production as a result of improved horizontal drilling and fracking technologies have analysts predicting American energy independence in the near future and the U.S. overtaking Saudi Arabia as the world's largest oil producer.
That said, foreign oil imports for November 2012 totaled 301 million barrels. This was 53% of total U.S. oil consumption at a cost of $32.8 billion.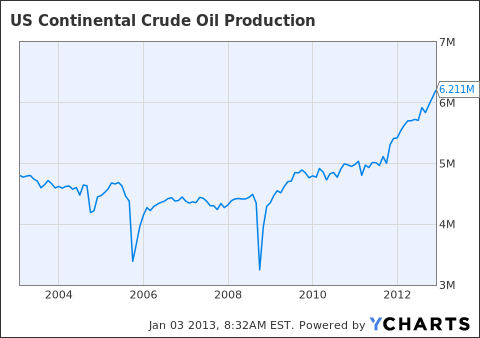 US Continental Crude Oil Production data by YCharts
2012 Average Gasoline Price at All Time High
Despite talk of "low" oil and gasoline prices, truth is 2012 saw the highest gasoline prices ever in the U.S. That's right. According to an article on The Wall Street Journal's website, average 2012 gasoline prices were the highest on record. Citing data from the American Automobile Association (AAA), the WSJ reported the average national gasoline price for 2012 was $3.60/gallon, a jump from the previous record of $3.51/gallon set in 2011.
The states with the most expensive annual averages for 2012 included Hawaii ($4.31), Alaska ($4.09), California ($4.03), New York ($3.90) and Connecticut ($3.90). The states with the least-expensive annual averages included South Carolina ($3.35), Missouri ($3.38), Mississippi ($3.39), Tennessee ($3.40) and Oklahoma ($3.41).
This is a good reason to consider adding Phillips 66 (NYSE:PSX) to your portfolio. More on that stock later in the article.
Natural Gas Prices
Meanwhile domestic natural gas prices are heading in the opposite direction of gasoline and are trading significantly below prices a decade ago.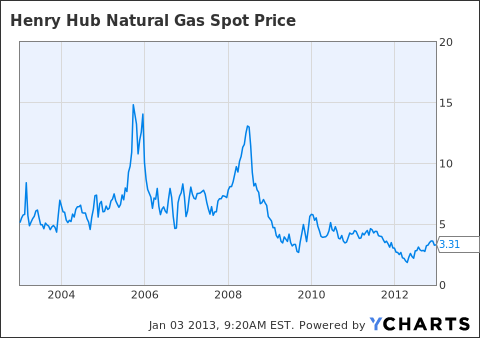 Henry Hub Natural Gas Spot Price data by YCharts
A quick glance at a U.S. natural gas station map show CNG prices are, generally, less than half the cost of gasoline on a gas gallon equivalent basis (NYSE:GGE) and, depending on your location, are up to 1/3 the price of gasoline. And oh, by the way, natural gas is domestically sourced and emits 30% less CO2 than gasoline and 100% less toxic particulates (smog).
Obviously, the argument to push natural gas into the transportation sector is a compelling one indeed. Those assuming increased U.S. oil production is a reason to stay addicted to gasoline are missing the point. The U.S. has been importing a majority of its oil consumption for decades. Foreign oil continues to be the largest component of the trade deficit, and in my opinion it is at the root cause of deteriorating U.S. economic might. Foreign oil is expensive and dirty. While increased domestic oil and natural gas production is certainly a very welcome development, U.S. policymakers would be wise to leverage this turn of events by reducing expensive oil consumption in the transportation sector (i.e. gasoline) by transitioning to natural gas transportation. China has certainly seen the light and has implemented a long-term strategic plan to adopt natural gas transportation. Were the U.S. to follow China's lead, natural gas could usher in an era of economic prosperity few today can even imagine given today's economic morass.
I recently received an email from the NGVAmerica organization highlighting natural gas incentives included in the recent "fiscal cliff" legislation:
Tonight, Congress passed the American Taxpayer Relief Act to avert the "fiscal cliff." Included in that legislation was a one-year extension of a large number of tax credits - including the tax credit for the sale of CNG and LNG for vehicle use and for the installation of natural gas fueling equipment. Specifically, this is the 50 cent per GGE tax credit for CNG, 50 cent per gallon tax credit for LNG and the $30,000 infrastructure tax credit. The tax credits are extended until December 31, 2013 and ARE RETROACTIVE FOR ALL OF 2012. The President said he will sign the bill. More details will be included in our weekly newsletter.
As a result, the stocks I picked in my last article, 5 Natural Gas Transportation Stocks for 2013, did exceeding well on the first day of trading in 2013. The chart below summarizes my picks and their daily performance on 1/3/2013: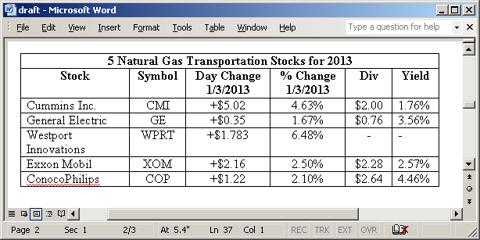 My favorite pick, Cummins Inc. (NYSE:CMI) did very well (up over $5/share) while the best performer in the group was the most leveraged natural gas transportation stock: Westport Innovations (NASDAQ:WPRT). Exxon Mobil (NYSE:XOM) and ConocoPhillips (NYSE:COP) turned in respectable performance, while General Electric (NYSE:GE) was somewhat of a laggard with "only" a 1.67% increase. I have included dividends and yields in the chart to highlight the fact that a portfolio of these natural gas leveraged stocks will throw off a fairly nice income stream.
But the fact remains the U.S. is taking baby steps to adopt natural gas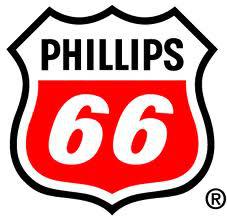 transportation, especially compared to China. While I expect the stocks listed above to do very well this year, and despite increased U.S. oil production, domestic gasoline continues to be priced based on the worldwide Brent benchmark.
A good way to play this trend, which I believe will continue for quite some time, is Phillips 66.
With 2012 gasoline prices setting an all-time record, and with PSX's drive to source more of its feedstock from cheaper and higher grade shale oil, it's no surprise PSX was a very good performer in 2012. I expect it will continue to outperform for at least the next 2-4 quarters.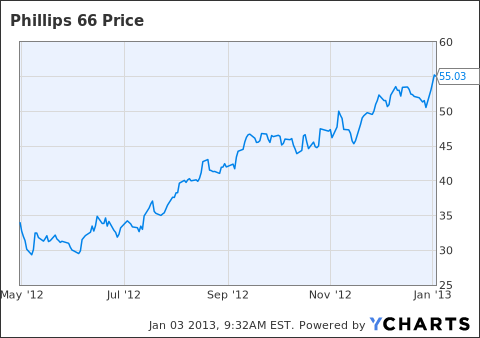 PSX = $55.26
P/E = 6.46
Dividend = $1.00
Yield = 1.81%
Phillips 66 is a very shareholder friendly company. PSX has raised dividends twice since its spin-off from COP and has announced two $1 billion share buybacks. Expect PSX to announce quarterly earnings around the end of January. S&P currently has a 4 Star BUY rating on PSX with a 12-month target of $61 based on 2012 EPS estimates of $7.73 and $6.13 for 2013.
Disclosure: I am long COP, PSX, XOM. I wrote this article myself, and it expresses my own opinions. I am not receiving compensation for it (other than from Seeking Alpha). I have no business relationship with any company whose stock is mentioned in this article.
Additional disclosure: I am an engineer, not a CFA. Please do your own research and contact your investment adviser. I cannot be held responsible for investment decisions you make. Thanks for reading and good luck!