XOMA Corporation (NASDAQ:XOMA) is a biotechnology company focused on the discovery and development of therapeutic antibodies. XOMA's antibody technology platform includes proprietary bacterial cell expression technology, Human Engineering technology for creating human-like antibodies, access to seven phage display antibody discovery libraries through cross-licenses, process development and manufacturing facilities.
XOMA's lead product is gevokizumab, a potent monoclonal antibody with the potential to treat patients with a wide variety of inflammatory and other diseases. Gevokizumab is being developed with Les Laboratoires Servier through a global Phase 3 program in non-infectious uveitis and ongoing proof-of-concept studies in other IL-1-mediated diseases. Cowen and Company analysts reiterated last week their "Outperform" rating on XOMA, based on their positive view of gevokizumab.
In addition, the company has recently announced that the Phase III PATH trial (Perindopril Amlodipine for the Treatment of Hypertension) has demonstrated the fixed-dose combination (FDC) of perindopril arginine combined with amlodipine besylate is statistically significantly superior to either compound alone in reducing both sitting diastolic and sitting systolic blood pressure after six weeks of treatment. This FDC, containing a patent-protected proprietary form of perindopril, was licensed by XOMA as part of a U.S. commercial and development rights agreement signed with Servier for their perindopril franchise. Servier markets the fixed-dose combination product, COVERAM, in 91 countries outside the U.S.
This week I had the chance to catch up with Mr. John Varian, Chief Executive Officer of XOMA, for an exclusive interview.
Mr. Varian was appointed CEO of XOMA Corporation in January 2012 after serving as Interim CEO for five months, and as a XOMA director since December 2008. He was Chief Operating Officer of Aryx Therapeutics from December 2003 through August 2011 and was its Chief Financial Officer from April 2006 through March 2011. Previously, Mr. Varian was Chief Financial Officer of Genset S.A., where he was a key member of the team negotiating the company's sale to Serono S.A. in 2002. From October 1998 to April 2000, Mr. Varian served as Senior Vice President, Finance and Administration of Elan Pharmaceuticals (NYSE:ELN), joining the company as part of its acquisition of Neurex Corporation. He is a founding member of the Bay Area Bioscience Center and a former chairman of the Association of Bioscience Financial Officers International Conference.
Ben Yoffe: Mr. Varian, I would like to start with the company's announcement of positive Phase III trial results for its Hypertension Drug. Can you provide us more details about the treatment and the trial results?
Varian: Sure Ben, the 837 patient trial was what we believe to be the final study required for registration with the FDA. We tested a fixed-dose combination, or FDC, of a proprietary form of perindopril (perindopril arginine), which is an ACE Inhibitor, combined with amlodipine, which is a calcium channel blocker, against each of the individual components to see which was best at controlling blood pressure. The FDC was statistically significantly superior to each of the individual components and was the result for which we had hoped.
The biggest lesson from our development of this FDC is how efficiently the XOMA clinical team completed a well-executed trial and achieved the desired result. It was a big effort, and we were able to announce the trial results in November even though our publically stated target was the first quarter of 2013.
Yoffe: What is the market opportunity for this treatment in the U.S., and what are your commercialization plans?
Varian: This product is a very minor piece of the XOMA story. We licensed the US rights from Servier, based in Paris, France, our partner for gevokizumab, along with ACEON. We do not promote ACEON, which is the branded version of perindopril erbumine, a product that has attracted generic competition. However, by distributing ACEON, we now have the commercial infrastructure in place through which future XOMA drugs can be sold. Establishing this commercial skeleton is very important to us particularly since we have full US commercial rights, with a few exceptions, for our lead drug gevokizumab. We will attempt to find a commercial partner to promote the FDC since this is not part of XOMA's core business. We have not commented on the commercial opportunity for the FDC except to point out that Servier sells approximately $150 million annually of the same FDC outside the US.
Yoffe: When do you plan to submit the New Drug Application (NDA) to the FDA for this treatment?
Varian: There are substantial costs involved in preparing and filing an NDA. We have consistently stated the development of this FDC would be cash neutral to XOMA shareholders. Our resources need to be focused on the development of our internally discovered therapeutic antibodies, particularly gevokizumab. Therefore, we won't move forward with filing the NDA until we have a commercialization partner in place.
Yoffe: What can you tell us about the company's lead drug candidate, gevokizumab, and where it is in the development process?
Varian: I often say that gevokizumab is our first, second and third priority. It is a therapeutic antibody, administered subcutaneously once a month that was designed to treat inflammatory diseases caused by excessive levels of or response to Interleukin 1 beta. The fact that it is an anti-inflammatory means there are a large number of indications for which it can be developed. This is the good and bad news.
In order to give gevokizumab its best chance to succeed, we and our partner Servier have created an extensive clinical development plan. The lead indication is an orphan disease called non-infectious uveitis where we have three Phase 3 trials up and running worldwide. The results from these pivotal studies are expected to read out from the end of 2013 through the middle of 2014. We also launched a proof-of-concept program in 2012. I stress the word 'program' here. The program includes three separate studies that are independent from each other. The first study is in moderate to severe inflammatory acne for which we will have results imminently. The second is in erosive inflammatory osteoarthritis of the hand for which we should have results in the middle of 2013, and the third will be in non-infectious scleritis with results expected in the third quarter of 2013. What each of these indications has in common is that each is believed to result from inflammation caused by IL1-beta overstimulation. The goal of the proof-of-concept program is to find the next Phase 3 indication to follow non-infectious uveitis.
I've said many times that we would not have launched any of one of these studies if we didn't think gevokizumab had a good chance to work in the indication chosen, yet at the same time we don't expect gevokizumab will work in all three. This is not a contradictory statement; it is just the nature of drug development, particularly for an anti-inflammatory. In addition to these studies, Servier has just launched the initial study of gevokizumab in a cardiovascular indication, and we are actively exploring the potential to expand gevokizumab into a couple of ultra-orphan indications. We believe our approach is the right way to fully exploit gevokizumab's potential.
Yoffe: Is there any other significant products in XOMA's clinical-stage pipeline?
Varian: We do have antibodies against botulinum toxin in our biodefense program with NIAID, which are in Phase 1 clinical testing, but this is a part of our business that we have deemphasized, since we do not believe it has the potential to create as much value as our other efforts.
More importantly, at the pre-clinical stage, we have some very promising assets. Of particular importance are therapeutic antibodies that came out of our research efforts focused on the insulin receptor. From that program, which we call 'XMet' for XOMA Metabolism, we discovered three separate product candidates named XMet A, XMet S and XMet D, all of which target the insulin receptor in different ways. XMet A is an activator of the insulin receptor and could be a less frequently dosed replacement for long-acting insulin with some additional beneficial properties. XMetS is a sensitizer of the insulin receptor, which in animal studies made the receptor 20 times more sensitive to insulin.
One of the key benefits of the $40 million financing we completed in October was that we now have the funds to take these two product candidates further in pre-clinical development prior to licensing them. We believe a major pharma company is best qualified to do the heavy clinical development of products for Type 2 diabetes, but we hope we can capture more long-term value by taking these two promising antibodies further forward prior to licensing them. The October financing also allows us to explore development of XMet D for several potential ultra-orphan indications. XMet D is an antagonist of the insulin receptor, or deactivator in slang. We have identified several indications where an overproduction of insulin or inappropriate reaction to insulin levels could benefit from a treatment that reduces the insulin receptor's reaction to insulin. What is really exciting to us about this program is that it fits with our business model focused on value capture. Because there are a small number of patients who suffer from the indications we are exploring and they are concentrated in very few treatment centers, we could potentially take XMet D all the way through development and commercialize it ourselves.
Yoffe: Does the company funded well enough to get through all of the upcoming steps or will be looking for additional funding?
Varian: Our financings in 2012 have provided the capital to take us to the end of 2014. This was important and intentional, since the results from the Phase 3 and Phase 2 studies of gevokizumab that we've discussed read out between now and the middle of 2014. We wanted to be sure we had the runway to get these results without needing to raise additional capital.
Yoffe: In closing, on November 14, you sold 40,587 shares of XOMA stock, or more than third of your holding at approximately $2.56 per share. Is there a reason for the selling?
Varian: The 40,587 shares that were sold on November 14, 2012, related to a vesting of nearly 100,000 restricted shares on that date. Under our restricted stock unit agreements, the company is required to sell the number of shares on the open market necessary to pay the minimum withholding taxes due on that date and submit the taxes to the government. So, each time restricted shares vest, the number of shares required to pay my or any of our officers withholding taxes will be sold automatically with no control by any of us.
I have been granted nearly 900,000 XOMA stock options and over 580,000 restricted shares and am well incentivized to see XOMA's stock perform well.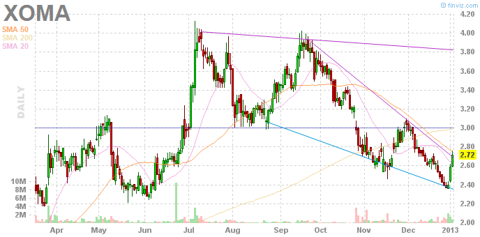 Disclosure: I have no positions in any stocks mentioned, and no plans to initiate any positions within the next 72 hours. I wrote this article myself, and it expresses my own opinions. I am not receiving compensation for it (other than from Seeking Alpha). I have no business relationship with any company whose stock is mentioned in this article.